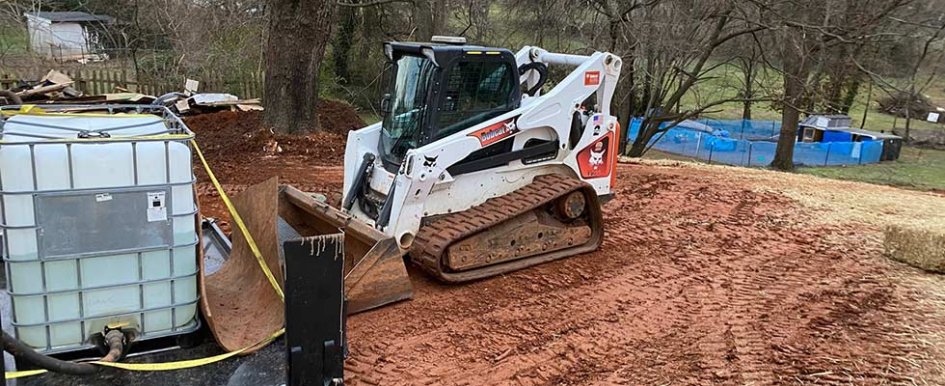 Former aerospace pro pursues lifelong goal of running his own construction business
Tuesday, October 25, 2022
Why did a former up-and-comer at an aerospace engineering company pull his head out of the clouds and pursue a career in excavation? The answer is, maybe unsurprisingly, quite straightforward: "I love getting into my machines and digging in dirt," said Dwight Messick.
As the owner of a residential and commercial excavation company, one could say Messick certainly landed on solid ground. He attributes much of the success of his company, MH Services in northern Virginia, to his lineup of compact track loaders — one of the industry's tried-and-true workhorses for businesses of any size.
"It's like grabbing your computer when you go to work," said Messick. "My compact track loader is that piece of equipment that makes me the most money and provides for my family."
Messick loves the versatility of his compact loaders and their attachments, which equip his seven-person team with the tools needed to tackle almost any job. "We do a lot of farms and work out in the country. We do storm sewers for homeowners associations (HOAs). We do driveways."
But finding his professional footing in excavation wasn't always part of his master plan. In fact, Messick had other lofty aspirations.
Unique Breeding Grounds for a Future Business Owner
Messick's enterprising mindset was instilled early in his career at a security and aerospace company. Shortly after joining the global corporation, he was accepted into its leadership development program, an exclusive group that gave Messick exposure to some of the organization's top leaders.
The company provided Messick a unique training ground to hone his mechanical and management skills. He completed six-month rotations across various disciplines, including manufacturing, procurement and floor assembly. The experience taught him a valuable professional lesson that would fuel his future endeavors: "There's a place for everything and everything has its place," said Messick.
Messick eventually earned a supervisory position that saw him lead an award-winning team. Coupled with his technical know-how, his aerospace management position made him a better problem solver, the skills of which come in handy as a business owner today. "If there are hiccups involved, I can always work through them," said Messick.
As Messick accomplished more in his role, he began feeling called to take his career in a new direction. After a rewarding eight years at the company, Messick left to pursue his lifelong goal of running his own business. He started a truck accessory business before selling it to manage dozens of rental properties.
With the extensive amount of grounds maintenance, demolition, earthmoving and excavating work that can come with rental property management, that's where his love for earthmoving machines was born. Messick began looking for avenues to add to his service offerings and find opportunities to get inside a machine cab.
"I was either borrowing or renting loaders for grading and other dirt work and installing culverts," said Messick. "I quickly loved everything about them and what they can do. I felt a tremendous sense of pride in my work and ownership right away." His love for operating earthmoving machines combined with a passion for entrepreneurship naturally led him to start MH Services in 2015. Messick has never looked back.
Good People Make for One Great Grind
Messick's divergent career path paid off for not only himself, but also for his MH Services' team and their customers.
"Going from a corporate environment with 40,000 employees to this, where it's me and seven team members, it just doesn't feel like a job," said Messick. "We've been blessed that our business has grown substantially without having to advertise. So many customers have heard the good word about us, and it's spread."
That tremendous word-of-mouth has also meant that Messick and the MH Services team have been able to build deep, lasting relationships with their customers.
That passion and appreciation for doing business with good people is evident in Messick's relationship with his local equipment dealers. "They're absolutely amazing, and I can call or text them anytime. They get right back to me and are always able to solve my service and product needs. It really is a true partnership."
It's a prime example of the motto that drives Messick's business: While jobs may come and go, good people shouldn't.
3 Tips for Building Your Business With a CTL
For many contractors, the compact track loader (CTL) is a workhorse. Learn how to maximize your working days with these CTL tips:
Expand your services with attachments — EA CTL can power a large variety of attachments, allowing you to expand your core services. Their increased weight and tractive effort provide better performance when working with many ground-engaging attachments. In other situations, the lower ground pressure of a compact track loader may increase attachment utilization.
Use your telematics information — With telematics, you have greater access to information about your equipment than ever before. From increasing your equipment security, staying on top of proactive maintenance and enhancing your dealer relationship, every owner should take advantage of the data at their fingertips.
Properly train your team — A regimented, ongoing training program for your team is the best way to maximize their skills, mitigate operational issues and keep your business profitable. In addition, this is a great opportunity to help your seasoned team members transfer their knowledge to the next generation.