Review the trends driving price changes in safety equipment
Wednesday, October 14, 2015
Investing in equipment and systems to keep employees safe is a key concern for all construction firms. The National Safety Council estimates that a workplace injury costs employers $30,000 on average. Additionally, Liberty Mutual estimates that each dollar invested in injury prevention reduces costs for employers by $2 or more.
Investment in personal, protective equipment to keep employees safe comprises a significant portion of expenses for today's construction firms, contractors and manufacturers. However, equipping workers with sufficient protective garments, accessories and safety systems is not only required by OSHA, but also reduces operational costs in the long run. So, what are the current trends driving price changes in safety equipment? Research firm IBISWorld analyzed the top safety product categories that companies purchase in order to provide buyers insight into these markets and develop money-saving strategies.
Drivers of Price Changes
Prices of safety equipment and products are influenced by changes in demand, as well as the cost of key inputs (Figure 1). Plastics are a primary or auxiliary component in the manufacturing of many safety products, including hard hats, hearing protection, safety eyewear, respiratory equipment, joint protective equipment and other safety apparel. IBISWorld reports that the price of plastic and resin increased substantially—6.1 percent per year, on average—from 2009 to 2014. In 2015, however, IBISWorld forecasts that the price of plastic will drop 7.6 percent. This drop in the price will be heavily influenced by the decrease in oil prices.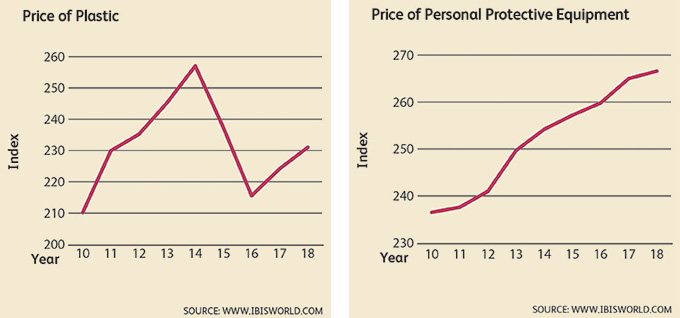 In addition to changes in input costs, demand for safety equipment has shifted dramatically over the past few years, which is illustrated in the construction sector. The total value of construction work performed in the United States has increased an estimated 6.1 percent per year, on average, over the past four years. This jump in worksite activity has boosted demand for personal protective equipment and has contributed to moderate price increases of those items (Figure 2). The changes to key input costs and increased demand from an improving economy have led to manufacturers of personal protective equipment increasing their prices an estimated average of 2.2 percent from 2012 to 2015. More specifically, the price of face and head protection has increased an estimated 2.1 percent per year since 2012, while the price of both hearing protection and safety eyewear has increased an estimated 1.5 percent per year, on average, during the period.
Strategies for Saving
Workers in hazardous environments require a number of personal protective equipment products. For example, construction sites typically require footwear, safety suits, respirators, hearing protectors and hard hats. One way for contractors, construction firms and other large-scale buyers to reduce costs and increase efficiency is to consolidate their purchases into one single order, gaining leverage with the supplier. Major protective equipment vendors are usually willing to grant discounts to buyers that purchase large quantities in order to ensure a certain sales volume and reduce inventory. If buyers currently source their products from several suppliers, they may be able to leverage bulk discounts by switching to a single provider, such as a wholesaler that carries multiple brands. Bundling protective equipment purchases into a large order is especially effective for buyers seeking highly commoditized products that are offered by many manufacturers.
Another approach is to purchase products directly from the manufacturer. Manufacturers of safety products tend to have lower than average prices than distributers and are able to offer more competitive pricing for buyers needing large orders. In addition, depending on the equipment needed, buyers may be able to greatly reduce costs by using a cheaper alternative.
Products such as safety harnesses have a myriad of inexpensive substitute solutions. For example, construction firms can satisfy fall protection requirements for work areas 6 feet or more above a lower level by installing a net below an at-risk area. However, some products do not have direct substitutes, and companies will have a difficult time complying with OSHA standards without purchasing specific equipment. For example, any workers exposed to 85 decibels for a prolonged period of time are required to wear some form of hearing protection that reduces noise levels below that threshold. Unfortunately, there are no feasible substitutes for items such as hearing protection and also safety eyewear.
Finally, buyers can get creative and eliminate the need for some personal protective equipment altogether by reducing exposure to hazards in the work environment. The use of hardhats is legally compelled based on "possible danger," which firms can reduce or eliminate based on how secure the work environment is. Reducing static noise created by machinery to below what is legally required eliminates the need for hearing protection. In some cases, a minor adjustment can significantly decrease the need for personal protective equipment and reduce overall costs for suppliers.
Workplace safety consultants can advise construction firms in this area. Fees for these consulting services have experienced a steady rise, increasing an average of 2.0 percent a year since 2010.
Price Increases Will Soften
Looking ahead to 2018, input costs are forecast to fall slightly, but increasing demand is expected to continue to push the prices of personal protective equipment higher and higher. Forecasts state that the price of plastic materials and resin will decline at an annualized rate of 0.9 percent. Lower input costs give manufacturers some leeway to hold prices steady or control moderate increases. However, increasing activity in the construction sector will continue to push a higher demand for safety products.
Ultimately, the price of personal protective equipment is projected to slow to an average annual growth of just 1.2 percent from 2015 to 2018. Despite expected overall price growth, large-volume buyers of plastic-based, personal protective equipment may be able to leverage falling plastic prices to obtain more favorable product pricing. Contractors, builders and manufacturers comply with OSHA regulations and reduce injury costs by purchasing essential personal protective equipment.
Over the past three years, rising input costs and increasing demand from the construction sector have caused equipment manufacturers to raise their product prices. Contractors, builders and other operators who equip staff with safety equipment can often reduce these expenses and increase operational efficiency by strategically timing procurement, bundling related purchases into a single purchase order and investigating the ability to use substitute products.
With the price of protective equipment forecast to increase in the next three years, buyers are advised to investigate cost-saving methods to maintain a competitive edge in an unfavorable price environment.