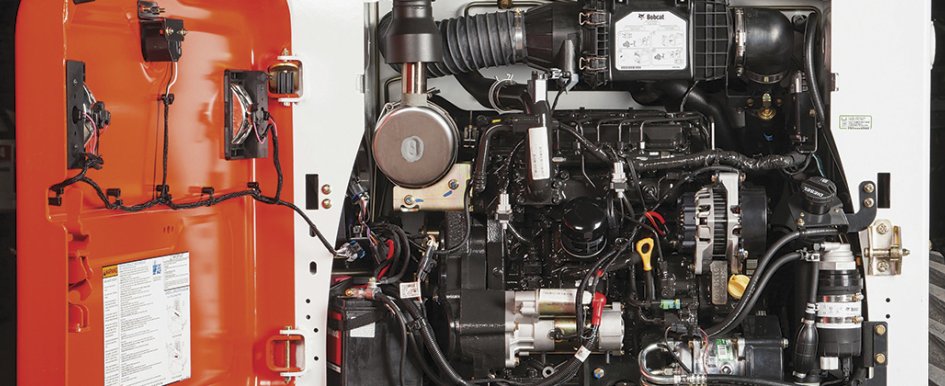 New emission standards for 75-horsepower engines and above mean more educational awareness
Wednesday, October 21, 2015
In 2015, the U.S. Environmental Protection Agency (EPA) mandated that all 75-horsepower and above nonroad machines reach full, Tier 4 compliance. The goal of the emission standards for nonroad equipment is to lower harmful exhaust emissions, such as particulate matter (PM) and nitrogen oxides (NOx), to maintain a sustainable environment. It is important to take the time to learn about Tier 4 emission history, technologies that have been used to reach Tier 4 status and the importance of proper machine maintenance.
The Move to Tier 4
Many compact equipment models have gone through as many as five emission standards. The first set of EPA emission standards started in the late 1990s and continued throughout the early 2000s for all new nonroad diesel engines, following a similar path provided by on-road engine manufacturers. Many compact equipment manufacturers met this standard by featuring an improved engine combustion system to help reduce NOx.
In 2004, a second level of standards was required for new nonroad diesel engines. The focus was on NOx, hydrocarbons (HC) and PM reductions. Manufacturers lowered standards further, improved fuel economy and lowered average engine operating temperatures with direct fuel injection systems.
Tier 3 standards, enforced from 2008 until 2011, typically affected machines greater than 75 horsepower and continued to reduce NOx emissions. During this time, smaller horsepower machines went straight to Tier 4-compliant engines while 25 through 50 horsepower and some 50 through 74 horsepower engines moved to interim Tier 4 emissions. In 2012, 75-horsepower machines and above made the move to interim Tier 4 emission standards. A year later, 25 through 74 horsepower machines were converted to Tier 4-compliant diesel engines.
As all nonroad machines make the move to Tier 4 compliance, machine costs may increase because of additional technologies needed to meet standards. However, the cost increases have played an important role in lower emissions and improved air quality.
Incorporating Technology
Over the years, technology has been added to help meet EPA emission standards. Cooled exhaust gas recirculation (CEGR) was introduced during the Tier 3 stage to reduce NOx emissions and lower combustion temperatures. Low-sulfur diesel was also introduced in nonroad machines to help increase the life of CEGR system components.
Meeting regulations has required some or all of the following four technologies: an engine control unit (ECU), a high-pressure common rail (HPCR) system, a diesel oxidation catalyst (DOC) and a diesel particulate filter (DPF).
ECU controls fuel delivery, injection timing and injection occurrence.
HPCR is a fuel injection design controlled by the ECU that regulates fuel pressure and injection timing.
DOC is a special catalyst that reacts with engine exhaust upon contact, transforming some of the emissions into harmless substances.
DPF is a "ceramic wall flow" filtration system that separates PM from engine exhaust.
In 2015, 75-horsepower machines and above will include an additional system, selective catalyst reduction (SCR), to meet requirements. SCR uses an ammonia- and water-based liquid called diesel exhaust fluid (DEF). By combining exhaust with DEF, the engine reacts with a SCR catalyst. This reaction turns NOx into harmless nitrogen and water vapor.
Maintenance and Proper Oil
It is important to understand how to properly maintain emission systems. To keep maintenance to a minimum, manufacturers equip their machines with non-DPF engines. With non-DPF engines, owners and operators don't have to worry about cleaning or replacing diesel particulate filters. Another benefit of a non-DPF engine is that the machine doesn't have to burn extra fuel to heat the filter during the regeneration process.
Following the recommended maintenance schedule for engine oil and filters and hydraulic filter changes promotes long-term durability and provides many cost benefits. In years past, manufacturers have increased their service times from 150- to 200-hour intervals to 500-hour intervals because of more efficient engines, better oils and additives.
Making sure the proper oils match newer Tier 4-compliant engines is crucial. Use API CJ-4 engine oil—10W-30 or 15W-40 grades—which can be purchased from your local equipment dealer. Tier 4-rated machines with 75 horsepower and above will require DEF, and there are critical requirements for the handling and usage of DEF fluid. Work with your local dealer to better understand how to handle the fluid.