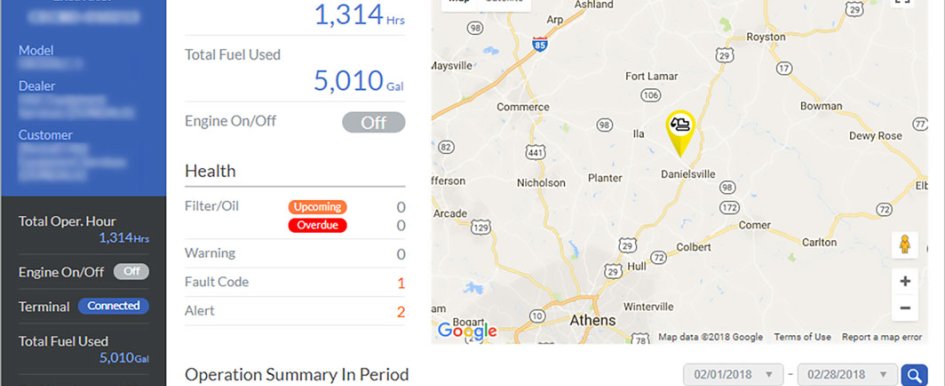 How to overcome telematics overload
Over the last decade, equipment manufacturers have made many advances in machine intelligence and communication, especially when it comes to telematics.
Consequently, types of real-time data collected and how it is transmitted have rapidly changed since telematics was first introduced. In fact, machine communication systems have evolved so much that information can now be transmitted on a regular schedule—from fuel usage to machine location—making them a tremendous asset to you and your company.
Most construction equipment—including crawler excavators, wheel loaders and articulated dump trucks—is equipped with a modem. The modem, furnished with a cellular and/or satellite antenna, collects data from sensors on the machine and sends the data from the machine to a central database via cellular service and satellites, making it readily accessible, even in remote locations, via a web-enabled interface. The data produced from one machine or an entire fleet can be viewed by you and your fleet manager online.
Once you have equipped your fleet, transmitted information you can view online includes:
Fleet status
Machine location
Operating hours
Fuel usage
Engine idle time versus work time
Error codes
Engine and hydraulic oil temperatures
Loads in route
Tonnage hauled
Though you might agree that your company could benefit from telematics, the wealth of information on the technology may have you feeling overwhelmed and asking, "Where do I begin?"
By taking the following steps, you can overcome telematics overload and start using valuable data reports to help improve your company's productivity and, in turn, your bottom line.
1. Define Your Needs
The information gleaned from a telematics report can seem endless and overwhelming. How do you take this information and make it actionable data? The best way is to prioritize your needs by determining what data is useful for you and your business and what data is unimportant. Then, you can personalize the site to show the data you need and hide the data that does not serve you.
2. Schedule a Demo
Telematics systems are unique to each equipment manufacturer. The best way to understand telematics is to schedule a demo with your local equipment dealer who has the knowledge to explain in detail how to use the system. Most new construction equipment sold today comes with a free subscription for a period of time. If offered, take advantage of the complimentary service. If you do not have a newer piece of equipment, ask your dealer if you can rent a newer machine equipped with telematics.
Once you have followed these first steps, your telematics can begin providing the following benefits.
3. Allocate Resources
Do you know how often your machines are being utilized on active jobsites? Telematics data can show you exactly where and when your equipment is used. By analyzing this data, you can determine if you are underutilizing your assets and whether or not it is time to invest in adding to your equipment fleet. Using this data, you can adjust your fleet size to meet your needs, which can also help reduce equipment rental costs.
4. Improve Accuracy of Bids
If you are looking to fine tune your bids and create accurate estimates on future projects, telematics data can be beneficial. It can provide you with machine hours and fuel usage reports to determine operating and labor costs for more accurate billing. By comparing bid projects to similar projects, you have completed, you will be able to better determine the cost of labor, making bidding less of a guessing game.
5. Monitor Operator Performance
Data collected through telematics equipment can be used to solve business challenges. Have your operators adopted bad habits, such as prolonged idle time or improper use of equipment on the jobsite? By monitoring this data, operator behavior can be quickly corrected to promote a more productive and safer jobsite. You can also identify areas where operating costs can be reduced to extend component lifecycles and lower the frequency of unplanned maintenance.
6. Track Maintenance Needs
Integrating telematics data into your maintenance management program allows you to look ahead at your fleet to see when any machine is due for its next maintenance appointment. In addition, telematics can give you historical details about the machine's maintenance schedule as well as communicate fault, error and warning codes through the website.
7. Troubleshoot Equipment Problems
Your dealership may be able to diagnose the problem without physically being in the same location as the machine resulting in faster response time. Not only will this save unnecessary machine downtime, but it reduces travel time for your dealership's service department. When a technician does need to visit your jobsite, he or she will be better prepared to fix your issue because of telematics data shared with
the dealership.
8. Track Fuel Usage
Fuel is one of the most expensive operational expenses. With the help of telematics data, you can make improvements to equipment fuel efficiency and reduce diesel fuel usage. The system monitors equipment idle time—long periods when the machine should be turned off instead of burning valuable diesel fuel—helping you identify machines that are working under or over capacity. Reducing idle times can also extend engine life and reduce repair and maintenance costs. In addition, you have the ability to monitor power mode operation and adjust the power mode to do the same work while using less fuel.
9. Reduce Equipment Theft
Equipment location may be the most important data point for you and your business. The moment your machine leaves the jobsite, you can use telematics to keep a close eye on your machine and see where it has been operated with a history report. You can create a geo-fence, or an invisible virtual boundary, through the machine's global positioning system (GPS). If the machine leaves the virtual fence, it will send a notification and can alert the authorities about possible equipment theft.
Additionally, a time fence or curfew can be created on each machine. If the machine is operated outside of working hours, an email or text notification will be sent to you. This helps to prevent unauthorized operation and potential vandalism to the machine and jobsite.
With telematics, you can turn real-time data into actionable information. As a result, you can be better equipped to make smarter decisions about how to manage your fleet, increase efficiency and lower operating costs.