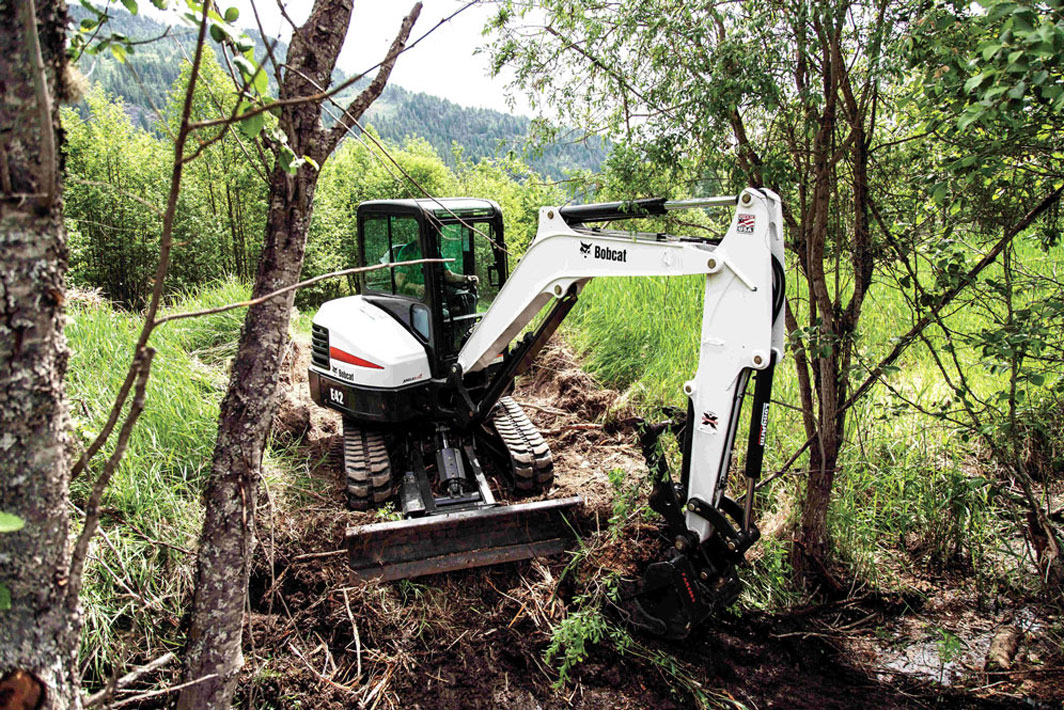 Educating equipment operators on proper operation & maintenance
Wednesday, April 12, 2017
Although recent technological advancements make it easier to operate compact equipment, that does not mean these technologies can replace proper equipment training for your operators. Educating your employees is an important first step to ensuring everyone stays safe on the jobsite, while also maintaining efficiency and machine integrity. Before your operators use compact equipment, make sure they follow these seven proper operation and maintenance tips.
1. Learn basic operating procedures.
All equipment operators learn differently, so it is important to have various means of training and resources available. Whether it is classroom or hands-on training, all compact equipment operators need proper education and a general understanding of basic operating procedures before using a machine. Reviewing the manufacturers' operation and maintenance manual is an important first step. The manual serves as a primary guide for proper compact equipment operation and maintenance. Trained and authorized operators should follow all safety rules, regulations and instructions when operating equipment. If you have misplaced your manual, contact your local equipment dealer and ask for a duplicate copy. Digital copies may be available for easy access. Additionally, safety and instructional decals should be reviewed prior to operation and maintenance. These decals are strategically placed on the interior and exterior of compact equipment for quick reference.
Any decals that become worn, damaged or missing should be replaced by your local compact equipment dealership. Operators can also refer to the Association of Equipment Manufacturers (AEM) safety manuals, which are available in print or digital formats and serve as complementary references on proper operating practices. Some compact equipment manufacturers provide additional resources, such as training and service safety training course kits. Kits help educate operators on how to efficiently and safely operate equipment. Most kits also include a DVD with videos for individual or classroom instruction.
2. Understand the basic safety guidelines.
Safety manuals educate operators on universal safety guidelines that can keep them safe on active jobsites. Wearing protective clothing and personal safety devices are two ways to keep your operators safe. Personal protection equipment (PPE) for operators may include:
Hard hat
Reflective clothing (vests)
Safety shoes
Safety glasses
Heavy gloves
Hearing protection
Note that jobsite requirements for PPE vary. Operators should be aware of PPE requirements before they begin working at a jobsite. Other recommended guidelines include wearing a seat belt, using the grab handles and steps that are provided for a three-point contact when entering and exiting the machine and wearing tight-fitting clothing that cannot get caught on working components or on the machine.
3. Assess the jobsite.
After your operators are comfortable operating equipment and using the controls safely under all possible conditions of the work area, they should assess the jobsite conditions. Getting a feel for the work area and looking for potential dangers, such as underground or overhead utility lines, narrow roadways, sharp curves and soft ground conditions, is important. Operators should look around the jobsite to make sure there are no bystanders and use barrier tape, traffic cones or gates to keep other individuals and equipment out of the work area. All underground utilities should be clearly marked before excavating. If they are not identified, operators should call 811 to schedule a trained professional to identify the underground utilities.
4. Perform a visual check.
All operators should take a few minutes to walk around their machine to look for potential problems before entering the equipment. Operators should complete the following during a visual inspection:
Check for broken, missing or damaged parts and make necessary repairs
Replace damaged or missing safety or instructional decals
Check tires for cuts, tearing or over-inflation
Check wheels for damaged rims and missing or loose wheel nuts or bolts
Review tracks for broken or damaged pins, bushings or other track parts
Replace worn or damaged tires or tracks
Check fluids, oils and filters
Repair any leaks
Fill fluid to proper level
Remove flammable debris from the engine compartment and the battery box, around exhaust components, under the machine and around rotating parts
Inspect lights and cab glass for damage
Clean and inspect all walking surfaces, steps and grab handles
Assess that the roll over protective structure (ROPS) and falling object protective structure (FOPS) are in good condition
5. Practice safe starting procedures.
After entering a piece of compact equipment, operators should inspect the seat belt and buckle for wear and proper function. They should also adjust the seat to operate the controls properly and familiarize themselves with warning devices, gauges and operating controls. Operators should make sure the parking brake is engaged (if applicable) and put all controls in the neutral/park position prior to starting the machine. Other personnel who may be working in the area should be warned by sounding the horn. While the transmission is in neutral, the engine speed control and equipment control levers should be tested to make sure all functions are running correctly. Shift controls should also be examined to ensure correct operation in forward, neutral and reverse positions. Parking, service and swing brakes (if applicable) should also be evaluated at this time.
6. Choose the right attachment for the job.
Owners should work closely with their dealership to determine the necessary attachment for their machine to fit the application. Being able to comfortably see the attachment out front, with good top-down and peripheral sight of the tires or tracks, and having an unobstructed view of the machine's rear are critical to safe machine operation. Attachments should be paired with a machine that has the proper auxiliary hydraulic flow and pressure requirements.
7. Maintain the machine.
Before performing routine maintenance on any piece of compact equipment, operators should be educated on maintenance procedures and possess the necessary skills and tools to complete the job correctly. Proper maintenance tips include:
Check lubrication charts
Examine all instructional messages on the machine
Use wheel chocks to keep the machine from moving during service
Use parts and service techniques recommended by the manufacturer
Attach a "Do Not Operate" tag or similar warning tags to the starter switch or steering wheel before maintenance
Remove the key from the machine
Install all appropriate lock devices or support devices, such as lift arm supports and cab supports
Do not operate the engine in a closed area
Safety features are only effective when equipment operators know about them. That is why all compact equipment owners and operators should consult the operation and maintenance manual, the operator handbook, operator training courses and service training courses before operating any equipment on the jobsite.