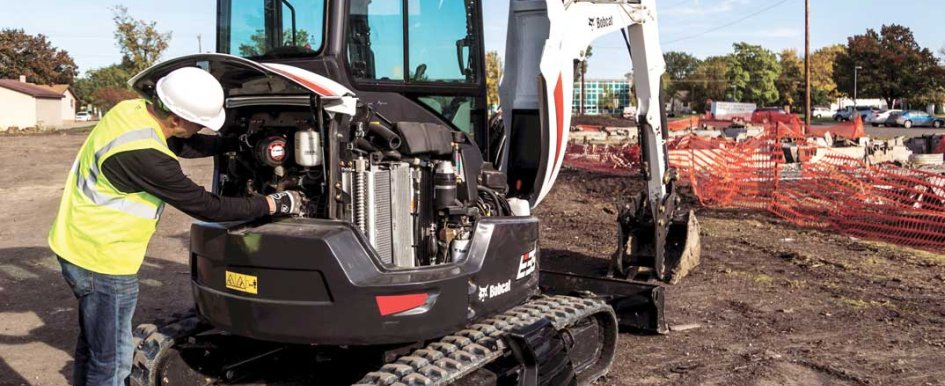 Maintenance tips to extend excavator life & boost performance
Unexpected compact excavator maintenance can place financial strain and undue stress on you and your company, and it may directly impact your profitability. Not only can poor equipment performance and component failure be frustrating, but also, you and your equipment operators may not have adequate service training or access to an on-site mechanic to get your compact excavator operational.
Preventive maintenance is critical to your business. Developing a comprehensive maintenance plan that incorporates the following six maintenance tips will allow you and your operators to focus on the most important part of your business—the job.
1. Read the operation & maintenance manual
The first thing you and your excavator operators should do is read the manufacturer's operation and maintenance manual. The manual explains in great detail the machine's safety features, instrumentation, controls, service schedules, maintenance points and much more.
2. Understand proper fluid levels & correct filters
Fluids, including engine oils, coolant, hydraulic fluid, grease and drive motor lubricants, need to be inspected on a regular basis. Using the wrong lubricants can lead to expensive and unnecessary repairs, so it is important that you work with your dealership to match excavator fluids to the proper ambient temperatures and the manufacturer's recommendations.
For instance, synthetic or synthetic-blended oils are formulated with additives that can extend oil change intervals and promote longer engine life. These oils have better cold weather starting and lubricating performance, as well as additional wear protection during high-performance operation.
Fuels should also be assessed at the same time you check fluids. A No. 1 or No. 2 ultra-low sulfur diesel fuel is the most common specification in the industry. No. 2 grades should be used at temperatures above 15 degrees Fahrenheit.
However, it is recommended to use a blended or No. 1 diesel fuel and/or anti-gel additives when temperatures drop below 15 degrees Fahrenheit.
To protect today's advanced components in excavators, it is important to follow published interval schedules for engine, air, fuel and hydraulic system filters and purchase original equipment manufacturer (OEM) filters compatible with your machine. Changing filters on a consistent basis can help reduce potential system contamination and extend the life of
core components.
3. Check the battery
Today's compact construction machines constantly draw on the battery. Check your excavator's battery before operation. If you disconnected the battery during nonworking seasons, be sure the battery is reconnected properly and is fully charged.
4. Inspect the tracked undercarriage
It is vital to keep compact excavator undercarriages clean to help minimize any material buildup that can contribute to wear. During a visual inspection, examine wear on components to make sure idlers and rollers are functioning properly.
Complete a full undercarriage inspection for excessive or uneven wear, and look for damaged or missing components. During a routine machine inspection, check the tracks to see if any components look out of place or need repairs. Look for signs of damage or cuts to the rubber tracks.
It is also important to inspect the rollers, idlers and drives for oil leakage. These oil leaks could indicate a failed seal, which could lead to a major failure in the rollers, idlers or track drive motors. Many manufacturers' idlers and rollers are permanently sealed and lubricated to provide uptime protection and reduce maintenance costs.
If compact excavators are being operated in colder climates, then mud, dirt and other debris may collect and freeze, causing problems to the undercarriage. Routine cleaning of the undercarriage helps to prevent unplanned downtime and reduces potential wear later on in the machine's life.
5. Prepare attachments ahead of time
Attachments are an important driver for utilizing excavators and require the same attention to maintenance as the machine itself. Complete a visual check of the hydraulic hoses, cylinders and guards on the attachments, which can help determine if damage or wear has occurred. Everything that engages with the ground, from bucket cutting edges to trencher teeth, should be looked at for wear and damage. Consider these other maintenance tips:
Operate only those attachments that are approved for use with the corresponding excavator.
Connect the attachment and operate it briefly to make sure the attachment works properly before using it on the jobsite.
Check attachment-specific fluid levels, and change them as needed.
6. Create a planned maintenance schedule
Make sure to work with your compact equipment dealer to create a planned maintenance (PM) contract to better assess what equipment and tools are needed to keep your excavator up and running. A PM contract helps control the cost of ownership by guarding against unexpected downtime that often leads to sudden, costly repairs.
Your dealership and their service team should know what parts are stocked and can ensure that scheduled maintenance is performed on time and at a convenient time. Properly and timely scheduled maintenance can help extend the life of the equipment, minimize downtime and save you money over time.
Additionally, making a PM schedule that is easy to follow and documenting service intervals allows you to make sure each item is completed weekly, monthly, quarterly or as scheduled.
Maintaining excavators is crucial in your line of work. If your compact excavator is not maintained, you may be risking needless breakdowns and losing money because the machine cannot be used on the jobsite. By following these six maintenance tips, you can decrease costly downtime and remove the element of surprise when it comes to maintaining your equipment.
When in doubt, visit your dealership
Don't have service training or an on-site mechanic? Consider partnering with your local dealership for:
Special maintenance packages
Assessing key machine features before servicing
Ensuring scheduled maintenance is performed on time
Controling costs
Minimizing machine downtime