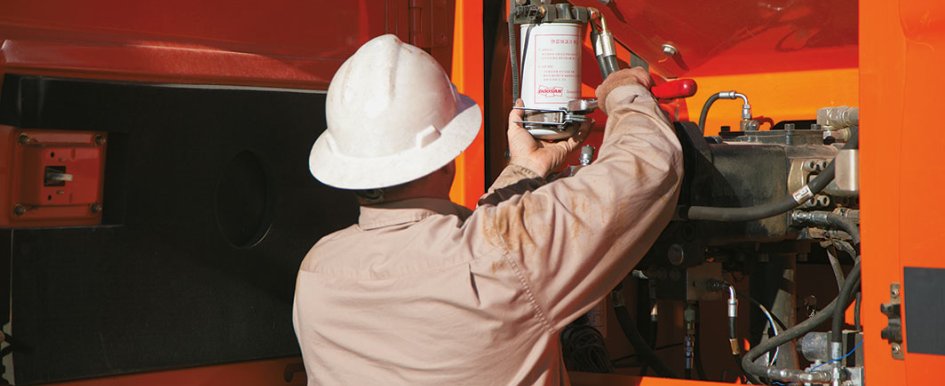 How to establish a safety mindset in your company
It is imperative to make safety a priority. As an equipment owner, it is up to you to communicate proper safety tips to promote a safer work environment, as well as reduce the risk of accidents that could result in injuries. Follow these tips to create a jobsite that is ready to handle any potential issues thrown its way, without ever missing a beat.
1. Invest in Training & Educational Resources
Perhaps the most important aspect of workplace safety is to ensure all equipment operators have adequate training. Whether it's classroom training or hands-on training, all operators need proper education and a general understanding of basic operating procedures for a machine's controls, gauges, signals, indicators and monitor displays. Review the manufacturer's operation and maintenance manual. The manual serves as a primary guide for proper heavy equipment operation and maintenance, and it is provided upon delivery from your local dealership. The manuals can be kept in the machine's cab for quick reference. An electronic copy may be available to access on a smartphone or tablet.
Prior to operation, make sure operators review safety and instructional decals. Some manufacturers strategically place decals on the interior and exterior of heavy equipment to alert operators about potential hazards, the consequences of injury and instructions on how to avoid a hazard. Replace decals that become worn, damaged or missing.
The Association of Equipment Manufacturers (AEM) safety manuals, available in print and digital formats, also serve as complementary references on proper operating practices. AEM is a trade association that provides global services to companies that manufacture equipment, products and services. In addition to listing general operating procedures, safety manuals also encourage operators to wear protective clothing and personal protection equipment to stay safe on the jobsite. Your local dealership can provide hands-on equipment training. Service technicians have the product knowledge and experience to help troubleshoot and maintain a machine. They understand and can articulate recent technology updates; and they can show you how to get the best performance from your machine.
2. Explain Safety Guidelines
To keep your operators safe on a jobsite, make sure they understand universal safety guidelines, such as wearing protective clothing and personal safety devices. Always check with the local jobsite requirements to make sure your team complies with PPE standards. Standards may vary by location and jobsite situations. Always use a seatbelt and use the grab handles and steps that are provided for a three-point contact when entering and exiting the machine. Wear tight-fitting clothing that cannot get caught on working components or on the machine.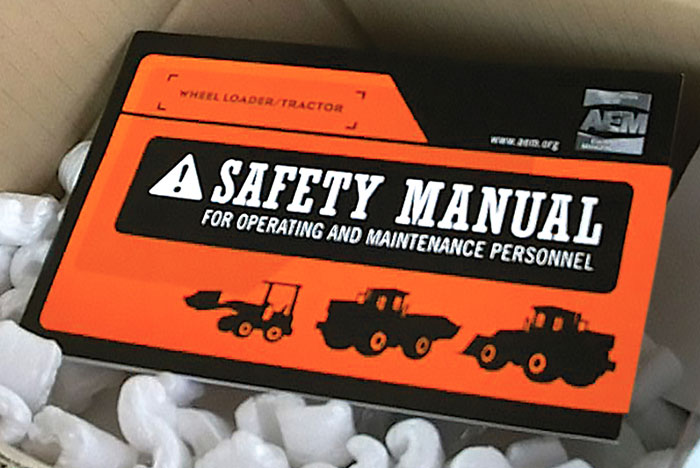 3. Communicate Equipment Safety Features
Heavy equipment can be highly technical, especially with the evolution of smarter technologies, so it is crucial that your operators understand advanced equipment technologies. For instance, auto idle automatically reduces engine rpm when machine functions are not used for a predetermined amount of time. Auto shutdown, which helps reduce unnecessary noise by shutting down the machine's engine after a set period of inactivity, is another feature available on some models. With both technologies, less noise allows for better jobsite communication between operators and other workers.
Efficient and safe operation may include using rearview or sideview cameras, travel alarms/backup alarms, work lights and mirrors and a horn, depending on the attachments used, jobsite conditions or applicable jobsite rules. According to the United States Department of Labor, one of the leading causes of construction work deaths was being struck by an object. You can improve your visibility with cameras and reduce the risk of workers getting hurt or even killed on a jobsite.
Make sure you and your operators understand multifunctional display panels before operating. Display panels show critical machine data, such as speed, engine rpm, transmission gear, machine warnings, coolant temperature and transmission oil temperature. Some manufacturers offer display panels that provide machine parameters while showing the rearview or sideview camera image.
4. Assess Jobsite Conditions
Jobsites can be filled with potential dangers. Before your operators start work, all underground utilities should be identified and clearly marked. Use a service, such as 811, to have someone identify underground utility lines. Operators should ensure there are no bystanders and use barrier tape, traffic cones or gates to keep other individuals and equipment out of the work area.
5. Maintain the Machine
Promoting a safety mindset also means performing routine equipment maintenance. Before working, operators should take a few minutes to walk around their machine to look for potential problems:
Check for broken, missing or damaged parts; make necessary repairs
Check for damaged or missing safety or instructional decals
Check tires for cuts, tearing or overinflation
Check wheels for damaged rims and missing or loose wheel nuts or bolts
Review tracks for broken or damaged pins, bushings or other track parts
Replace worn or damaged tires or tracks
Check the fluid levels
Look for evidence of leaks, have them repaired and fill fluid to proper level
Remove any flammable debris from the engine compartment and battery box, around exhaust components, under the machine and around rotating parts
Inspect lights, cab glass, side mirror and rearview camera for damage
Clean and inspect all walking surfaces, steps and grab handles
Ensure that the rollover protective structure (ROPS) and falling object protective structure (FOPS) are in good condition
Equipment operators should be authorized to complete routine maintenance, and they should possess the necessary tools to complete the job correctly. Some maintenance items may need to be completed by an authorized equipment dealership. Typical maintenance procedures, which are provided in the operation and maintenance manual, can be performed without any specific technical training.
6. Choose the Right Attachment
Lastly, an important safety measure that can be overlooked is using the correct attachment for the task. Work closely with your dealership to determine the right attachment for the machine to best fit the application. Knowing the machine's specifications before pairing it with an attachment can help reduce operator hazards and increase jobsite productivity.
Your operators should be able to see the attachment working at ground level from a normal seated position in the cab. Being able to comfortably see the attachment out front, with good up-front and peripheral sight of the tires or tracks, and having an unobstructed view of the machine's rear are critical to proper machine operation.
Minimizing risk of injury is an equipment owner's job. That is why you should explain manufacturer's tools and instructions to your operators to ensure safe and proper operation on active jobsites.