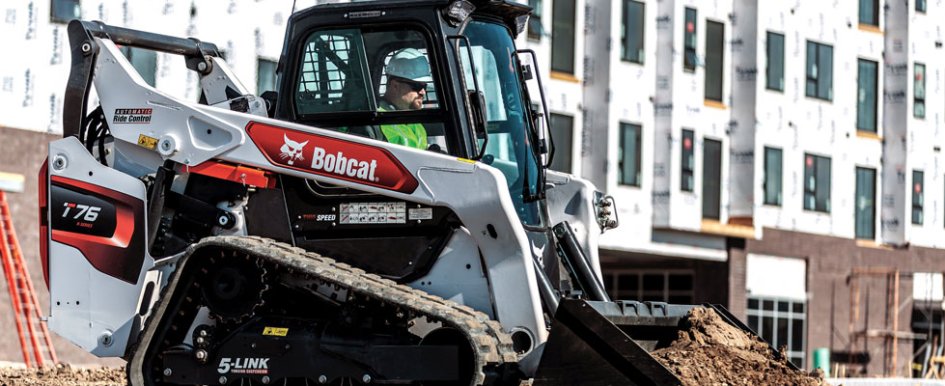 A few tips all owners & operators should stick to
Wednesday, February 12, 2020
Staying safe on the jobsite is imperative for all compact equipment owners and operators, but ensuring this safety is an often-overlooked step that can lead to potential hazards.
As an equipment owner, it's up to you to communicate proper safety tips to promote a safer work environment and reduce the risk of accidents that can result in injuries. To make sure everyone on your jobsite stays safe, follow these proper operation and maintenance tips.
1. Invest in Educational Resources & Training
Everyone learns differently, so it's important to invest in multiple forms of educational resources and training. Whether it is through sessions in a classroom or hands-on training in the field, before operating, you and your equipment operators should have proper education and a general understanding of basic operating procedures for your machine's controls, gauges, signals, indicators and monitor displays.
An important first step is to review the manufacturer's operation and maintenance (O&M) manual, which serves as a primary guide for proper compact equipment operation and maintenance. This manual is provided upon delivery from your local dealership and can be kept in your machine's cab for quick reference.
Safety and instructional decals should also be reviewed prior to operation and maintenance. The decals are strategically placed on the interior and exterior of your machine for quick reference. Any decals that become worn, damaged or missing should be replaced by your local compact equipment dealership.
Additionally, you can refer to the Association of Equipment Manufacturers (AEM) safety manuals, available in print or digital formats, which serve as complementary references on proper operating practices. AEM is a trade association that provides global services to companies that manufacture equipment, products and services.
Your local dealership can provide hands-on equipment training, as well, as service technicians have the product knowledge and experience to help troubleshoot and maintain a machine. They understand and are able to articulate recent technology updates, offer demonstrations, and show you how to get the best performance from your machine.
2. Understand Safety Guidelines
Safety manuals include universal safety guidelines to keep you and your operators safe on active jobsites. Wearing protective clothing and personal safety devices—aka personal protective equipment (PPE)—are two ways to stay safe. PPE may include the following:
Hard hats
Reflective clothing (such as vests)
Safety shoes
Safety glasses
Heavy gloves
Hearing protection
Note that worksite requirements for PPE vary. You and your operators should be aware of the specific site and task PPE requirements before you begin working. Other recommended guidelines include wearing a seatbelt, using the grab handles and steps that are provided for a three-point contact when entering and exiting the machine, and wearing tight-fitting clothing that cannot get caught on working components or the machine.
3. Convey Equipment Safety Features
Compact equipment can be highly technical, especially with the evolution of smarter technologies. So, it's crucial you and your operators understand advanced equipment technologies. For instance, efficient and safe operation may include using rearview or sideview cameras, travel/backup alarms, work lights, mirrors or a horn. Whether making use of these safety features is needed or beneficial depends on the attachments being used, current jobsite conditions and applicable rules.
It is important to also make sure you and your operators understand multifunctional display panels before operating. Display panels show critical machine data, such as speed, engine revolutions per minute, state of transmission gear, machine warnings, coolant temperature and transmission oil temperature. Some manufacturers offer display panels that provide machine parameters while showing the rearview or sideview camera image.
You and your operators can also utilize remote technology when working on hazardous jobsites, such as when using a breaker attachment during demolition or unloading hazardous materials on a barge, for example. By operating a machine remotely, you can do the work from a distance—free from dirt, dust and noise. This is advantageous if you are looking to recruit new operators, and it works in your favor to retain current employees.
4. Assess the Jobsite
Getting a feel for the work area and looking for potential dangers, such as underground or overhead utility lines, narrow roadways, sharp curves and soft ground conditions, is important. Look around the jobsite to make sure there are no bystanders, and use barrier tape, traffic cones or gates to keep other individuals and equipment out of the work area.
In addition, all underground utilities should be clearly marked before excavating. If they're not identified on your site, call 811 to schedule a trained professional to come identify and mark the underground utilities.
5. Perform a Visual Check
Promoting a mindset of safety means performing routine equipment maintenance, as well. Take a few minutes to identify potential problems before entering the equipment by following these crucial steps:
Check for broken, missing or damaged parts and make the necessary repairs.
Check for damaged/missing safety or instructional decals and replace them if needed.
Check tires for cuts, tearing or overinflation.
Check wheels for damaged rims and missing or loose wheel nuts or bolts.
Review tracks for broken or damaged pins, bushings or other track parts.
Replace worn or damaged tires and tracks.
Look for evidence of leaks and have any repaired.
Check fluids, oils and filters.
Remove any flammable debris from the engine compartment and the battery box, around exhaust components, under the machine, and around rotating parts.
Inspect lights and cab glass for any damage.
Clean and inspect all walking surfaces, steps and grab handles.
Make sure that the roll-over protective structure (ROPS) and falling object protective structure (FOPS) are in good condition
Before performing routine maintenance on compact equipment, you and your equipment operators should be educated on maintenance procedures and possess the necessary skills and tools to complete the job correctly. Some maintenance items may need to be completed by an authorized equipment dealership.
6. Choose the Right Attachment
Work closely with your dealership to determine the right attachment for the machine and application. Knowing the machine's specifications before pairing it with an attachment can help reduce operator hazards and increase productivity.
Your operators should be able to see the attachment working at ground level from a normal seated position in the cab. Being able to comfortably see the attachment out front, with good upfront and peripheral sight of the tires or tracks, and having an unobstructed view of the machine's rear, are critical to proper machine operation.