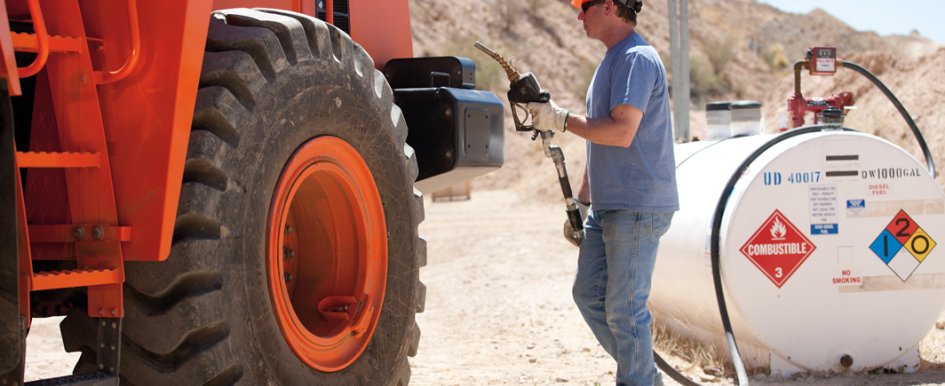 Get a handle on fuel, oil & coolant to help extend machine life
Fluids—particularly diesel fuel, diesel exhaust fluid (DEF), engine and transmission oil, hydraulic fluid and coolant—are your machine's lifeblood. These fluids require exceptional care, especially as equipment continues to be manufactured with sophisticated technologies.
1. Read the Manual
When it comes to maintaining and selecting equipment fluids, follow the manufacturer's Operation & Maintenance Manual. The manual explains in detail the machine's maintenance points and lists suggested fluid intervals and recommended original equipment manufacturer (OEM) fluids.
Make sure your operators also follow instructional decals and safety measures outlined in the manual. Some manufacturers strategically place decals with the recommended service intervals on heavy construction equipment. Ideally, you and your operators should request proper maintenance training from your local equipment dealer, and familiarize yourself with decals and key maintenance points on machines.
2. Follow Storage Procedures
When storing diesel fuel, oils, coolants and hydraulic fluids, the last thing you want is water, dust and debris in your storage tanks. These contaminants can degrade a fluid's chemical structures and lead to pump, filter and injector problems. All machine fluids should be handled in a dedicated fluid containment area and stored in a manner that maintains a maximum level of cleanliness.
When handling fuel, oils and fluids, make sure to follow these general best practices.
Any fluid entering a storage tank should pass through a dispensing filter.
Keep fluids tightly closed in a dry, well-ventilated place.
Carefully reseal open containers and keep them upright to prevent leakage.
Always observe label precautions and follow safe handling procedures.
Wear protective equipment to reduce the oils and fluids that are absorbed into skin and to keep components clean.
Be cautious when storing DEF to help reduce contaminants such as dirt and dust when working in earthmoving applications. Try to fill the DEF tank directly from the DEF container. If you are using a funnel or intermediate containers, make sure they're clean and only used for DEF. Contamination can damage the catalyst in your selective catalytic reduction system and cause you to use more DEF than is needed. Purity is critical, so work with a local dealer to better understand how to store and handle DEF. Every 6 months, you or a professional diesel fuel cleaning and inspection service should test supply tanks for contaminants. If significant amounts of water or sludge are found, the entire tank should be drained and cleaned. To help monitor your supply tank, maintain a preventive maintenance log that includes maintenance history, filter changes and particle counts.
3. Evaluate Delivery Methods
Getting equipment serviced in the field using clean, contaminant-free fluids is critical to avoid damaging machine parts and critical system components, resulting in machine downtime and shortened component life.
Fortunately, fluid distributors and mobile lubrication vehicles can provide you with a choice of efficient fluid delivery methods. They offer a clean, dirt-free environment that can successfully reduce contaminants that might otherwise be introduced into machine components. Depending on what fluids are needed, the distributor or dealer will determine which type of mobile lube vehicle best fits your operation.
4. Develop a Proactive System
To best identify minor issues before they become major repairs, develop a proactive maintenance program executed by trained service technicians. Addressing issues during regular maintenance helps to avoid the domino effect—triggered by a machine breakdown—that forces downtime and results in rush-rate repairs.
One of the biggest advantages to utilizing dealership service teams is having trained technicians with access to the latest information, resources and tools. They can complete calibrations and check diagnostics with tools and software that are typically not available to customers. Machines equipped with telematics allow your dealership to monitor machine activity and location, and they provide visibility to machine hours, so you can properly schedule maintenance.
5. Consider Fluid Analysis
Finally, protect your equipment with a fluid analysis program. Some manufacturers offer a program that will test small samples of engine oil, transmission oil and coolant to identify the overall condition of the fluids as well as any contaminants. The report can give you a heads-up on machine condition.
By following these simple steps, you can prolong component life, reduce maintenance costs and keep your equipment running successfully on the jobsite.