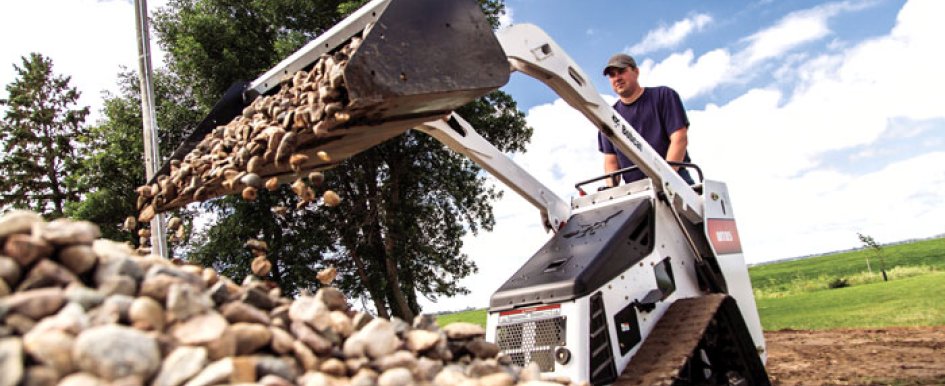 How this equipment can bring muscle to your jobsite
Wednesday, October 17, 2018
In an industry faced with an increasingly high labor shortage, many construction companies are turning to technology and equipment to help fill in the gaps and improve efficiency. For contractors working in congested areas, a mini track loader offers a small frame size with big versatility. The machine is powerful enough to work alongside skid-steer loaders, compact track loaders and compact excavators, yet nimble enough to maneuver on partially or fully developed jobsites where larger equipment won't fit.
As such, mini track loaders can bring big productivity to a variety of jobsites, including maintenance, construction and development projects, but it's important to consider your specific application needs before you can select the right model for your company.
1. Size & Capability
Focus on these five specs when you start evaluating mini track loader models to ensure that you get a machine that can handle the work you need it for. Then, request a demo from your dealer to give the machine a trial run.
Rated operating capacity—If you plan to lift heavier loads, confirm that the rated operating capacity of the mini track loader will fit your needs.
Size—Consider the dimensions of your typical jobsite and ensure the width, height and length of the machine will meet those constraints. Don't forget to take track width into account as well. Wider tracks offer less ground disturbance to maintained surfaces; whereas, narrower tracks allow you to fit into smaller spaces, work closer to walls and get better traction.
Operating weight—Make sure the weight of your machine is compatible with your trailer setup so that you won't run into issues when transporting equipment to and from the jobsite.
Auxiliary hydraulic flow—Check that the horsepower of the mini track loader will be able to power the attachments you want to use with the machine.
Operation style—Ride-on models not only reduce operator fatigue, but also give the operator an enhanced view of the attachment and work area. For easier or shorter projects, or ones where the working area is cramped,
a walk-behind model may suffice.
2. Attachment Arsenal
Attachments expand the machine's capabilities, enabling it to do intense work like trenching, tilling, digging, moving materials and more. Consider purchasing these five popular attachments with your machine so you'll be prepared to handle tasks ranging from demolition to cleanup.
Bucket—Make easy work of grading, leveling and moving materials.
Pallet fork—Load, lift, move and place materials with precision.
Breaker—Demolish rocks, concrete and other hard materials quickly.
Industrial grapple—Get maximum contact when working with irregular-shaped materials.
Broom—Make quick work of sweeping dirt and debris from driveways, sidewalks, parking lots and more.
When considering a mini track loader, keep in mind that there are different attachment mounting systems, which allow operators to switch between attachments for mini track loaders and some larger equipment. One such system is called the common industry interface (CII).
It offers a smaller, pin-on style. Be aware if you have skid-steer or compact track loaders, as the mounting system for those machines may not match a mini track loader with a CII.
If you already own compact equipment, some of your attachments for larger loaders may be compatible with a mini track loader. Contact your local compact equipment dealer to inquire about compatible attachments for your compact loader.
3. Part of the Crew
Mini track loaders can make up for a short-staffed crew thanks to their ability to dig and move materials in cramped quarters. Their narrow profile has made them an especially popular choice for urban developers, who sometimes need equipment to travel next to or through established buildings. Plus, as crew numbers dwindle, a mini track loader shows up ready to work every morning and can complete the equivalent of about two workers' worth of labor per day.
4. Maintenance-Minded
Every manufacturer details service-interval requirements in its operation and maintenance manual. As with other machines, mini track loader owners will need to keep on top of grease point maintenance as well as oil, filter and fluid changes. Regularly inspecting the machine for leaks and any wear and tear, especially on the track, can help prevent minor issues from becoming major ones. Scheduling planned maintenance will also help keep the machine running at peak efficiency and prevent downtime.