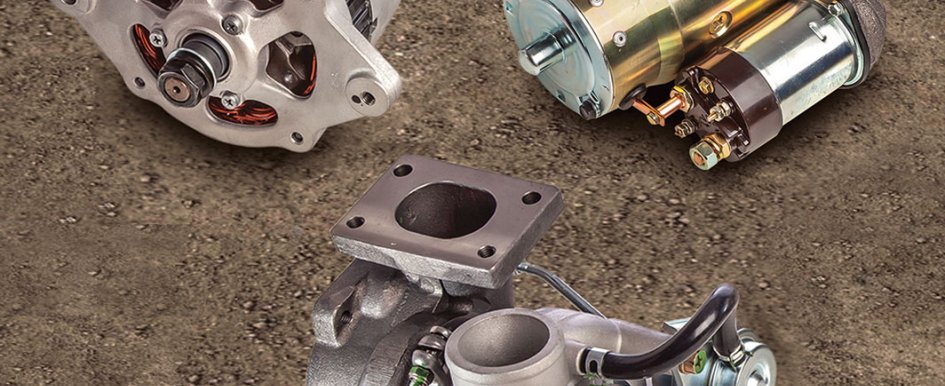 Extending equipment life with this maintenance alternative
When the time comes to replace essential machine components, such as engines and hydraulic parts, rather than buying new or used parts, there is another viable option to consider—remanufactured. Many equipment manufacturers offer a remanufactured (reman) parts program, which consists of taking worn components, otherwise known as core components, and transforming their condition.
Reman parts can offer like-new performance, reliable service life and substantial cost savings, all of which help extend the life of your equipment.
1. How Does the Reman Process Work?
When a component is at the end of its operability, instead of disposing of it, you can take the component to a professional to be remanufactured. The first step in the remanufacturing process is to visit your dealership, where they will provide you with a quote for the component based on your requirements. In addition, they may be able to direct you to an online parts catalog, which displays parts that are available for remanufacturing.
After you and your dealer agree upon a quote, a deposit is usually charged for the core. A fee is sometimes charged as well, known as a "core charge."
This fee is refunded to the customer when the old core is brought back to the dealer. The component is then sent to a remanufacturing factory for evaluation or inspection to determine if its parts are salvageable.
Unlike rebuilt components, remanufactured are completely disassembled into parts, cleaned using environmentally-friendly processes and inspected. All components pass through a production line and are checked, refurbished and replaced, if necessary.
Then, the parts are tested to meet or exceed exact original equipment manufacturer (OEM) specifications, ensuring that they meet the same quality standards met when they were new. If a component has a failure, the part goes back through the line until it passes inspection. Once the component meets quality inspections, it is painted and readied for sale as a remanufactured product. Some components can be remanufactured multiple times until they meet certain specifications.
2. How Much Does It Cost?
The cost of reman parts for equipment varies based on how much remanufacturing needs to be completed. On average, reman parts cost 25 to 50 percent less than new ones and come with a 1-year warranty, which helps protect the overall value of your machine. Many manufacturers offer a same-as-new parts warranty, so ask your dealership about what options are available.
As with any piece of equipment, your machine and its parts need to be reliable. With reman, you can lower your overall cost of ownership and reduce the time it takes to remove, rebuild and reinstall major components. These advantages all help you maintain a competitive edge and continue to keep your business productive year-round.
3. What Are the Environmental Benefits?
The energy savings and environmental benefits using remanufactured parts are significant. In fact, reman uses approximately 85 percent less energy than the mining, remining, melting and machining of new material. Using reman engines and components helps reduce landfill waste and can have a positive impact on greenhouse gas reduction.
4. Are There Additional Maintenance Considerations?
Reman parts do not have any maintenance requirements in addition to the general maintenance performed by you or your dealership, as with any other equipment. The benefit of partnering with your dealership is having trained technicians with access to the most up-to-date information, resources and tools. They know what to look for and have the proper training on the latest emission standards; and they check diagnostics with tools and software that is typically not available to customers.
Remanufacturing is a growing industry that continues to do well in today's financial atmosphere. For many business owners, repairing equipment with reman parts makes both financial and economic sense. Like-new machine performance, extended service life and considerable financial savings are just a few reasons why reman parts can help you to get the most out of your equipment investment.