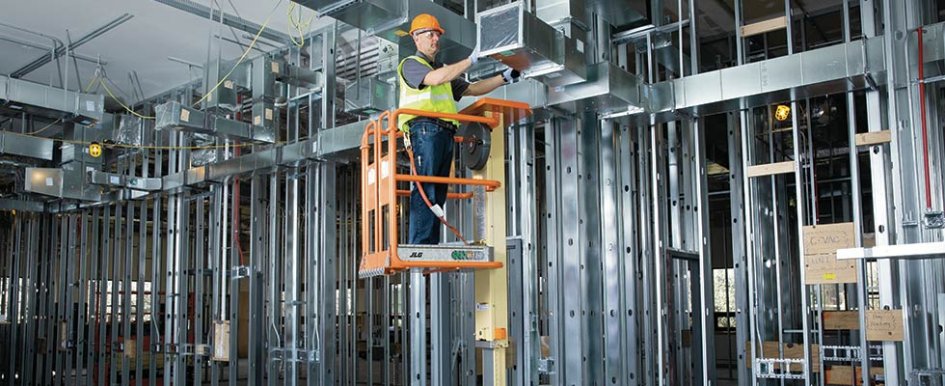 Examining the impact of wasteful motion on workers & business
The construction industry is burdened with a massive productivity problem. And ladder use is contributing to it. Ladders can cause wasteful motion, which leads to fatigue and reduces productivity. The less productive contractors are, the more costly it is. 
According to a McKinsey Global Institute report, lagging construction productivity costs the global economy $1.6 trillion
a year. 
Wasteful motion from climbing a ladder alone can set construction companies back more than $5,500 per worker a year, according to the Mechanical Contractors Association of America (MCAA).
Also concerning is the fact that as productivity goes down, the risk of injury goes up — and ladders are already considered to be one of the most dangerous tools on the jobsite. The MCAA says there is a direct correlation between every percentage point of productivity and risk of injury, so if productivity is down 10%, your chances for injury increase 10%.
Injuries to your crew members can add up quickly. The average cost of each construction injury is $27,000.
So, how can we reduce wasteful movements and perform work at height more efficiently? 
Plan Ahead for Construction Site Efficiency
In order to be productive, movement on a construction site needs to be intentional. Before any work begins or equipment for the job is selected, contractors need to perform a site assessment to evaluate how to safely and effectively complete their tasks. In fact, a site assessment must be conducted prior to the start of a job if using mobile elevating work platforms (MEWP) in order to be compliant with American National Standards Institute (ANSI) A92.22 and Canadian Standards Association (CSA) B354.7 standards.
What does a site assessment involve? According to the Occupational Safety and Health Administration (OSHA), its goal is to identify and eliminate or reduce any risks and hazards before they occur by examining the relationship between the worker, the task, the tools and the work environment. OSHA compares this assessment to detective work and recommends asking the following questions:
What can go wrong?
What are the consequences?
How could it arise?
What are other contributing factors?
How likely is it that the hazard will occur?
Contractors should think through each aspect of the job, not just the work environment and the tasks to be performed. They must also consider the appropriate equipment and technology that is needed and what physical risk factors crews will experience.
Know Your Risk Factors
As part of the site assessment, contractors should focus on eliminating wasteful motion, said Randy Marzicola, director of business development for JLG Industries. 
"We just need to recognize the opportunities to minimize movement, which is a step toward a safer, healthier, sustainable and more productive jobsite," Marzicola said.
The MCAA says contractors should be aware of eight key motion-related risk factors. They are walking, bending, reaching, climbing, pulling, pushing, lifting and carrying.
Of those eight, Marzicola says there are two most often in play during ladder use — climbing and reaching — but the others can be factors as well, such as lifting and carrying tools and materials.
"With a ladder, you're climbing up and down, because you can't really take with you all the tools and material that you're going to need for the job," Marzicola said. "And now your hands are occupied, so you can't maintain your three points of contact."
During an average shift, the MCAA says mechanical contractors that need to work at height climb a ladder up to 25 times an hour. That number of climbs takes more than 25 minutes a day. Multiply that by a $50/hour rate over the course of a year: Those climbs can add up to $5,562 per worker.
Waste Leads to Fatigue
The more you move, the easier it is for your muscles to tire out. Fatigued muscles slow your output down and increase the potential for injury. Reaching while on a ladder to perform work is particularly strenuous. 
"You are putting unnecessary stress and strain on your back and shoulders by constantly overextending your arms," Marzicola said. 
The MCAA says mechanical contractors reach an average 100 times an hour, spending more than 43 hours annually on reaching alone. Time spent reaching can cost $2,165 per worker a year. Wasteful motion and fatigue also have an intensifying effect. 
"The risk of cumulative trauma injury to soft tissue increases substantially over time," said Marzicola. As workers get older, they become more susceptible to fatigue and injury. "Around 45 years of age, you start losing some muscle strength, range of motion and speed," added Marzicola. 
This is a real concern, because roughly 45% of construction workers in the U.S. are at least that age or older, according to the Bureau of Labor Statistics data from 2020. In fact, this is the first time in history that five generations comprise the workforce. 
Bending to grab items you need while working on a ladder is another problem. "Having your tools and work materials off the ground near you increases productivity," Marzicola said.
Ladders are difficult to transport on a jobsite, often requiring two workers to move and set up. This is why carrying objects can be another productivity risk — it puts ergonomic strain on the body.
How to Improve Construction Productivity While Working at Height
The reality is that mechanical and electrical contractors, plumbers, painters, drywallers and facility professionals all commonly use ladders to get their work done. If they want to reduce the wasteful motion caused by ladders, what
options do they have? There is a more productive way, according to Marzicola.
Low-level access equipment solutions eliminate climbing by providing large, heavy-duty platforms from which a worker can complete their job. Depending on the specific application, the platform can be raised and lowered through powered and nonpowered options. These lightweight machines are designed to be maneuvered across work areas and meet demanding indoor applications with working heights up to 20 feet.
Another benefit of low-level access lifts is that tool trays and an optional heavy-duty tray with tool tethering capabilities can put everything required to complete a task within arm's reach.
There is also very little maintenance required for low-level access products compared to other construction equipment.
"With some models, there's no battery," Marzicola said. "There's no hydraulics. That means there are zero hydraulic fluids and zero potential for leaks." 
Only one person is needed to operate a low-level access product, contrasted with the extra crew member that is often required for ladder use. 
"A lot of companies do require a spotter with a ladder," Marzicola said. "So you've got two people doing the work that one person could do."
This frees up the second crew member to complete other tasks, which can contribute to speeding up the pace of the job.
But perhaps the ultimate payoff of reducing wasteful motion from ladder use is that when your crews are more productive, they do better work. "Better quality means less rework," said Marzicola. "Rework is waste."