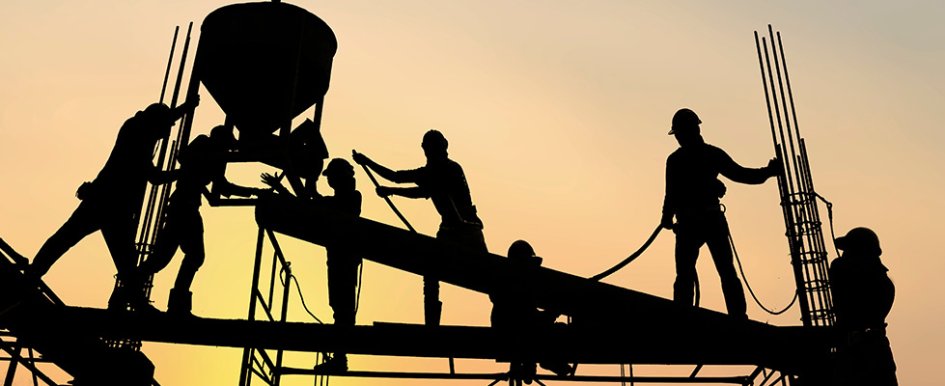 OSHA's list highlights opportunities for contractors to improve safety
Construction sites can be dangerous for workers — especially when safety standards aren't defined or maintained. To help businesses understand and reduce common injury causes, the Occupational Safety and Health Administration (OSHA) releases an annual review of its top 10 most frequently cited safety violations across all industries.
This past year, five construction-specific violations appeared in OSHA's preliminary top 10. Each category provides an opportunity for you to pause, assess and address your business's potential hazards. By doing so, you can help reduce the risk of accidents and injuries while avoiding potential penalties.
Let's take a closer look at the industry's top violations and how you can keep your team protected.
1. Fall Protection – General Requirements (1926.501)
This is the most common violation in all workplaces. In construction, falls can be caused by: 
Loose, unanchored flooring
Slippery walking surfaces
Ramps without skid- or slip-resistant surfaces
Hidden trenches, pits or excavations
Improperly installed or missing guardrails
Lack of fall protection
Support giving way or collapsing
Improperly rigged safety nets
Debris or clutter on the construction site
Poorly maintained ladders and stairs
Falls are the leading cause of death for construction workers. In 2021, the Bureau of Labor Statistics (BLS) reported 378 construction fatalities due to falls.
TIPS: To help protect your employees, ensure they use harnesses and other fall protection wherever necessary. Make sure your jobsites are kept clean and organized, workers wear proper footwear for the job, wet conditions are remedied as soon as possible, and protection is provided where there's potential for falling objects.
2. Ladders (1926.1053)
Ladders are essential tools on a jobsite; however, workers risk injury when they use them in an unsafe way, like for scaffolding or as a platform. It's also dangerous to climb onto the top step of a ladder or use one that's damaged.
TIPS: According to OSHA's standard, ladders need to be regularly inspected for visible defects. They must also
be inspected after any occurrence that could impact their safe use. Train employees to use ladders safely, and provide ladders that can sustain at least four times the maximum intended load.
3. Scaffolding (1926.451)
Injuries can occur on scaffolding when they are designed improperly and there's inadequate fall protection, slippery surfaces, loose or insufficient planking and supports, or falling debris.
TIPS: Review the full OSHA standard to ensure your scaffolds are in alignment with weight limitations, planking and decking. Train employees to properly design and construct scaffolds, and inspect them frequently as projects progress. If there are damaged sections or pieces, remove and fix them.
4. Fall Protection – Training Requirements (1926.503)
Yes, fall protection made OSHA's list twice — this time related to training. You're required to provide a training program for each employee who might be exposed to fall hazards. 
Through this training, your employees learn to recognize hazards and how to minimize them. They should be trained in the use and operation of guardrail systems, personal fall arrest systems, safety net systems, warning line systems, safety monitoring systems, controlled access zones and other necessary protection for the work they're doing.
TIPS: When employees aren't trained in fall protection and prevention, accidents are more likely to happen. To further help keep your employees safe, assess fall hazards on every jobsite.
5. Eye & Face Protection (1926.102)
While preventable, injuries can occur when flying particles, hazardous chemicals and other debris strike a worker's eyes. This can happen when the materials are ejected from tools, fall onto a worker from above or are blown by the elements into a worker's face.
TIPS: Train employees on the proper use and maintenance of eye and face personal protection equipment (PPE) — this includes safety glasses or goggles, face shields, welding helmets and laser-safe lenses — and ask supervisors to monitor the use of PPE around hazards.
Be Aware of Risks Outside OSHA's Standards
You'll lessen your risks by complying daily with OSHA's standards. Injuries do occur, however, outside the scope of OSHA's governance. 
Examples include injuries that happen when an employee uses improper lifting techniques. 
TIPS: Take a moment to assess and address the areas where your employees are injured most often, and tighten precautions and training accordingly. Injuries can cause long-term work absences, affect the mental health of your employees, impact productivity and raise your workers' compensation costs.
Create a Culture of Safety
Managing risk in the construction industry can seem like a moving target, but proactive efforts help provide long-term benefits and prevent significant losses to your business. It takes everyone — employees and management alike — to create a safe workplace. There are several ways to build a culture of safety for your business, including:  
Develop a comprehensive safety plan or strengthen an existing one.
Hold regular safety meetings.
Invite employees to take turns leading safety meetings so they take ownership of the safety plan.
Conduct thorough assessments of motor vehicle reports (MVRs) prior to hiring.
Offer incentives for safety. 
Encourage leaders to model safe behavior while on construction sites and in facilities.
Make cybersecurity part of your plan for your employees and vendors, including commercial building systems, mobile devices and the technology your employees use.
When you foster a culture of safety, employees feel supported in making safe choices and avoid cutting corners. They proactively address risks and take the necessary steps to help ensure the safety and well-being of themselves and their co-workers.
Protect Your Employees & Your Bottom Line
Given today's tight labor market, it's even more critical to keep your employees safe. Use the OSHA report to help improve your workplace safety. The benefits may include: 
Decreased workers' compensation claims from injured workers 
Increased productivity so you stay on schedule
Reduced potential for legal fees and compliance fines
Avoiding potential negative publicity and damage to your reputation
Improved morale among your workers
You don't have to go it alone. Some insurers have loss prevention and safety teams who can help policyholders set up or bolster a risk management program. Contact your insurer to see how they can help you maintain a safer workplace.
For the most up-to-date regulations and interpretations of the rules, visit osha.gov, or speak with a local expert to discuss questions you have specific to your business.