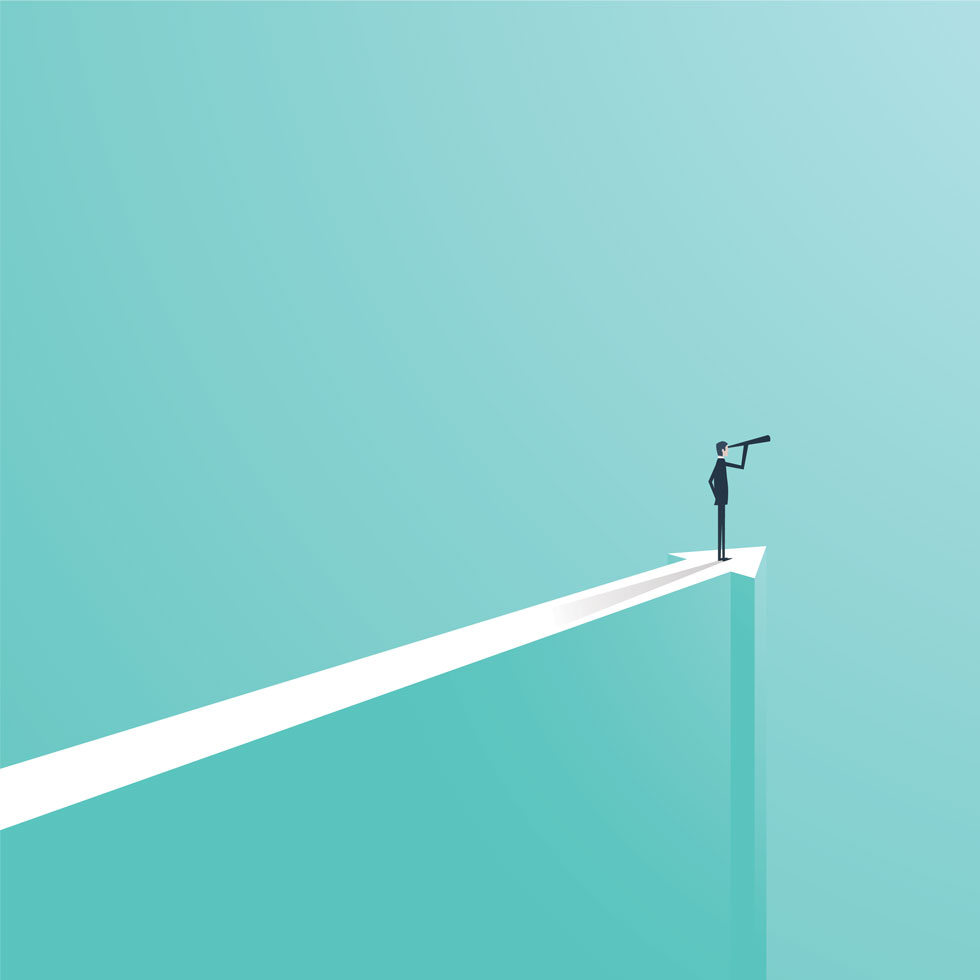 The strategies you need to make sure your business withstands the pandemic
The world has encountered an unprecedented event in the spread of COVID-19. At print time, world markets were rattled worse than the mortgage crisis and that of 9/11, with few answers about when and if the world will go back to normal.
The new "normal" may require a new definition as it relates to education, recreation, business and even construction. As we move through this pandemic, here are a few things to keep in mind now and as we look to the future:  
People first—Our teams are all going through this together, and a dose of humanity goes a long way. 
Proactive communication—Don't leave internal communication to chance. Be on the front line of the communication.  
Decisiveness—Firms will be confronted with tough decisions every day, before, during and after the dust settles. Avoid analysis paralysis.
Positivity—Don't paint an unrealistic picture, but your team is looking to you for your strength and support as they begin to rebound.
Perseverance—You have contingency plans and a strong balance sheet for a reason. When the dust settles—and it will—you will be OK.
If there was one enduring lesson from the Great Recession, it was that construction firms failed when they did not communicate enough. It was only as firms began talking about reductions in labor forces that the true impact of the recession was felt by their employees. Use Figure 1 on page 9 and the following tactics and strategies to help guide your firm through the expansive unknown.
Associate Health & Well-Being (Short Term/Internal)
Internal communication plan (frequency and approach)—Define the cadence and frequency with which your teams will communicate. Where and when should "town hall" meetings take place (virtually) to answer questions and brainstorm ideas?
Hygienic best practices—What precautions will you make mandatory for cleaning, in an office or on the jobsite? When schedules do return to normal, how will you continue these practices to avoid a boomerang effect?
Protocol for remote work—As firms consider working remotely, how will you continue to press forward on your culture? What if your firm has traveling managers? How will that affect their ability to get home regularly? What if there is a domestic travel shutdown?
Staggered scheduling—When normalcy returns, how do teams engage on projects that require less social distancing? Will staggered schedules make sense?
Mental well-being forums—How will you ensure your team is in the right state of mind in the short term? How will you quell economic concerns?
Assistance for those impacted— How will your firm address support for employees and their families that do not have daycare capabilities?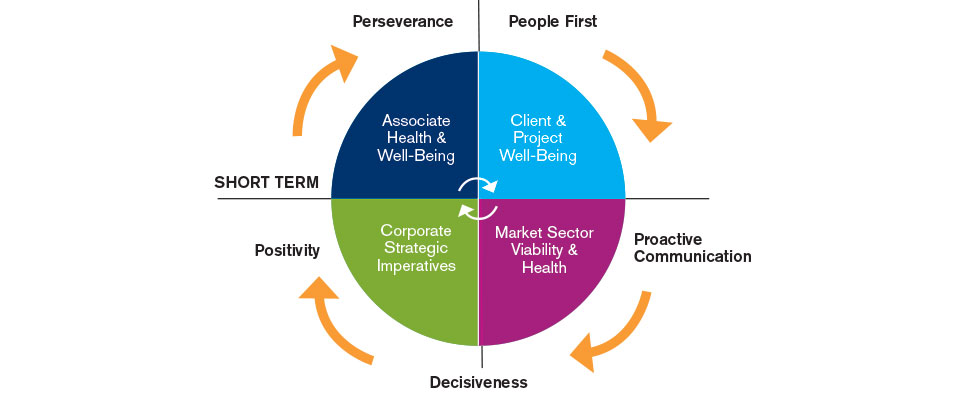 Client & Project Well-Being (Short Term/External)  
Force majeure rules—As projects are shut down or delayed, what contractual terms would apply relevant to overhead recovery or meeting project deadlines to avoid damages?
Proactive construction summits—Reaching out to customers and demonstrating a proactive plan relative to their project may provide a silver lining in a series of bad news.
Regular client pulse communiqués—Engage with clients on a hyper-frequent basis so they see the steps being taken to ensure safety and project continuity.
Vendor and supply-chain impacts—Plans related to the supply chain should be examined. Originally, concerns were mainly focused on materials shipping from the Asian continent. However, it is now more realistic to think about Europe, too, as well as domestic supply chains.
Project staffing plans—What does the staffing look like on projects that are impacted? Have appropriate labor forecasts and histograms been run to look at the crew blends during and after work freezes take place?
Personal protective equipment (PPE) and project hygiene protocol—As shortages persist in PPE, what protocols should and/or can be implemented on jobsites to help reduce potential interactions and transmissions?
Corporate Strategic Imperatives (Long Term/Internal)
Scenario planning—Assuming a firm has a strong balance sheet, what is the long-term prognosis for how long your firm can weather this storm?
Cash-flow storyboards—Running a 12-month projection is a good practice regardless of the economic climate, but what will this do your firm's billings and collections long term? 
Internal risk management discussion—Has the firm had conversations with its surety and banking institutions to discuss concerns and challenges? Can they offer any contextual data based off their multiple vantage points?
Internal markers—With all of the projections and data points, what markets indicate triggers for specific actions relative to all business considerations?
Internal talent management and personnel decision trees—As firms continue to wrestle with the long-term effects of a prolonged, stagnant market, how will personnel decisions be made? How will succession planning be impacted? How will talent development continue?
Market Sector Viability & Health (Long Term/External)
Deep pulse on client and market sector impacts—With economic projections in flux, how will your firm base its activity and standards for performance? What new data can you use to handicap projections and provide a true measure of sector viability? What is your firm doing to talk through specific market sector considerations?
Long-term supply chain considerations—What items may be impacted by long-term impacts to the supply chain (i.e. stricter border inspections, delays in deliveries, etc.)? What logistical considerations should be made, and does this provide more opportunity to the firm?
Market opportunities and horizontal integration—What new market opportunities will open for firms in the next 12 to 16 months? What will this do to some sectors, such as health care, pharmaceuticals and adult living? What will the tenant improvement market look like, as customer spending may be more constrained and spaces needing appropriate retrofitting may be more likely avenues for clients? Lastly, are there potential targets for acquisition that may be strategically viable in light of market conditions and workforce capability?
Customer management plans—While there is a need to avoid the obvious discussions and engage in expressive commiseration, there should be specific, strategic plans to gauge health and an outlook on the future.
These are uncertain times, to be sure, but strong, proactive leadership grounded in decisiveness will help everyone keep calm and carry on.