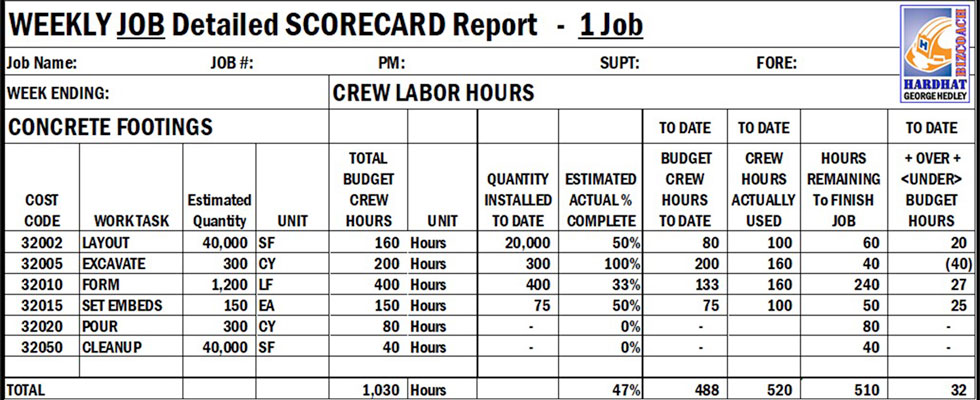 The benefits of keeping field crew scorecards & job cost tracking systems
Sunday, February 28, 2021
Your business's purpose is not to build buildings, install pipe, hang drywall, pour concrete, erect steel or move dirt. You are in business to make a profit, build equity, seek wealth-building opportunities, and enjoy the benefits of owning a successful company. From a financial perspective, a perfect construction project is when the estimated labor and equipment hours equal the completed project job cost hours. When the final labor and equipment costs come in under the estimated budget, it results in cost savings. 
But is that accomplishment the result of a great foreman or superintendent, or is it because the estimate was either inaccurate, padded or too conservative? And when a job finishes over budget, was it caused by a bad bid estimate, a bad customer, field issues or conditions, mistakes, overtime, an inexperienced crew, callbacks and rework, poor crew planning, or poor project management? Every contractor's impossible dream is to build every project perfectly and as planned. Completing projects perfectly would generate the following results:
On-budget labor and equipment
On-schedule completion
Meet all contract requirements, targets and goals
Safe with no accidents
Quality workmanship without
callbacks or punch-list items
Proactive two-way communication
Proper documentation and
change-order approvals
No conflicts, issues, delays or disputes
Prompt and complete payment
Satisfied repeat customer and referrals
That impossible dream isn't often a reality in the ever-changing world of construction. There are too many uncontrollable variables and things that can go wrong on a job. Potential problems include late material deliveries, bad weather, inaccurate plans, crew workloads, field conflicts and payment problems. In fact, construction is one of the most difficult processes to control, alongside many other manufacturing operations and assembly procedures. 
The Labor & Equipment Hour Business
In my experience as a business coach, I find the No. 1 common problem to be inaccurate estimates—which always means less profit. This happens as a result of labor and equipment costs varying significantly from their bid estimates to final costs, leaving the final markup and margin to vary greatly from the original. 
This shrinking profit margin causes them to net a lot less than they expected—and it happens year after year. So why does this continue to happen? For most contractors, labor and equipment hours control their bottom lines. But they don't invest in systems, tracking reports or software focused on controlling these important costs. Too many construction business owners spend their time and money on buying new excavators or vehicles versus implementing integrated job cost tracking systems and software that can actually guarantee more profit.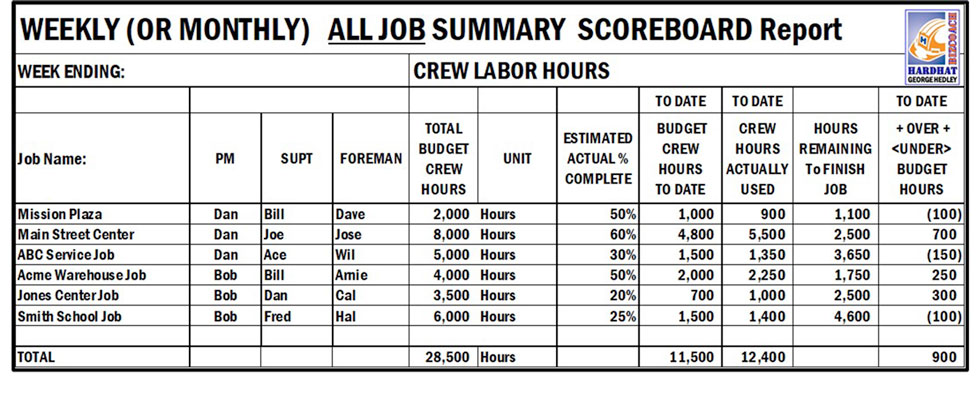 Systems, Strategies & Scorecards 
How can you improve project performance and eliminate potential issues that occur on your jobs? Successful construction companies work hard to enforce standard systems and controls to lower risk factors, eliminate potential problems and improve their odds to achieve expected results. Written, implemented, trained and enforced systems may seem like a pain, but they improve the odds of success. Letting each foreman decide how to run their jobs without knowing the budget just doesn't work. And when there are updates delivered during the course of a project, how can anyone plan to achieve the completion goal or make any required adjustments to bring in the job on-budget?
What's Required to Hit Your Estimated Labor & Equipment Hour Budgets?
1. Accurate estimates
Labor and equipment hours based on actual cost history on completed jobs. This requires investing in a fully integrated estimating and accounting software, which tracks labor and equipment hours and job costs by job number and cost code. The estimator and project manager sit down to determine which construction trades, activities and phases they want to track in order to create accurate estimate templates, detailed job-cost tracking systems and simple timecards. 
2. Turnover preconstruction hand-off meeting 
Before each project starts, the estimator, project manager, superintendent and foreman meet to review the new job. Prior to the meeting, the project manager, superintendent and foreman visit the jobsite, review the plans, draft a preliminary schedule and estimate the crew hour budget. During the meeting, the team reviews the estimate, contract, scope of work, schedule, budget, terms, etc. They also set project goals including the budget and crew labor and equipment production goals; establish the schedule, deadlines and milestones; review the proposed subcontractors and suppliers; draft a project mobilization, staging and phasing plan; and create the project timecard, cost codes and change-order rates.
3. Job budget
Finalize project budgets including crew labor and equipment hours for each activity cost code. Review this budget, including the inclusions, exclusions and scope, with the field superintendent and foreman before each job starts to clarify the job cost goals and target hours for the field crew.
4. Electronic timecards
It's time to do away with paper timecards. You must utilize fully integrated estimating and accounting software to track and update your job cost and crew hours on a weekly basis. Foremen submit their crew labor and company equipment hours daily using electronic tablets or cellphones applications with specific hours for each employee and equipment used with the right job number and activity cost codes.
5. Job-cost field production scorecards 
In order to stay on budget, field foremen need to know their crew hour goals and get weekly scorecard crew production updates with budgeted hours versus actual crew hours used to date. This requires someone be assigned to creating these simple, one-page, weekly job scorecard reports every Monday morning and distributed to the project managers. 
The project manager reviews these job cost labor and equipment production scorecards weekly with the general superintendent, job superintendent and foreman to develop plans to complete projects on-budget.
6. On-site job scorecard meeting 
Every week, the project manager, superintendent and foreman meet at the jobsite to review the labor and equipment production hour scorecard and determine what's required to keep the job on or under budget. 
7. Look-ahead schedule 
Each foreman and superintendent prepare a weekly 2- to 4-week look-ahead schedule describing what work is scheduled over the next few weeks. This schedule is reviewed with the project manager at the on-site jobsite scorecard meeting every week. Look-ahead schedules include all labor, equipment, tools, materials, supplies, and subcontractors required for the next several weeks to eliminate last minute needs, which can delay projects and cause crew inefficiencies.
8. Job scorecard results review meeting 
Hold weekly or biweekly all superintendent and foreman meeting to review all job scorecard reports with project labor and equipment hour production scorecards, results, schedule updates, safety issues, quality and punch-list updates, upcoming activities, job issues, areas for improvement and training topics.
9. Proactive field supervision systems 
Visit all projects 2 days before scheduling or mobilizing crews to start work and confirm the jobsite is ready. 
Verify change-order rates and number of mobilizations included in project budget. 
Prepare daily written electronic job reports with photos. 
Prepare weekly quality, cleanup and punch-list inspection report, and notify all subcontractors to complete report with 2 weeks. 
Prepare weekly safety job inspection report and correct all issues weekly. 
Meet with customer prior to moving off the project at each phase to get agreement on any outstanding items to avoid callbacks. 
Allow no more change orders, extra work or free work without prior authorized approval.
Instruct the superintendent or foreman to never leave jobsite without lead or foreman in charge, and never to go to hardware store or supply house—send a crew member if required. 
Allow no overtime without prior authorized approval and within budgeted allowance.
To finish on budget and produce optimum results on projects, you must have a system that guarantees performance 95% of the time. Review the factors outlined above and decide which of them will improve your results.