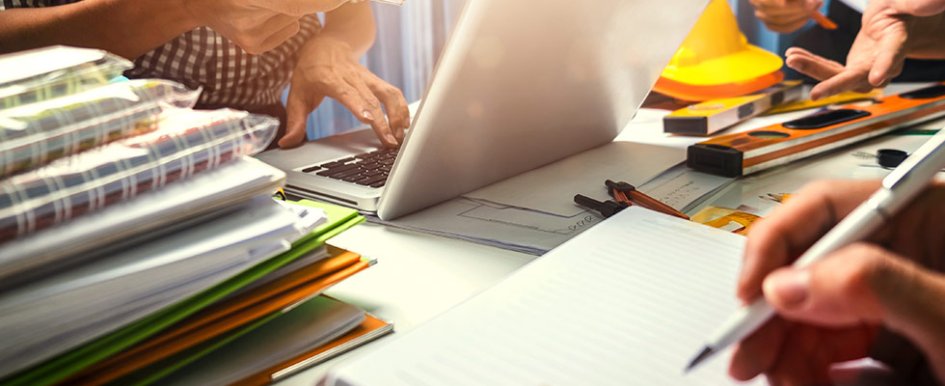 Where to focus your attention & get what you want
I recently received the following email: "George, I'm swamped and super busy. I work lots of hours to keep my construction company moving forward. Plus, my people need me to help them every day. Therefore, it's not easy for me to stop and work on my company, install systems, go see customers or watch my money. I don't know where to start. What should I do first to move to the next level, get organized and make more money?"  
It's obvious he's running his business by being the business. I'm sure he makes all the decisions. It's likely that he doesn't have a strong team, clear organizational chart, job descriptions, written systems, business plan or updated job costs. And I'm also sure he wants more out of life than to work hard all day, every day.
The ability to move quickly, identify and attack the roadblocks that hold you back take a strong commitment and investment of time, energy and money to reach your goals. A proactive strategy to improve and boost your bottom line will improve your company, profits, customer development, project results, field productivity, talent development and life balance.
Strategies to Boost Your Bottom Line
1. Written Business Plan
You must draft, update and maintain a clearly written, strategic business plan that directs your company into the future. You can't get where you want to go without a map or plan. Determine what you want your company to become in the next five years. Include a five-year blueprint, mission, core values, strategy, targets and action plans. Identify the strengths, weaknesses and resulting strategies you need to change or improve to boost your bottom line. Select three short-term and three one-year improvement areas required to build a better company. Now make a commitment and dedicate time to work on these first.
2. Laser Focus
To be successful, your company must be laser-focused on the right type of projects and customers that will deliver high margins and ongoing regular work. When you do anything for anyone, you're considered a "jack-of-all-trades" and generally only win work when you are the low-low-low bidder. As an unfocused generalist, you wait for customers to call rather than being proactive, and you don't get a lot of referrals. Your best customer targets will pay more for experts with a track record of value-added performance and customer service rather than only providing the minimum required per plans and specifications. What type of customers and projects will make you the most money and provide a steady flow of work? Focus on your expertise, specialties, and niche markets you excel in to develop consistent revenue and bottom-line results. Also decide how you want to
win work — low bid, or negotiate with loyal customers who value your service and want you to build their project.
3. Fix-It Improvement List
To start boosting your bottom line, identify all the areas needed to improve. When things don't go as planned, write them on your ongoing fix-it improvement list. These are areas that cost you the most money. For example, unsigned change orders can be expensive if not documented properly. After you gather a long list of areas for improvement, determine which are the most important. Diligently implement your improvement program slowly and steadily. By improving one thing every week, you can improve your company 52 times a year.
4. Financial & Profit Plan
One of the most important steps to boost your bottom line is to build a detailed five-year financial plan. To always make a profit, you must know and track your sales, job cost, overhead, net profit, equity and cash flow monthly. The plan must show annual sales required based on your achievable markup, gross margin, overhead costs and net profit goal. After calculating your sales required, determine the number of bids or proposals needed at your expected bid-hit-win ratio, average job size and markup. With regular company and revenue growth based on the growth rate you want to achieve, you can then develop your five-year financial plan. For example, a company currently doing $10,000,000 in annual revenue with a 15% growth goal per year will grow to over $20,000,000, or double in five years. Knowing your future will help you make good decisions about hiring strong people, upgrading software, implementing systems, buying equipment and building your management team. 
5. Written & Enforced Systems
You must have written systems and standard processes in place for project management, field operations, estimating, accounting, administration, management, marketing and sales. You must enforce and make sure your systems are utilized by everyone without exception. Estimating systems must produce accurate estimates with no missing items or profit margin fade. Construction systems must include clear project workflow plans, scheduling, quality controls, communication, updated budgets, job cost reports, documentation requirements, project meeting standards, field monitoring, safety standards, management accountability review and reporting, and updated cutting-edge software and technology.
6. Clear Organizational Structure & Talent Development Program
To hit your goals and achieve results requires talented people to get the work completed. Good employees don't just show up wanting to work for your company. They need to be recruited, trained, appreciated and promoted. Successful companies place a strong focus on developing strong talent. Most contractors only place focus on talent when they need to hire. They also rarely have someone in charge of recruiting or talent development. Unfortunately, they don't place much effort on training or helping people advance their careers either. What are you doing to provide ongoing talent development, recruitment or training? 
7. Proactive Sales & Customer Strategy 
When contractors don't implement a proactive sales or marketing strategy, they generally win work by estimating and bidding lots of projects with little or no pre-qualification requirements, which are awarded to the lowest bidders. They typically look for jobs to bid with open bid lists or wait for potential customers to call or email asking for bids. These weak sales tactics result in bidding against an unlimited or unqualified long list of contractors who bid lean and mean to win any work. This sales strategy is risky and doesn't lead to steady workflow or high margins. You must implement an estimating, sales and marketing plan to attack, solicit, develop and build a strong list of high-margin potential customers you want to go after. Top customer targets choose their contractors based on qualifications, professionalism, financial capacity, expertise, experience, performance, reputation, team, value-added services and safety record, versus low prices. They also tend to negotiate or only select three professional competitors who meet their strict qualifications. These qualified contractors then bid work with a fair but reasonable mark-up to insure they cover their overhead and make money on every project.
To build an effective plan, start developing a list of customer targets who build or develop projects that fit into your laser focus, and who award contracts based on qualifications versus lowest price. Next, implement an attack plan to get them to know, like and trust your company. Then work hard to build strong relationships with customer targets, improve your bid-hit-win ratio, set your company apart from your competition, negotiate work, develop loyal customers and generate good referrals. 
What Do You Want?
Every positive change starts with the question: "What do you want?" What kind of company, results, profit and lifestyle do you want? Start slow. Identify areas for improvement, commit to fixing them and then move on to the next thing you want to improve. The decision to boost your bottom line is only achieved — or held back — by your actions.