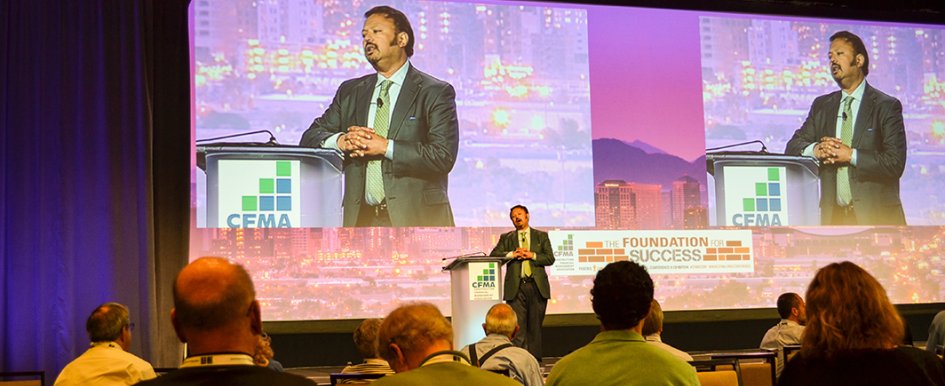 This year's speakers focused on education & addressing the economic unknown
The Construction Financial Management Association (CFMA) is dedicated to serving the educational needs of construction financial professionals. Membership in CFMA is represented by all types of general contractors, specialty trades and construction managers, with a large number of professionals in the accounting, insurance, surety, software, legal and banking industries. Established in 1981, CFMA now has more than 7,800 members in 95 chapters throughout the United States and Canada.
This year, CFMA held its Annual Conference & Exhibition at the JW Marriott Phoenix Desert Ridge Resort & Spa in Phoenix, Arizona, June 3-7, 2017. According to CFMA, this is the conference's sixth straight year of record-breaking attendance. With this year's 1,356 total attendees, conference attendance has increased more than 50 percent over the last 6 years.
This year's conference theme was "The Foundation for Success," which was represented throughout sessions covering peer mentoring, training of incoming generations and properly educating employees.
"A strong foundation is the key to successful construction, and the same applies to our members' professional education. We strive to be our members' educational foundation," said CFMA President and CEO Stuart Binstock.
This year, the conference offered three general sessions showcasing industry influencers including CFMA Economic Advisor Anirban Basu, FocusWise Founder and CEO Curt Steinhorst and International Speakers Hall of Fame Inductee Mike Rayburn. There were also 50 breakout sessions led by industry experts, with an opportunity to earn up to 34.5 continuing professional education (CPE) credits, a sold-out exhibition hall and many networking events.
Conference scheduling was made easy through the use of a conference app, which incorporated a Q&A polling feature, Twitter feed and details about each session and presenter. One CFMA attendee and presenter, Dan Owens, has attended the conference since the mid 1990s. Owens is a member of CFMA's Greater Cincinnati Chapter and focuses on construction at VonLehman, a CPA and advisory firm, where he is a shareholder and CPA. In helping to grow the firm's construction niche, Owens said that the CFMA conference has been his primary source of construction CPEs and networking.
Owens presented two sessions this year, focusing on cash management and advanced cash forecasting, and led a small-firm roundtable discussion. He also attended sessions by other presenters, in which he gained "important takeaways that made the conference worthwhile."
Consistently throughout the conference, attendees and presenters both openly discussed the political and economic uncertainty facing businesses as the country adjusts to changes made by the Trump administration. According to Binstock, "As CFOs and controllers, [our members] are concerned about what the future holds. Given the political and economic uncertainty in the country today, as well as the extreme labor shortage across all occupations in the construction industry, they are closely watching the current situation." CFMA Economic Advisor Anirban Basu presented an economic update, in which he addressed the global economy, which remains weak. With concerns including tax cuts, national debt, the pending insolvencies of Medicare and Social Security, Basu shared his outlook for a sturdy 2017, a shaky 2018, and a potentially far different economy altogether in 2019.
In keeping with the conference theme, CFMA released its "Revenue Recognition Implementation Guide," a resource for successful implementation of revised Financial Accounting Standards Board (FASB) standards, offering best practices on developing an implementation task force, identifying a timeline for implementation and the impact of the regulations on existing internal accounting systems, tax planning and more. "With the release, we are looking to further broadcast how software vendors are integrating these changes to the FASB standard and facilitate end results that ensure our members are successful in their implementations of the revised standard," said Binstock.
Other major topics of discussion included the push for software collaboration, cyber protection and continued suicide prevention awareness.
CFMA's Construction Industry Alliance for Suicide Prevention now encompasses more than 40 members across the construction industry, some of which provided suicide prevention and mental health resources at the conference. CFMA's efforts to promote awareness of mental health and suicide prevention have gained a lot of ground due in large part to the diligence of Cal Beyer and Sally Spencer-Thomas. Beyer, who is the director of risk management at Lakeside Industries Inc., presented three sessions this year, focusing on integrating suicide prevention into workplace culture, employee recruiting, retention and training and reputational risk. "I'm very impressed with the organization's focus on the health of their members and all construction professionals, as evidenced by their effort to promote and encourage suicide prevention in the industry," said James Benham, CEO of JBKnowledge, provider of technology solutions for construction and insurance.
Benham presented two sessions on managing technology and risk, and also hosted the conference's first-ever, live podcast in participation with the ConTechTrio, a podcast that covers construction technology, research and innovation.
"[At the conference] networking is always key, but James Benham and his knowledge always keeps our company on its toes," said attendee Rick Wagner. Wagner is the CFO of general mechanical contractor Quackenbush Co., where he is responsible for all things finance, risk, legal, human resources (HR) and information technology (IT). "Each conference, I concentrate on one primary and one secondary focus. This year was HR and IT." Wagner is a 12-year member of the Niagara Frontier Chapter of CFMA, where he also serves on the board of directors. This was his sixth CFMA conference.
The 2018 conference will be held June 23-27 at the Fontainebleau Hotel Miami Beach in Miami, Florida. Visit cfma.org to register and get more information.