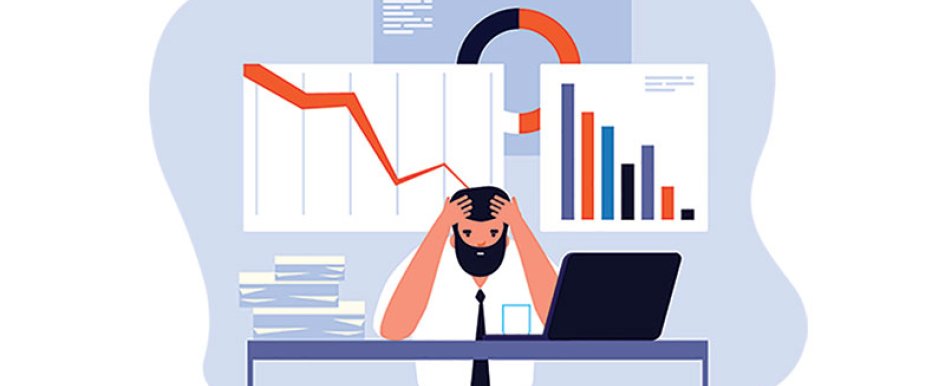 4 solutions for solving your company's problems with capital
About half of United States contractors do not get paid on time, according to a 2019 survey by Levelset and TSheets. Overall, 61% of the 485 construction businesses surveyed experience some form of cash flow issues.
For many, delayed or missing payments can lead to further issues. Of the businesses surveyed, 54% said cash flow issues inhibit business growth. Another 47% said it affects payroll. This domino effect results in 33% of managers taking money out of their own pockets to cover payroll. Another 29% reported not paying themselves to cover payroll. Why is cash flow such a persistent problem in the construction industry? And what solutions exist for contractors?
The Root Cause
For many companies, cash flow issues start with delayed payments, as the survey illustrated. However, the root of the problem doesn't lie in only one company's lack of payments. It affects every company associated with the project, from property managers to sub-subcontractors.
The payment chain can get complicated due to a lack of visibility between paying parties. Money flow is often interrupted from the top down. General contractors (GC) and property owners are concerned about managing payments, avoiding double payments and receiving payments themselves.
"In fact, some of the legal protections to ensure 'prompt payment' are based on a time period that only begins after the party required to make payment gets paid themselves," said Nate Budde, Levelset's chief legal officer.
But the problem also comes from the bottom in the form of poor documentation flow. Most GCs and property owners have to wait to receive disbursements and collect waivers from contracted groups. At times, those contracted groups aren't even aware that they're working on the same project together. The waiting can get frustrating, especially when waiting parties have suppliers and employees to pay.
The lack of visibility, both in who has been paid and who is working on the project, could be the root of the cash flow issue for some companies. However, it is possible to have a more streamlined payment chain in construction. In any case, consider the following four solutions to construction cash flow issues.
1. Improve Stakeholder Visibility on Projects
If you're a GC or property owner, you have the power to make the payment chain more transparent for everyone on the project. GCs and property owners typically receive preliminary notices from contractors and subcontractors before the start of the project. They can use this information to track who is involved. Coupled with any potential lien waivers they may receive as the project unfolds, they can monitor who owes money along the chain and who has yet to be paid.
Additionally, they can send conditional lien waivers with every invoice. By being proactive about payments, they can make the payment process faster for everyone, Budde said.
2. Review Contracts & the 4 Rs of Invoicing
While GCs and property owners have the potential to improve visibility, contractors and subcontractors can take steps to speed up payment. Reviewing contract terms and being meticulous with project billing are two potential solutions.
Reviewing a contract before signing it is always a good idea. Be wary of no-lien contracts or those that waive all lien rights. And if you're unsure of what the contract is offering or the language is unclear, it's always best to consult an expert. Asking for contract additions before you sign is easier than dealing with contract disputes later.
Once you sign the contract, however, you'll want to make sure your invoices and bills are addressed and delivered properly. To do that, you'll need to review the four Rs of billing:
Right person—Who will review the bill? Familiarize yourself with the person in charge of receiving and processing bills. Sending a bill to the wrong person will only delay the process.
Right place—Make sure you're sending the bill to the right office. Some companies may outsource billing or have different office buildings. If you can, send email invoices whenever possible to make billing even faster.
Right forms—Ensure all your paperwork, application forms and additional documents are in order before sending the bill.
Right time—Know when you need to submit the bill for payment.
3. Be Picky With Future Clients & Projects
Many contractors and subcontractors have the power to decide who they will work with before joining a project. If you've been in the industry for a while, you can make more informed decisions about who pays on time and in full. Use your knowledge of past payment behaviors to decide who you're willing to work with in the future.
However, if you can't be picky about your projects, you can still use your experience to draft better contracts. If a GC was difficult in the past, use that information to draft a stricter payment agreement or require partial payment upfront.
4. Explore Different Payment Terms
Finally, explore different types of payment terms. Unfortunately, you should negotiate these terms before you sign a contract, so they won't help if you have unpaid invoices. However, exploring these options for future projects may help ensure you get some money for your efforts. Even partial payments are better than no payments.
Offer flexible payments

—Instead of the traditional 30-day invoice, flexible payments can be made in installments. As a result, they're more manageable for paying parties who are waiting to be paid themselves. Of the respondents surveyed, 44% said they never offer flexible payments. But it could be a solution worth exploring if you're struggling to see money flow in regularly.

Penalize late payments—

Charging interest on late payments may provide the sort of pressure you need for clients who have a history of delayed or outstanding bills. However, it's not a very popular option. In the cash flow survey, 61% of companies said they never charge interest on late payments.

Incentivize early payments—

If you feel unsure about how your clients will respond to interest charges on late payments, try balancing charges with an incentive. Offer clients who pay early exclusive discounts on your services. Offering as little as 2% off can make a difference and

may speed up payments

.

File a lien or sell the debt—

Construction companies can file a mechanics lien on the debt (unless you signed a no-lien contract) or sell the debt to collectors. Getting the courts involved might seem like more of a hassle than it's worth. But if your company is struggling to get paid and needs the money, it might be the best option for a resolution. Alternatively, selling your debt to collectors could help you get some payment in the end. But keep in mind that most collectors buy debt at a rate of

4 cents to every $1

.
Closing the Cash Flow Gap
Cash flow issues are a significant problem for construction companies. But the issue is greater than just one company's cash flow. It's an issue that stems from a lack of visibility and delayed bills along the entire payment chain. 
GCs and property owners should work to improve that visibility and put a more streamlined process in place for payments between parties. As for contractors and subcontractors, they can choose who they work with and on what terms. Hopefully, by advocating for your company, you'll be able to make the industry better for everyone.