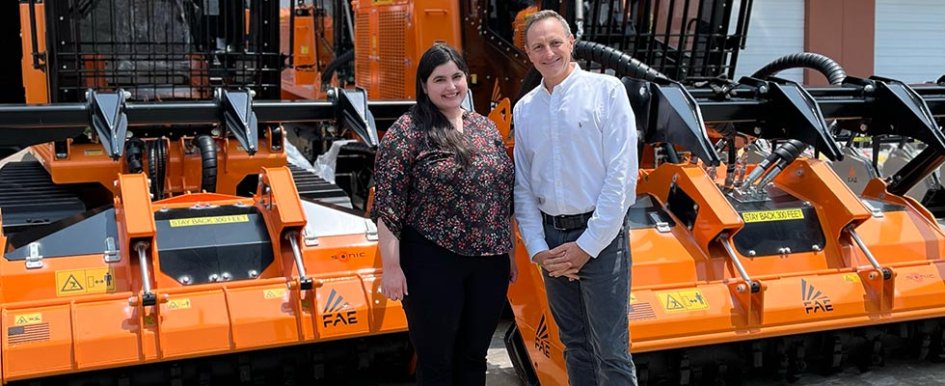 An in-depth discussion with CEO Giorgio Carera
Thursday, September 14, 2023
My first CONEXPO/CON-AGG was exciting — the record-breaking show featured more than 3 million net square feet of exhibits, with a plethora of educational sessions, products, and exhibitors. But I left CONEXPO with more than a deeper appreciation for the construction industry: I won an exclusive trip to tour the FAE USA headquarters and meet CEO Giorgio Carera.
I visited the FAE booth for a press conference in which I learned about the company's new attachments for construction equipment, and its sonic technology to gain more productivity and horsepower from equipped attachments. I was present for the launch of FAE's BL4/SSL mulcher for compact track loaders, and I watched Carera cut the ribbon for the product. At the end of the informational session, my business card was drawn from the prize bowl, and I left the booth full of anticipation to spend more time with the FAE team.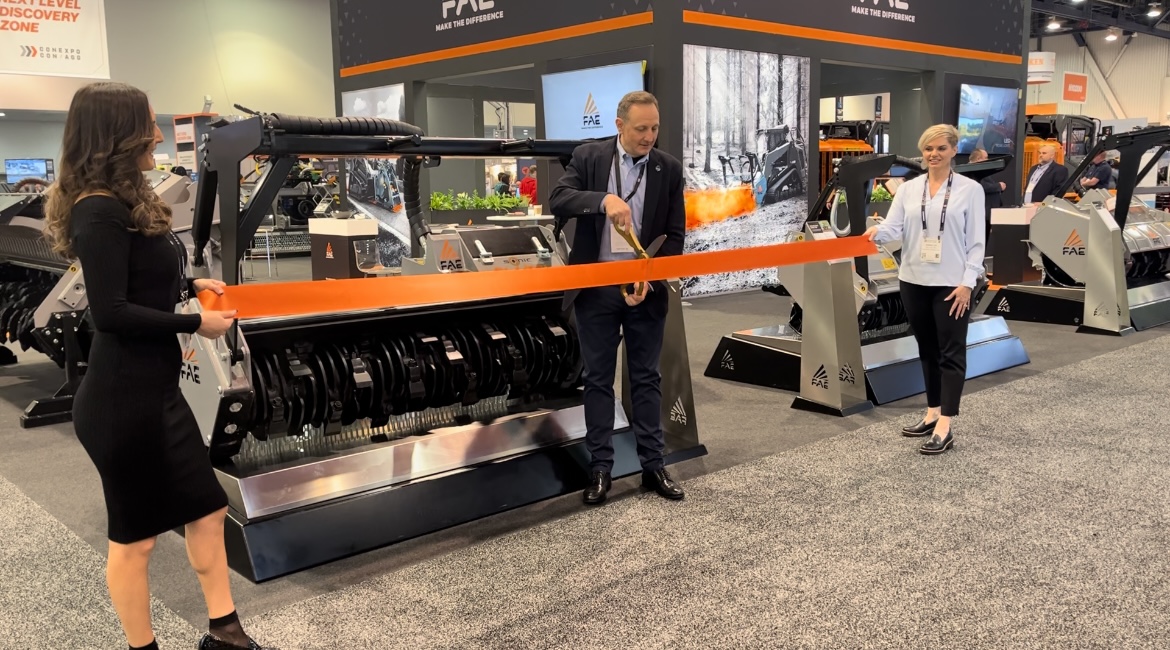 In June, I made my way to Flowery Branch, Georgia, where the FAE USA headquarters is located. FAE USA is the group branch for distribution in the U.S., it has more than 40 employees on staff, and the facility covers more than 35,000 square feet. FAE manufactures all its equipment in-house at the world headquarters in Italy. Carera guided me through the facility in Flowery Branch, and I saw where machines are prepared for delivery. I saw equipment in various stages of preparation and watched members of the tight-knit team perform their daily tasks. The team demonstrated the Modula 3500, an automated storage system for parts and components, and explained how it saves their workforce time and energy, allowing them to complete tasks efficiently. I was left with the strong impression of teamwork: the staff is efficient, productive and collaborative.
 After I viewed the distribution facility, I sat down with Carera to discuss FAE's past, present and future, as well as Carera's career highlights and his path forward.
CBO: Tell me about FAE as a company.
GC: In 1989, FAE started a legacy of building the highest quality mulching heads on the market. Over the years, we expanded our product line into the construction industry and developed numerous attachments for road construction.
Attention to details and quality of every single component is what makes the difference. Our goal has always been to provide the highest quality product for the customers to invest in. FAE understands that dealers and customers are our biggest asset. Our objective is to make the customers and the dealers successful. If they are successful, we are successful, and it is a win-win-win.
CBO: How is the company serving construction end users?
GC: We do offer a wide range of construction attachments, hydraulic and power takeoff (PTO) for soil stabilization, rock crushing, asphalt grinding and milling. We serve the end users through our dealer network. We have very high standards for selecting a dealer; FAE wants to be represented in the best way possible. To do so, we want to work with dealers so that in addition to selling the product, they can support and service the product in a timely manner. Time is money, and FAE works hard to produce products that are robust, durable and easy to service. We need dealers that are prompt to service and support a piece of equipment when needed.
 
CBO: Tell me about FAE equipment's role in wildfire management and prevention.
GC: We heavily focus on this market, especially on the West Coast. Forest management for fire prevention and fire medication is a very important application in this space. The fires always start from the forest floor — that's where the underbrush is. So if you keep the forest floor clean, clear, cut and brushed, it's less likely that a fire will start. And if it does start, the flame will stay small and more manageable, so it won't get to the canopy as fast.
We build equipment that helps to do all of that. Our equipment is preferred for this application for several reasons — first of all, safety. Our track mulchers are built to claim steep slopes and uneven terrains, like they have on the West Coast, with a very high degree of stability. The cab is built with insulation and high air filtration systems to allow the operators to stay in a healthy environment all day. Our mulching heads are heavy-duty and easy to service also when jobsites are very hostile.
 
CBO: Sustainability is a weighty topic in the construction industry right now. How is FAE contributing to sustainable construction?
GC: Our road construction equipment is more of a recycling type of equipment — especially the multitask machines. They grind asphalt, incorporate it into the soil and, at the same time, stabilize the soil. In one operation we can accomplish three applications.
This sustainable, one-step process substitutes the traditional methods of breaking the asphalt, loading it on a truck, hauling it to the plant to be processed, hauling it back and putting it back in place as a base. Our advanced technology allows the customers to process everything in one pass and reduce operational costs, making the process more profitable with less work.
 
CBO: What other construction trends does FAE have its eye on? Where does the company plan to focus its attention over the next few years?
GC: We are paying very close attention to the construction industry in general and seeing in which space we can best fit. The goal is to introduce solutions that are better and more advanced than the current solutions. When we identify a new product, a new application and a new market to enter, we do it with a full knowledge of the subject by studying the market, the competition, the application and coming up with something different and better. Sustainability is always at the center of our projects. FAE is a company with a very long-term vision, targeting markets that are more of a niche with a lot of room for innovation.
We always work to diversify our product line and to enter different sectors. Diversifying means reducing the risk and creating a long-term vision.
 
CBO: What kind of impact has FAE seen from the Infrastructure

Investment and Jobs Act creating construction opportunities?
GC: Infrastructure investments such as the IIJA have stimulated the economy growth and created construction opportunities in several ways. They have created more construction jobs and more demand for construction materials and construction equipment, and they stimulated the demand across various sectors of the economy.
This increased demand can lead to a positive economy. FAE has benefited by supplying more equipment for new projects. When selling more equipment, we can sell more replacement and service parts as well. We have set up more dealers and we have acquired more customers. Consequently, all processes helped the company to grow. And we are still growing but, most importantly, we are still growing in a very sustainable way in size, employees and revenues.
CBO: What are FAE's future plans?
GC: FAE is a global company; FAE USA is the U.S. branch of FAE Group with a global headquarters in Italy. After more than 20 years in the U.S. market, FAE USA has had gradual and sustainable growth. We have big plans for expansion. We are preparing the growth for the next 15 years; we are planning an expansion to have over 100,000 square-foot covered facilities, including a state-of-the-art training center and a few extra acreages of outdoor facilities, including a testing and demo site. We are planning to grow our sales team, product management and service team, and office support staff accordingly. We are also planning to develop new products and to enter new markets.
CBO: Tell me about your career path — how did you end up where you are today?
GC: I grew up around equipment, and I started my career in the equipment business. My first real job was with an Italian tractor manufacturer, and I was based in Bangkok, Thailand. I was covering the Southeast Asian Pacific Rim, including Australia and New Zealand.
From there, I moved to Italy and then Amsterdam in the Netherlands, while working for a global Scandinavian agricultural-equipment company for a few years, covering North America, Latin America, Africa and Southeast Asia. Afterward, I spent a little over three years in Chicago and then moved to Atlanta, Georgia, when I joined FAE in 2005. When I was hired as CEO of FAE USA, the company was in its infancy, and my job was to establish the US headquarters and a strong sales and service team. Now FAE USA has a very solid organization like the parent company FAE Group in Italy.
 
CBO: You began your career with FAE in 2005. How have you seen the construction industry change in the last 18 years? How would you like to see it change in the next 18?
GC: Over the last 18 years, the construction industry has undergone several notable changes. Advancement in technology is probably the most important. The construction industry has embraced technological advancements in every field and every direction, such as virtual reality, drones, very advanced computerized technology on the equipment, etc. The safety standards also got a lot better on jobsites as on the equipment itself. Looking ahead, I would like to see changes in adoption in sustainable practices. The industry should continue to prioritize sustainability, incorporating more renewable energy solutions and sustainable construction techniques.
Embracing automation and artificial intelligence can further enhance productivity and safety in construction. Enhancing focus on workforce development and investing in vocational training programs is something that I see company doing more and more to increase productivity and make jobsites safer.
 
CBO: How do you cultivate an environment where employees want to stay and thrive?
GC: This is probably the biggest challenge for any company in any industry. The culture you create is what makes the difference.
First, the company must be genuinely customer oriented. If this can be achieved, then the whole environment is people oriented. Meaning that the individual — whether it is a customer, an employee or a supplier — is taken care of, you create a two-way street, and the collaboration works well. Employees are an asset; as such, they must be treated with highest care. If a company is able to do this, it will be reciprocal, and the employees will take care of the company.
CBO: In your view, what is the most valuable characteristic for a person in a leadership position?
GC: Creating an environment where employees want to stay and thrive involves a combination of factors that contribute to job satisfaction, professional growth and a positive work culture.
Compensation is one thing, but more important is a clear career development opportunity that offers potential for growth and advancement, as well as supportive leadership and effective management.
Strong leadership plays a crucial role in creating an environment where employees feel valued and supported. I have an open-door policy; this allows me to be available to listen to everyone and get direct feedback from everyone. Work-life balance is also crucial.
Employee empowerment and involvement is also a factor that creates a team spirit and a positive and inclusive work culture. Regular communication is also key in any organization. Communication can make it or break it. Continuing and transparent communication builds trust and confidence. Recognizing and rewarding employees can significantly impact job satisfaction and motivation. If employees are happy and motivated, they reflect it onto the dealers and customers by performing excellently in their job.
CBO: What personal, professional or business advice do you have for our audience?
GC: As CEO, here's some personal, professional and business advice that can help guide your success: Foster a growth mindset that values learning, innovation and adaptation. Encourage your team members to embrace challenges, learn from failures and continuously improve. This mindset will help your organization to stay ahead of the curve in an ever-evolving industry. Lead by example, prioritize strategic planning, invest in your people, and embrace technology and innovation.