Technology report studies the software use of over 2,000 construction professionals
Which software solutions are builders depending on throughout the construction process? How do they stack up against the software you use daily? A 
recent construction technology survey conducted by JBKnowledge provides insight into the technology solutions of over 2,000 construction professionals. The results of the survey, published in the 2015 Construction Technology Report, highlight the specific solutions builders employ for the following areas of a construction project: accounting, prequalification, estimating, invitation to bid, project scheduling and management, Building Information Modeling (BIM), field data collection, Client Relationship Management (CRM), file storage and collaboration and conferencing and communications.
According to the report, there weren't many big newcomers in the construction software provider space last year. In addition, adoption of new software has been stagnant at best, as builders are struggling to streamline and integrate existing technology instead of researching new technology. This becomes evident in the number of builders using spreadsheets, as shown below.
Accounting Software
While only 5.2 percent of builders are still using spreadsheets or a manual process for accounting, any percentage is too many. Any accountant should be terrified of company financials stored in a static, unencrypted spreadsheet. In Graph 1, you can see the accounting software providers that industry professionals are utilizing most often.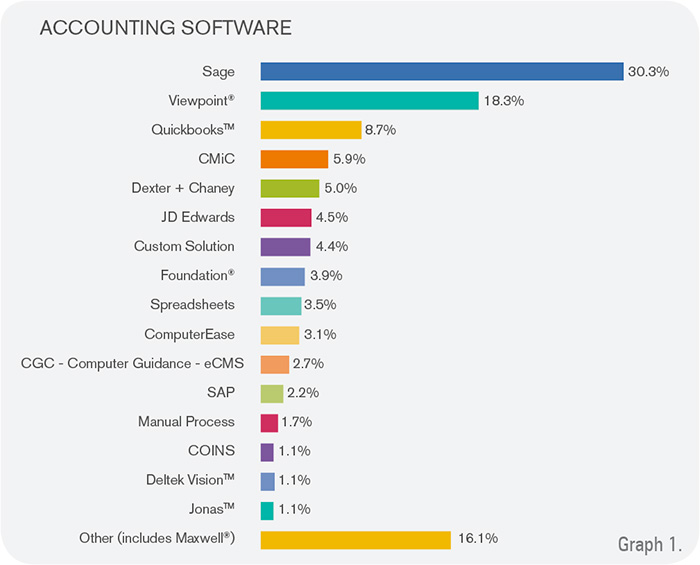 Prequalification Software
According to the report, the number of builders using manual (some form of email and PDF process) increased to 49.03 percent in 2015, as fewer builders are using custom solutions (19.6 percent), spreadsheets (10.5 percent) and prequalification software (8.4 percent) to filter out subcontractors that meet project requirements. Prequalifying subcontractors is like buying renter's insurance; you don't see its importance until you need it. Unfortunately, 14 percent of respondents are still not prequalifying subcontractors or suppliers. According to the report, some of the top prequalification software products currently in use are: CMiC, iSqFt, Procore, SmartBidNet, Textura and Viewpoint, as shown in Graph 1. As owners, developers, agencies, banks and insurance firms are increasing the requirements for prequalification, many prime contractors are now struggling to provide documented processes for prequalification practices. However, builders are struggling to identify integrated solutions that will streamline the process while ensuring constancy and accuracy. As one of the survey participants commented: "Prequalification is not pre-disqualification and it's not post-qualification. Prequalification is about understanding potential risks and understanding how you can best work with someone."
Estimating Software
Estimating and takeoff software, the report shows, has the most offerings of any software category and the highest number of write-ins, next to accounting. The report notes that OnScreen Takeoff and HeavyBid are the most popular estimating solutions. The estimating department also follows accounting in its dependence on spreadsheets at nearly 20 percent of companies. The only thing worse than company financials in a static, unencrypted spreadsheet are the quantities and costs of every estimated detail of your project.
Estimating is still poised for fundamental change, with companies who have fully adopted BIM saying that estimators have gone from spending 75 percent of their time counting and measuring plans to spending 10 percent of their time doing the same processes. This leaves them with time to really focus on value-added functions like value engineering, problem solving, customer relations and bidding on more work overall.
Invitation to Bid Software
Surprisingly, the number of respondents using a manual process for invitation to bid grew since 2014. This is most likely due to the 
proliferation of file storage solutions like Dropbox, which builders use in combination with email and FTP. Like spreadsheets, this still 
provides a very static view of the bid process compared to the software solutions available in the market.
Luckily, this trend has pushed dedicated ITB software to integrate with cloud storage solutions like ShareFile and Box to show builders that ITB should be an integrated process.
Project Management & Scheduling
Microsoft Projects and Primavera P6 strongly lead usage in the project scheduling, and builders have much fewer alternatives than in other software categories. It is interesting to note that Microsoft has not made headway in any other categories of software, nor have other tech providers made headway into project scheduling. This may be due to the number of internal and external parties that must tie into a project schedule, making an industry-neutral software a better solution.
Project management is a heavily manual and spreadsheet-ridden process, with Viewpoint and HCSS HeavyJob leading the way for those using a software solution. No solution seems to dominate in this space, according to the report, which is interesting, considering that it tends to be one of the first software solutions companies buy.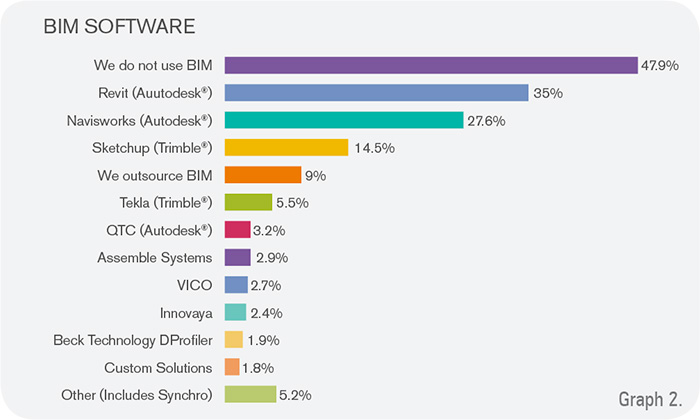 Building Information Modeling (BIM)
As Graph 2 exhibits, nearly 50 percent of builders are still not using BIM, so it's hard to see where the next generation of 4-D, 5-D and 6-D solutions will fall into place within the industry. Do the largest builders consume enough BIM to continue innovation and drive the cost down among technology providers? Will smaller companies take advantage of BIM once they learn cloud-based BIM makes it as accessible and intuitive as an estimating software? BIM, combined with estimating, has the potential to bring live, dynamic costing to project plans.
Field Data Collection
Only 26.8 percent of the 2,000 construction professionals surveyed are using a field data collection solution. Most are using manual processes (45.3 percent) and spreadsheets (36.6 percent). The mobile applications are out there, but maybe the budget for devices and connectivity is not. The technology learning curve and resources needed to train all workers on site may also be an obstacle. The top field data collection software products in use were Autodesk BIM 360, B2W Software, HCSS Construction Software, Procore and Viewpoint.
Client Relationship Management Software
Client relationship management (CRM) software is still not a focus for most construction companies. This may be because there are few construction-specific solutions available, or perhaps because companies consider invitation to bid and project management software their contact database management. But, are companies missing a major opportunity to prospect, nurture, close and maintain client relationships? Business development is critical