With written systems in place for your team to follow, you have more time to spend on growing your construction company.
During the first seven years of building my construction company, I tried to do too much myself. I created the estimates and presented the bids; negotiated and signed all the contracts, subcontracts and change orders; made the major field decisions; purchased all materials and equipment; attended all job meetings; supervised concrete slab pours; and made every personnel decision.
Doing all the work became very stressful. Instead of hiring people to do this work, I made excuses saying I could not find any responsible people I could trust.
I finally found the solution to my problem after an enlightening trip to McDonalds. While I ate my meal, I noticed how smoothly the business ran without the boss present. Customers were happy because they knew what to expect. I wondered how this fast food chain was so predictably consistent. After asking a server to show me their secret, he took me behind the counter where pictures clearly displayed how to build a hamburger, including a detail of all the toppings that must be included.
This experience made me realize that I could not let go of all the work because we did not have any written systems or training programs in place. 
Good Systems
A large construction company runs smoothly by using simple illustrations of the finished product. This guarantees consistent quality and results and prevents the owner from being on-site all the time making every decision for every customer order. I knew my company would grow if I could build a systemized, well-organized company.
A systemized business produces consistent performance. The results of owning a systemized business include on-time and on-budget projects, quality workmanship, safe working conditions, repeat customers and the ability to always make a profit.
The best systems are designed by the people who actually do the work and know how to do it best. For example, hotel rooms always look the same before anyone occupies them. To make the rooms look presentable and consistent, supervisors explain the expectations to housekeepers and give them a picture of a ready room to follow. This simple approach can be applied to each area of your business.
To organize and create systems that produce consistent results, build a three-ring binder of standard systems for every aspect of your company and field operations—this manual should include pictures, checklists and guidelines. Outline each system on one piece of paper.
Include everything from preparing a timecard, calculating a change order markup, installing slab expansion joints, forming door openings in concrete walls, doing monthly job close-outs and getting paid. First, focus on the important things that will make a difference to your bottom line. If you make a goal to create one system a week, you will be very organized in a year.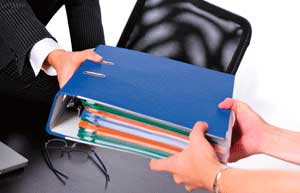 Follow these guidelines to create a systems manual:
Build a three-ring binder of standard systems for every aspect of your company and field operations.
Outline each system on one piece of paper.
Include pictures, checklists and guidelines.
7 Steps to Create Systems
1. Identify areas to systemize.
Start a "fix-it list" identifying everything you need to change in your company. Keep this list handy, and add to it when things go wrong. At your manager meetings, pick the top one or two items to systemize every month.
2. Assign a system team.
First, assign a key employee to be the systems keeper. This person will be responsible for formalizing the systems and keeping them organized. After choosing a system to create and implement, pick three or four people to work on the company standard. Involve those who actually work within the area being improved. For example, the team should include a project manager, foreman and journeyman to systemize a field standard.
3. Draft standards, guidelines and a tracking system.
Create checklists with pictures of the desired end result for each system. Include a way to verify the standard. This should be included in the three-ring binder.
4. Formalize and experiment.
The system keeper will be in charge of formalizing and distributing the systems. Let the team who created the system try it and work out the bugs for a few weeks before implementing it company-wide.
5. Implement and train.
At regular monthly meetings, have the team who created the system present it to the entire company. Ask everyone to follow the system per the company standards (no exceptions). If someone protests, put the item on the fix-it list for further revision.
These written systems can become your training manual as well.
6. Monitor and track.
Your main job should be making sure everyone follows the systems. To make sure this happens, you will need a tracking mechanism. For example, a pre-concrete pour checklist should include a place for the foreman to sign off the checklist and submit it to the project manager for review.
7. Follow up, evaluate and improve.
With written systems in place, your team will have company standards to follow, which will allow you to spend time on important matters like growing your business and making more money.