Why construction owners are eager to embrace this new project delivery model
If the design-build (DB) project delivery system needed a catchy slogan, it could easily promote itself as the change order "light" version of design-bid-build (DBB). The system's ability to deliver projects faster by overlapping phases of design and construction is one of the wow factors fueling its momentum. With fewer surprises and change orders, costs and schedules can be nailed down earlier in the construction process.
Just how popular is the model? The FMI Corporation (FMI) reports that the DB project delivery system will represent nearly half—44 percent—of construction put-in-place (CPiP) spending across many market segments by 2021. FMI also predicts spending in DB will increase 18 percent between 2018 and 2021, growing to a value range of between $274 billion to $324 billion.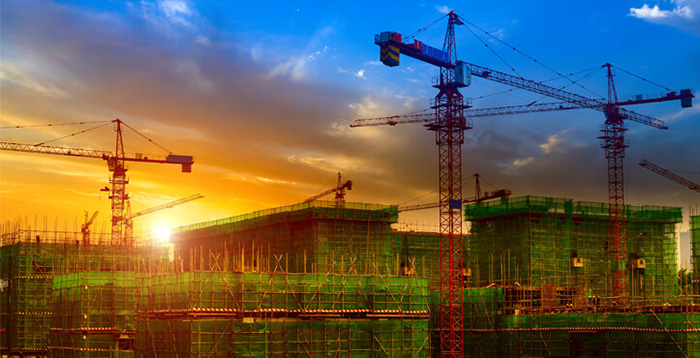 Fewer Conflicts & Surprises
For now, the DBB approach is still firmly entrenched as the most commonly used project delivery method in the United States, according to the Lean Construction Institute and other groups. This model centers around the traditional, low-bidder selection where design teams work directly with the owner to produce a set of construction documents for a competitive bidding process.
But DB is proving highly attractive as owners get a turnkey project delivery model with a single point of responsibility residing with the general contractor or construction manager for the whole construction process—from design to cost control to schedules. This includes managing all subcontractor trades, materials, owner provided products, etc. Another selling point is that it requires a shorter time commitment from the owners. This means owners are less likely to get involved in conflicts between the contractor and the design team.
For more traditional projects like chain stores, the DBB model still makes sense. With fewer design surprises and a predictable schedule, DBB is still the mainstay for these projects. However, owners preparing for large commercial construction projects may reap big rewards by selecting the DB project delivery system.
Potential Savings Fuel Demand
For the most complex projects, DB could be the perfect solution because owners only have to deal with a single source of responsibility for both design and construction. Industry insiders also tout its many benefits—from cost savings to streamlined schedules. Many of these projects are led by developers and construction companies. However, on mission-critical facilities like fire stations and data centers, you may see engineer-led, design-build teams.
A Pennsylvania State University study comparing different methods to deliver construction across the U.S. showed that projects using DB had lower costs (over 6 percent in savings) and were completed 33 percent faster. Projects using DB were also much less likely to incur cost growth (5 percent less) and schedule growth (11 percent less), meaning fewer change orders. This could add up to a savings of $610,000 on a $10 million project.
For estimators, DB will require an expanded role where they use a combination of both hard bid and conceptual estimating skills. As such, estimators would be called upon to do more interpretation of scope in the post-award stage. Many see DB as an exciting approach to construction that uses collaboration to pave the way for big, creative ideas. But the bad news is that the estimator will have to perform quite a bit more estimates, budgets, and what-if scenarios to keep the project within the original budget parameters in a DB system.
State governments are also driving the DB model by passing legislation that facilitates the use of alternative project delivery methods. For example, Virginia legislators expanded DB authority to all local governments. In fact, 38 states that enable the use of public-private partnerships are playing a significant role in boosting DB. In addition, many federal and state road and bridge agencies have been using the DB method for quite some time.
Quality & Control Issues Raise Concerns
Though exciting, some see the drawbacks to DB is that it offers less transparency and may result is higher prices than if it were competitively bid. There is also the belief that the owner loses all control over the project. In addition, when the design team works for the contractor, the normal checks and balances on quality may be upset as the design team answers to the contractor rather than the client.
However, some DB arrangements are considered open-book where the owner is regularly informed through presentations and can provide feedback and have issues addressed contractually. The other compliment to the DB method would be the owner representative role, where a trained industry professional represents the owner on projects either as a one-off consultant or potentially representing a multitude of projects for the same owner.
New Ways of Working Become More Mainstream
Clearly, DB is gaining traction and a foothold in the development and construction industry. As owners seek to tighten budgets and timelines, DB will become less of an alternative delivery model. While the FMI survey showed that 82 percent of owners say they've used or plan to use DBB in the next 5 years, 58 percent also said the same of DB. Another 67 percent predict a growing use of DB, even if they don't plan to use the system.
More and more, construction owners are starting to embrace new delivery models that encourage collaboration and integration. This era of rapid transformation promises big gains in terms of speed and efficiency. To support these new ways of working, many owners are investing in powerful construction management software. The Contractor's Suite from On Center Software is helping many owners boost their efficiency and increase profits every day. See for yourself—request a FREE Contractor's Suite demo and experience the benefits of a powerful, end-to-end estimating solution.