Learn more about this affordable solution for fleet maintenance & growth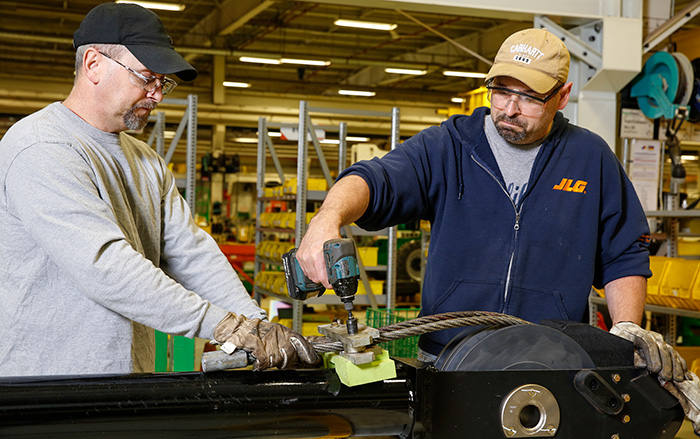 Maintaining a fleet of telehandlers and aerial work platforms that will meet customer demands during busy construction seasons is not always easy. Fleet managers often find themselves walking a fine line between equipment cost and performance. Purchasing or renting new lift equipment typically requires a large financial investment and isn't always practical.
To avoid large capital outlays, many fleet owners are taking advantage of alternatives to buying new, including the least expensive option—used "as is" equipment. Used equipment is exactly that—used. Little to nothing was done to enhance or guarantee the performance of this equipment—unless it's certified. Depending on the vendor, certified used equipment may have undergone comprehensive inspections and include warranties and annual inspections in the purchase price. Keep in mind, what's considered certified used varies by equipment provider.
Like certified pre-owned programs, reconditioning programs also vary from one provider to another. Reconditioned equipment typically undergoes more extensive work than certified used equipment, including countless inspections and repairs. In some cases, the equipment must pass numerous tests and code requirements well beyond those required of certified used equipment.
Reconditioning Is Not All Created Equal
Not every piece of reconditioned equipment on the market can be labeled "like new." For some providers, the scope of work can be as simple as applying a fresh coat of paint and installing new tires, as for others, as complicated as tearing the machine down to its frame and rebuilding it to the original equipment manufacturer (OEM) specifications.
It is important for equipment owners to carefully consider the provider as they shop for reconditioned equipment or a company that will provide reconditioning services. Comprehensive reconditioning programs should include inspection of batteries, cables, chains, alarms, filters, hoses, cylinders, transmissions, axles, and brakes. These components should be adjusted, resealed, or replaced as needed. Replacing damaged or worn components with factory-approved OEM parts allows less room for error in the field.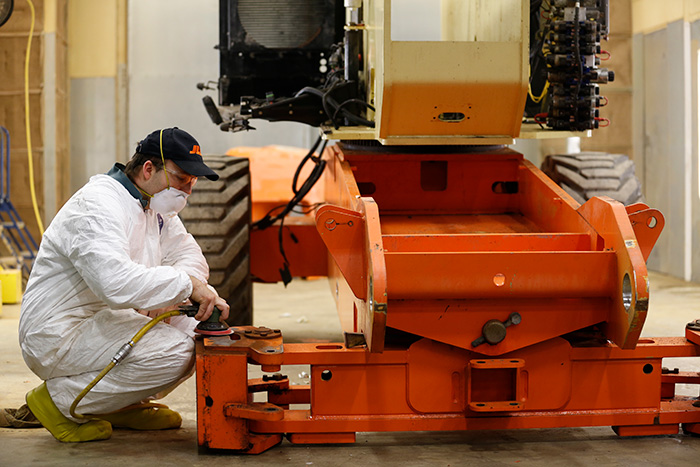 Finding the Right Vendor
When you're ready to buy, you should begin your search by asking for a detailed description of the scope of work that was or will be performed, thus setting expectations for what they will be purchasing. Related questions include:
Will the machine be completely disassembled?
What percentage of the machine will be replaced as new?
What will not be replaced?
What items in each of the four major systems—electric, hydraulic, engine, and structural—will be replaced, rebuilt, or repaired?
If parts of the machine are being rebuilt, are they being rebuilt by an OEM or to OEM standards?
What is the life expectancy of the reconditioned equipment? If it's advertised as "like new," will it have the same life expectancy as a new piece of equipment?
Shopping for a provider of reconditioned equipment or the reconditioning process should also include a trip to the provider's facility. Is the facility a brand-certified reconditioning center, which holds to strict guidelines regarding the facility, its procedures and its staff? Is the facility dedicated to reconditioning? Is work performed in a single bay or on a production line that closely resembles lines in a manufacturing facility? Are staff fully trained in the reconditioning process? It's important to note technicians certified for annual inspections are not necessarily equipped to perform tasks in the reconditioning process.
It's also important to consider the experience of the provider. How long have they been reconditioning equipment? How many machines have they actually reconditioned? How frequently do they recondition equipment? Can they provide several references who will attest to the quality of their work? If they do, be sure to contact them. Will they provide service after the machine is purchased or reconditioned?
Know What You're Getting
In any transaction, it is always a good idea to clearly articulate your expectations and confirm the provider is able to meet them. In the case of reconditioning, some providers will allow their customers to customize the process based on budgets. However, in the case of JLG, to qualify for the 3-year warranty, a machine must go through the complete reconditioning process. While some steps in the process can be enhanced to upgrade machines to the newest technologies, none of them can be scaled back or eliminated. Doing so would invalidate the warranty.
When sharing expectations, machine owners should include how much they intend to use the machine. If, for example, the machine will run every day, it is important that the engine be rebuilt. However, if the owner is not planning to use the machine as much as reconditioning would allow, it might behoove the owner to consider purchasing a certified used piece of equipment rather than making the larger investment in a reconditioned machine whose full potential will not be realized.
Not Every Machine Is a Candidate for Reconditioning
A good reconditioning program involves two levels of inspections, which can help determine whether reconditioning makes financial sense. The first begins with a thorough inspection of the frame and all readily visible components. A second inspection after teardown allows for visibility of all needed repairs, including structural damage and other problems that are above and beyond what is considered routine for the reconditioning process and will increase the associated costs.
Reconditioning older machines can represent increased costs if replacement parts are limited or difficult to find. In this case, it may make more financial sense to dispose of the asset and consider replacing it with a new, used or reconditioned machine. Even a certified used piece of equipment might be newer than the old asset and could cost considerably less than a new piece of equipment.
In the event reconditioning makes sense, what can an owner expect in terms of time involved in the process? The schedule varies from one provider to another. At JLG, for example, the machine is delivered to the reconditioning facility 7 to 10 days before the reconditioning process begins. At this point, the machine is inspected, and a report is sent to the customer. The process itself takes 10 to 14 days, so that a customer will be without an asset and its associated revenue no more than 30 days.
Less Money, Longer Life, Happier Customers
For many, the decision to recondition equipment is a financial one, saving an equipment owner significantly over the cost of a new piece of equipment. At the same time, the process extends the useful life of the equipment, while ensuring the equipment looks and runs like new and reducing maintenance expenditures. It's an affordable way to maintain and grow a fleet that will ultimately increase customer satisfaction.