4 reasons why integrated estimating tools can help you be more profitable & productive
Owners and contractors today have their hands full. According to the 2018 AGC/FMI Risk Management Study, on average, they are running a 6-month backlog of projects and many are booked through the remainder of 2018 and into 2019. However, will being super-busy translate into being super-profitable?
It's hard to know if your project is priced correctly if you can't easily refer to historical data from past projects. Whether you're a concrete contractor or a drywall construction firm owner, you're probably using software tools for accounting, project management and/or estimating. But, are your software tools integrated or mainly siloed, one-off solutions? Transferring data between spreadsheets and keeping up with version control when your tools don't integrate can really slow you down—not to mention cause more than a few headaches.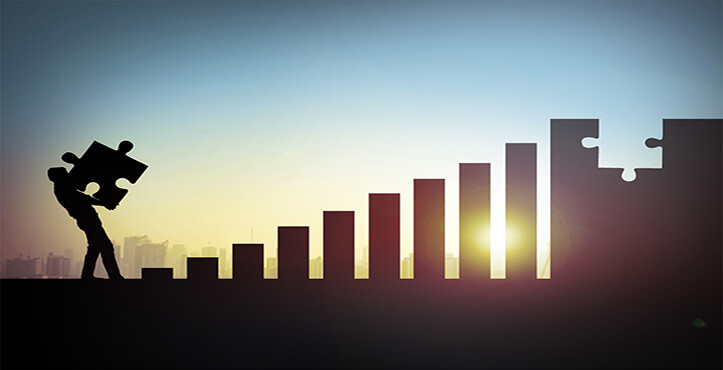 Get More Done with Digital-Level Control
When owners, GCs, estimators and project managers have digital-level control over construction input, costs, processes and relationships, they can be more successful in using technology to complete day-to-day tasks.
In fact, today's contractors are choosing more tools that integrate and are using fewer solutions. JBKnowledge's 2017 Construction Technology Report showed that only 16.6 percent of those surveyed were using six or more software tools, while 22.5 percent—the largest group—reported using only two software applications. Five years ago, more than 20 percent were using six or more solutions.
Conquer Change Orders with Ease
It's common knowledge that the construction industry has been slow to embrace tech tools. However, an emphasis on productivity and efficiency is driving the need for integrated, digital solutions in a big way. According to a 2017 McKinsey Global Institute (MGI) report, construction was reported to be the second-least digitized sector. In fact, if construction productivity were to catch up with the total economy, it could boost the sector's value by an estimated $1.6 trillion.
When it comes to streamlining construction workflows, integrated solutions offer the benefit of creating repeatable processes so change orders don't fall through the cracks and labor and costs are bid accurately every time. Making sure requests for changes are routed through the proper channels can be challenging without consistent workflows. Integrated workflows make it easier to keep everyone on the same page—from the field to the office.
Integrated Workflows Deliver Cost Savings
While the trend points to more efficient, integrated software solutions, many contractors resist going all in by staying tied to manual processes like paper or spreadsheets and communicating changes over the telephone or by email. In fact, the Construction Technology Report found the workflows most dependent on software were accounting at 85% percent, followed by estimating with 60 percent and project management and scheduling both reporting 50 percent.
By comparison, experts say automating how construction projects get designed, planned and built could result in cost savings as high as 20 percent annually. No doubt, greater predictability in construction timelines will deliver significant cost savings.
4 Advantages of an Integrated Estimating Workflow
Construction owners who embrace end-to-end tools realize major gains in speed, accuracy and efficiency. The following are some examples of these benefits when it comes to an integrated estimating workflow:
Gain a competitive advantage—For many contractors, being able to highlight, measure, record, assemble, summarize, price, submit, track and manage all projects right from their laptops with integrated takeoff and estimating software can be a big competitive advantage. Changes during the preconstruction and design phase are also easier to make with integrated tools.
Improve bid accuracy—Starting a new project bid or budget is much easier when you create databases where all material pricing, production rates, and more are stored—rather than searching through spreadsheets. Since much of what contractors do is very repetitive, being able to pull information with the click of a button is a game-changer.
Track productivity and protect profits—Multiple change orders can turn into a lot of extra work and rework, resulting in cost overruns and turning profits into losses. With integrated tools, you can have a plan to track labor production, hours and costs, so you can correct overages on the spot.
Save time and money—In a highly competitive environment where the low bid gets the job, your business can lose money before setting foot on a jobsite. Many construction businesses find significant savings in eliminating the need to print, handle and store bulky paper-based plans and other documents. With integrated tools, electronic documents imported directly into the software allow estimators to easily takeoff all aspects of the project. The estimator specifies and views individual conditions directly on the computer screen.
Choosing an End-To-End Construction Solution
Even though contractors routinely blow their schedule by 20 percent and their budget by 80 percent, the industry is typically only investing 1.5 percent of value-added technology compared to 3.3 percent in manufacturing, according to the 2017 MGI study. Although contractors underspend on technology by 70 percent, new digital tech holds the promise of boosting productivity by as much as 60 percent.
Are you hungry for speed, accuracy and efficiency? Stop putting your business at risk with software and workflows that don't integrate. The Contractor's Suite from On Center Software is helping many owners boost their efficiency and increase profits every day. When you buy now, you can save 50 percent on this amazing trifecta of power estimating tools. Lock in your savings now.