Learn how this equipment management solution contributes to safer, more efficient & profitable jobsites
Not too many years ago, telematics did little more than help fleet owners know where their equipment was and operators know how to reach their destination. Today, telematics means so much more. Using wireless technology to gather and transmit data, telematics helps fleet owners improve equipment efficiency, reduce costs, and increase profits by providing information regarding equipment performance, health, location and run hours.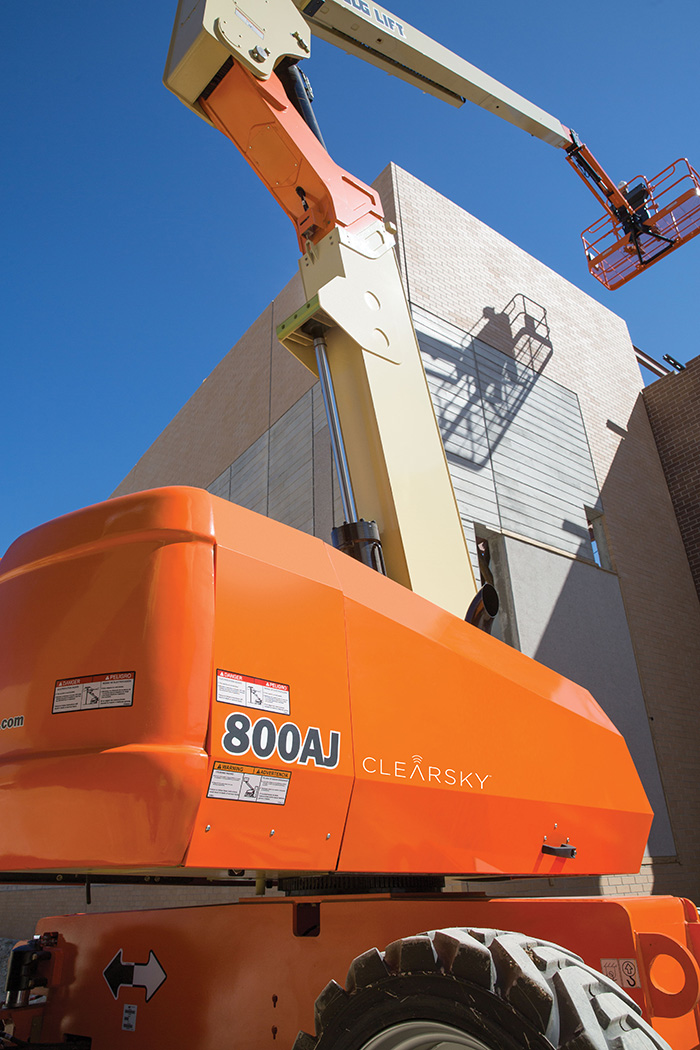 Impressed with the value telematics offers them, original equipment manufacturers (OEMs) have nevertheless been reluctant to invest the time and money required to build a telematics platform. Instead, OEMs are partnering with third-party providers, using their expertise to integrate these new technologies into their equipment.
JLG ClearSky Delivers Data in a Cost-Efficient Tool
As an example, JLG Industries, Inc., selected ORBCOMM Inc., a global provider of machine-to-machine (M2M) and internet of things (IoT) solutions, to update JLG ClearSky, a fleet management telematics solution that provides more focused, meaningful data delivered in a cost-efficient tool. ClearSky combines multiyear service plans and several hardware options that provide equipment owners and operators with flexible options to access critical engine and equipment operational data.
Available as a factory-installed option for new machines or as an aftermarket installation kit to retrofit equipment in the field, ClearSky provides an affordable, easy-to-use method of managing and maintaining a fleet by giving fleet owners the actionable data they need and the reports that will help them make informed decisions about their equipment. The data points include location, engine hours, usage, fuel and battery levels, and maintenance schedules. Conveniently available in real time and accessible from desktop or mobile devices, this data even allows owners to set up geofences and time fences to protect their fleet. The dashboard, settings, and a library of widgets can be edited and prioritized according to customer preference. Reports, too, can be customized to provide only the information customers need, freeing them from devoting time and energy looking at information they do not consider critical to their operation.
ClearSky Transmits Data Securely from Anywhere
ClearSky also monitors fault codes and other critical alerts, which can be sent via text and email. And, when integrated with a customer's enterprise resource planning (ERP) software, the tool enables seamless fleet management. Data is transmitted securely from anywhere in the world using cell technology or satellite communications, depending upon the device installed to suit the geographic location of the asset. All transmissions are routed through a secure data center to a customer's business system or through a user-friendly web interface available on desktops and mobile devices.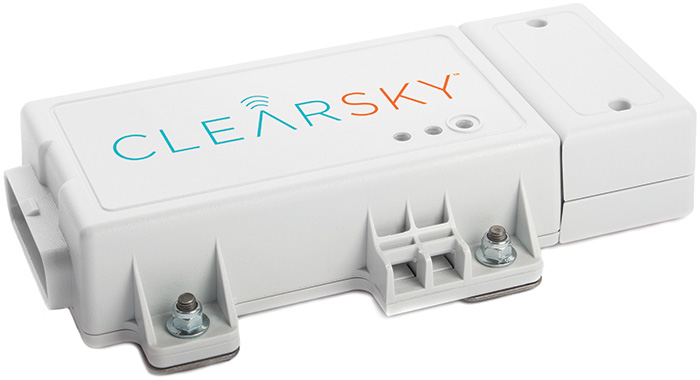 With this information in hand, fleet owners and operators are better equipped to make informed decisions regarding machine performance and productivity. It also allows them to:
Stay up-to-date on routine maintenance
Limit time lost due to low batteries and unexpected failures
Identify shortcomings with equipment, evaluate their impact and recommend design improvements to address them
Feel confident knowing they have access to information across multiple machines in their fleet
ISO Publishes New Telematics Standard
To address the growing popularity of telematics solutions like ClearSky, the International Organization for Standardization (ISO) recently published the Association of Equipment Management Professionals (AEMP) Telematics Standard, ISO 15143-3. This standard provides manufacturers, equipment users, fleet managers, and all industry stakeholders a data standard for specific data points that adhere to a specific format.
As technology evolves, ClearSky and other telematics solutions will adapt to these changes, offering fleet owners and operators new solutions that incorporate predictive maintenance and access to control systems, fleet analytics, pre-emptive parts replacement and service, and equipment monitoring with a related portfolio of services. The jobsite of the future, including equipment, people, buildings, and devices, will be connected with the help of the internet of things and sensors incorporated in everything, from machine components to pallets and jobsite wearables. The results will enable quick decision-making with regard to equipment and employees and ultimately enhance jobsite safety, increase productivity, and improve efficiency.
Telematics is in its infancy. But even in its infancy, its ability to gather and transmit data is producing measurable results. The outlook for bigger and better results is promising, making the incorporation of telematics critical for access to real-time data as fleets and jobsites expand in size and complexity. For those willing to make the investment, the reward is actionable information that ensures optimized scheduling and performance for a safer, more efficient and profitable jobsite.
For more information, visit JLG here.