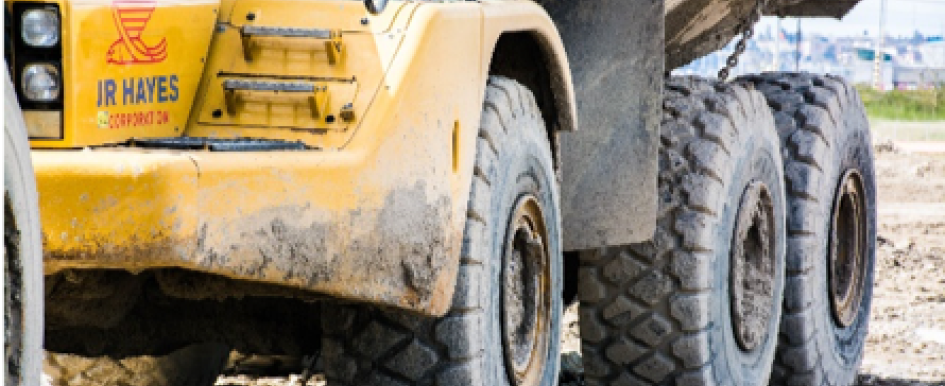 Operations Manager Toni Perrotti on the dependability of the new Firestone VersaBuilt off-the-road radial tire line
Based in Maple Valley, Washington, and founded in the 1960s, JR Hayes Corporation (JR Hayes) is a leading site development contractor in the Pacific Northwest. Tony Perrotti, operations manager for the company, has a longstanding history in the construction industry. Nearly 31 years ago, Perrotti started as a mechanic at JR Hayes. He then transitioned to work as an off-the-road (OTR) tire dealer, selling tires for use on earthmovers before rejoining the JR Hayes family in 2000.
As a former tire dealer and lifelong construction professional, Perrotti has a great deal of experience with off-the-road tires. He has been around the industry his whole life and says it has given him a true understanding of the demands that jobsites place on equipment, and more specifically the tires that keep the equipment moving.
Currently, Tony says his operators are facing extremely difficult site conditions. His equipment is running in heavy mud as well as on rock and concrete.
"We are struggling with poor underfoot conditions right now due to heavy rain," said Perrotti.
"I've bought almost every tire possible and none of them were able to keep up with the jobsite demands."*
Given the site conditions, Perrotti reached out to his local tire dealer, Charles Montgomery from Pacific Tire, to find a tire solution that would help minimize downtime and keep his operations running smoothly.
"Charles from Pacific told me that Firestone came out with the new VersaBuilt radial tire line and I got really excited," said Perrotti.
A Tire that Gets the Job Done
Built for traction and durability in the toughest of conditions, VersaBuilt tires are designed to get the job done—whether a customer is hauling in stone and gravel or faced with soft, muddy surfaces. After talking with Montgomery, Perrotti outfit his Caterpillar 735 articulated dump truck with Firestone VersaBuilt tires.
"We've got a difficult job right now in some deep mud and I've been struggling to get my trucks around," said Perrotti. "With the VersaBuilt tires, traction and overall control is a night and day difference. We're now able to go through where we need to despite difficult jobsite conditions caused by heavy rain."
Maximizing Uptime
Firestone VersaBuilt tires are built for general use across a variety of environments, equipment and applications to keep jobsites performing efficiently. Perrotti points out that the new Firestone VersaBuilt tires have played a key role in maximizing his uptime. Since outfitting his equipment with VersaBuilt tires 2 months ago, Perrotti says he has gone from two to three service calls per week.
"Downtime is huge. When you have one truck go down, you easily have 3 to 5 hours of lost productivity to repair a flat or get a new tire," said Perrotti. "We had several flat tires due to wire mesh in the concrete on one of our sites, which resulted in significant downtime. Since we switched to the VersaBuilt tires, we haven't had hardly any downtime."
The Firestone VersaBuilt tire line launched in March. The first off-the-road radial tire from Firestone, VersaBuilt tires are built to offer the versatility construction operators demand to get the job done.

*This testimonial is based on the experience of one customer and is not a guarantee or representation of your results. Actual results may vary based on weather and surface conditions, equipment condition and/or operator performance.