Learn how these industry standard BIM & digital practice documents can help your business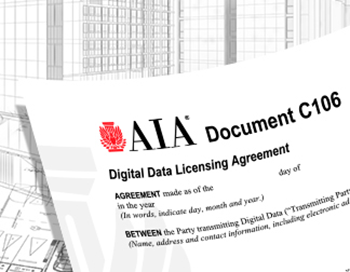 Building information modeling (BIM) is the growing area of the building industry that continues to change how projects are designed and executed. BIM moves the design drawings from a 2D representation to the 3D one. It also promises the creator the opportunity to streamline the shop drawing process. Overall, the benefits of BIM include risk reduction, and quality and efficiency improvements.
Initially, BIM's impact was typically utilized on the design side, where it allowed architects to visualize and design a project in exciting innovative ways. However, the efficiencies BIM offers were realized by the other major members of the construction industry. Contractors now use BIM to more accurately estimate, schedule, and execute a project's construction.
When using innovative technologies like BIM, it's crucial that all project participants understand their roles and responsibilities. AIA Contract Documents offers BIM and Digital Practice documents that establish expectations for the use and transmission of digital data. The BIM and related Digital Practice Documents help create a guideline for working with BIM and other digital practices. They address issues that may arise throughout a project and reduce barriers that often hinder BIM adoption.
AIA Contract Document BIM and Digital Practice documents include:
Find samples of BIM and Digital Practice documents at aiacontracts.org. Click here to get free samples of the recently-released 2017 versions of AIA Contract Documents.