An educated response from Harry A. Lane of Econz Wireless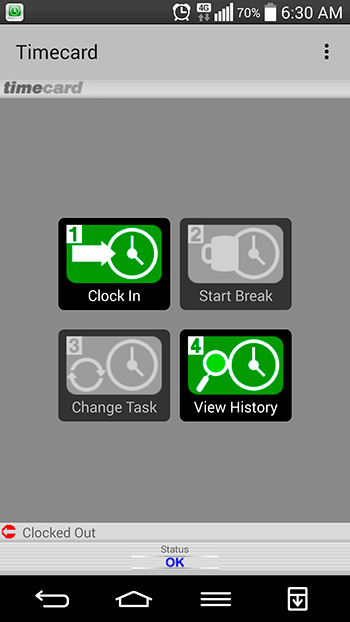 As the world of Mobile Time, Attendance, and GPS seems to becoming more and more popular in the construction vertical, so does the number of commercially available applications for businesses like yours to test and deploy. Questions I'm sure you or someone within your company is asking include:
What should we think about before deploying a Mobile Time, Attendance, and GPS application?
What type of application would be best for our business?
Will we see a return on our investment? Will our foreman and other mobile workers use the application? What happens if our guys don't want to use the applications – they have been with us for years?
What if it takes us weeks to earn their system? We just don't have the time.
My guys don't even know how to reply to our emails on their devices.
All "The What if's………
Hopefully we can address a few of the "What If's" and have the opportunity to demo one of our Mobile Time, Attendance and GPS applications to your company.
The bottom line is, whatever solution your company moves forward with, you will see a "Return On Your Investment" by reducing Time-Theft, Increasing Productivity, Better Job Costing, Reduced Expenses and Operational Costs, etc. Not to mention, hopefully helping your company protect yourselves against Past Employee Lawsuits around lost time and attendance.
Don't be "that customer" that calls us after paying thousands of dollars on legal fees and unpaid salaries to unemployed employees that you let go 2 years ago!!
First, do the research on what is available in the market today. There are A LOT of solutions that are available from anywhere from FREE to $40 per month. I always question FREE as when running a business "Time is Money".
Things to look for include; Easy to Use, Cost Effective, Top Notch Customer Support, Multilanguage's, Store Data for at least 6 months, Monthly enhancements, Native application to the device – NOT browser based (ie. works when out of coverage), includes accurate GPS Data, Good Battery Life, etc. I suggest selecting three application to review.
Second, find an application that your field and office staff can use (easy to use and deploy). If you have equipped your field staff with an Android or Apple device, there's a pretty good chance they will be able to capture Time and Attendance. Most applications are easier than checking email or using Facebook. You need to work with a mobile application partner that will monitor the first few weeks of usage daily. People are going to make mistakes, clock in later, and forget to clock out. The issue is when the pattern doesn't get better after a few weeks like having employees forgetting to clock in and out on a Friday or who are leaving their phone at home by mistake. The teams should get better with time in reference to capturing data. Clocking in and out should be just part of their daily duties. Be patient the first two weeks and stay supportive on your decision to deploy.
Third, if you have employees that will not use the application and continue to try to "Trick the system" to forgot to clock in or out after 45 days. I think you have some bigger problems to address and I'm not sure any commercially available solution will fulfil your needs. There needs to be some type of interaction for a mobile time, attendance, and GPS system to be a success no matter what other developers will tell you.
Below is a quick overview of our company. I wish you and your company the best in whatever path you follow in reference to selecting a Mobile Time, Attendance, and GPS application.
Econz Wireless www.econz.com has been providing mobile wireless solutions to the Construction Industry globally for many years. Our solutions work on standard cell phones, Apple iOS, Blackberry 10, and Android devices and tablets.
Our Timecard applications are fully featured applications which have been specifically designed to save time, increase productivity, track and manage field workers, and lower costs.
Econz Wireless hosted enterprise mobility applications for Construction companies with a focus on capturing Mobile Time, Attendance, Work Force Management, and GPS Tracking information.
Econz Wireless products are available on a Global basis and have helped thousands of companies stream line their businesses to become more efficient, more productive and more profitable. Solutions specifically suitable for the Construction vertical include Timecard GPS and Timecard GPS Lite.
Features: Econz Timecard GPS
Automatic GPS & Timestamps allows you to monitor and measure job time, travel time, working time, downtime and administrative time per job.
Access to Real-time; Time Stamps, Job Details and Location data as it happens instead of waiting for information to trickle back in from the field staff.
Various unique reports (28 in total) of the data collected by mobile devices which can all be exported to Excel/CSV format.
The Field Worker has the ability to add optional/required notes, parts used, services provided and many more important job details.
Collection of GPS breadcrumbs every 60 seconds with Time, Date and Speed, enabling management to check the status of their employees in virtually real time.
Job Times and details are stored for 6 months on customers web-based account portal.
Integration options through certified partners into over 100 accounting and Payroll Systems – these systems including Sage Timberline, Sage Master Builder, Fountain, Quick Books, ADP, Swipe Clock, and many more.
100% Native handset based application with store and forward technology.
Field Employees log the following data from a Cell phone, Android device, Apple iOS device and Tablets:
Time
Attendance
Jobs and Tasks
Sub-tasks, Cost Codes, – activities at a location
Breaks and Lunch period
Photo Capture - location and time of Photo captured
Digital Signature
Custom fields for daily reporting (weather, anyone injured on job?, Notes, Distance Travelled, etc.)
Supervisor – Clock in/out of multiple team members
Management is able to view the location of employees on Google maps from Econz web-based software with real-time job information such as:
GPS tracking information
Bread crumb trails
Speed triggers
Miles travelled
Idle time
GPS smart fence technology
View information in over 28 reports (export, schedule, etc.)
Time and Attendance
Job progress
Real Time Photos and Digital Signatures with location
Get additional information at www.econz.com or review an online pre-recorded webinar at www.econzwireless.net and you call always call us directly at 866.403.3475