New technology that could save you lots of time & money
Sometimes, technology has a crazy way of sneaking up on you. It feels like if you blink, you may miss the next big thing. For contractors, new technology has been evolving at a fast and furious pace.
For example, takeoff and estimating technology has come a long way since the days of colored pencils and pens. For some contractors, this tech evolution is all about using digital takeoff and estimating software. Others are well on their way to integrating building information modeling (BIM) into their workflows.
Perhaps, the most exciting new technology is virtual reality (VR) and augmented reality (AR). Experts say it could disrupt how estimators and project managers do their jobs by solving critical challenges for construction businesses.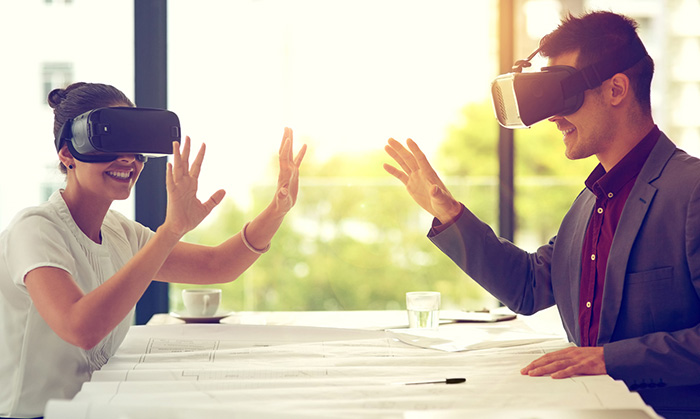 BIM Acceptance is Key
Clearly, VR/AR technology holds a lot of promise. A report released by Goldman Sachs in 2016 predicted that the VR/AR market in the U.S. could be as large as $182 billion by 2025. The report shows that some construction companies are already using this technology in the pre-construction stage.
In fact, the wider acceptance of 3D and BIM may signal a push in the industry toward more contractors using this ground-breaking technology. Its potential to change the way projects are designed and built is awe-inspiring.
With VR/AR, project stakeholders can collaborate more effectively before building begins. The possibility of integrating digital content with real-world images could change how contractors plan work, quality management and inspections. Some contractors are already seeing the benefits: faster project completion, less rework, improved safety, lower labor cost, issues resolved faster and improved quality.
What's it All About?
For construction businesses still unsure of what the buzz is about, let's take a closer look. With AR, a designer can overlay an interactive design model on the real, live environment. AR is any technology that superimposes spatially contextual information over the user's view of the real world, providing additional data while still permitting interaction with the real environment.
In fact, the most practical implication for AR is that a project manager could walk through a construction site and easily view an overlay of a BIM model on top of as-built construction. They could then compare the two while accessing up-to-date change orders or other project documentation. The project manager could instantly take pictures or record video of the AR walkthrough and send it back to the design team for clarification as issues arise. Some believe that AR will do for BIM what BIM did for computer-aided design (CAD) and 2D architectural drawings.
By comparison, VR is a computer-simulated environment that allows you to interact in a realistic and/or physical way within the environment. With VR, you wear a virtual reality visor and become immersed as it replaces the real-world with a computer-generated environment. In theory, moving to VR should be easy since architects and engineers already create digital models of their designs, but experts say these existing models will likely need to be augmented or even rebuilt to be used for VR.
The Next Big Thing
To take things to the next level, the construction industry will need to connect modeling and estimating software to take full advantage of VR and AR solutions. Some of the strongest arguments for VR/AR center on its potential for engineering design and project collaboration. This means all parties involved in a project could meet and resolve any issues in a virtual building that is being designed.
If you aren't quite ready for VR/AR, but would like to learn how digital takeoff can revolutionize your estimating, On Center Software can help. Sign up now for a risk-free, 14-day trial of On-Screen Takeoff, and find out how your estimators can bid and win more work with this industry-leading technology.