Learn how video technology is revolutionizing safety & operations for construction & ready-mix fleets
The construction and ready-mix industries face some unique challenges when it comes to safety. Fleets often operate on uneven surfaces and in crowded environments, leading to a higher chance of collision, property damage and injury. As a result, fleets take managing risk and operating safely very seriously—not only to ensure the safety of their employees and the general public, but also for the secure transportation and delivery of the materials they're hauling. In addition, a safer fleet reduces costs, fleet claims and litigation, while also improving operational efficiency.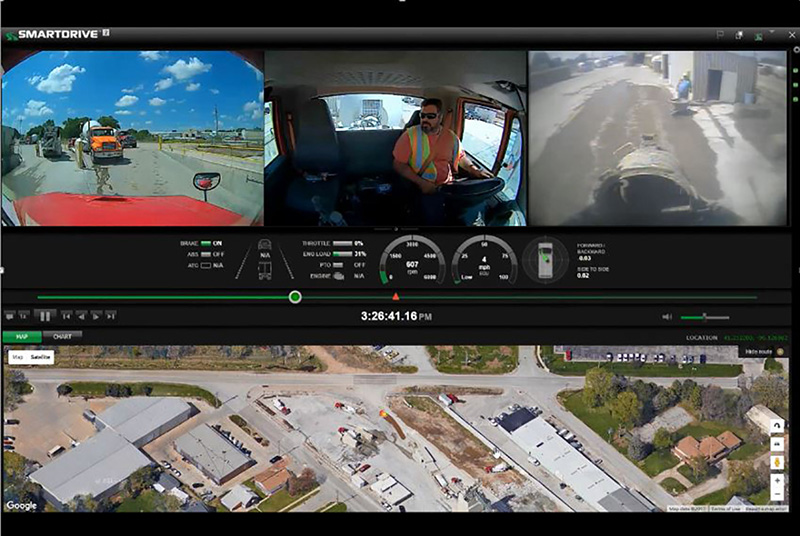 Companies have many options when choosing vehicle safety technologies. In recent years, the advent of video-based safety has changed how fleets measure safety, ultimately leading to life and cost-saving benefits. The combination of immediate video-based insights and transportation intelligence—which transforms massive volumes of data generated by fleets into real-time, actionable information—provides fleets with predictive analysis and prescriptive actions, leading to significant business results. Video-based safety systems offer the context, flexibility and insights that enable a host of assets that go beyond driver exoneration and improvements in driver performance, to compliance with standard operating procedures and improved customer service. As such, video can have almost immediate benefits, delivering significant ROI and positively impacting the bottom line.

Exonerating Drivers
A key reason fleets adopt video-based solutions is driver exoneration. When fleet drivers are involved in an accident, regardless of its severity or who is truly at fault, drivers of commercial vehicles are often assigned blame. All too often, when a fleet driver is involved in a collision, it simply comes down to he said/she said. Unfortunately, in the majority of instances, whoever is driving the bigger vehicle is blamed. So, how do you determine—and prove—what really happened?
With video, fleet managers know within minutes what actually caused a collision. When not at fault, the driver can be exonerated quickly, preventing a costly claim against the company or enabling the fleet to file a claim for damages. The certainty that comes with video footage can prevent the driver from receiving a citation and potentially losing his commercial driver's license. Alternatively, if the company driver is at fault, video can illuminate the circumstances, speeding the claim resolution process.

Not All Video Systems Are Created Equal
When considering whether to install a video-based safety system, there's more to the decision than just cameras and the actual video of a driving event. Video alone does not make a fleet safer—identifying risk and taking action to reduce those risks is the key.
A fleet's collision frequency largely depends on the skills and abilities of its drivers, which is why drivers represent the biggest opportunity to improve safety and efficiency. Preventing collisions caused by drivers is challenging because driver-related risk factors must be measured on the roadway before a collision occurs and addressed in a timely manner. But how do fleet managers know what risky habits their drivers are engaging in while on the road? And with limited time and resources to coach, how do they know which drivers to prioritize based on severity of risk?
The most advanced video-based safety and analytics solutions are offered as a fully managed service. These programs include expert review and analysis of captured video, deliver actionable data for coaching drivers on specific skills or habits and prioritize events for coaching based on the severity of risk and company policies. Once risk has been identified, the next and most important step, is coaching. An intuitive coaching workflow, which is a critical component of a managed service solution, combined with easy-to-use tools, is essential to improving driver performance and reducing risk.
Fully managed services deliver the right information to the right people at the right time—allowing appropriate actions to be taken to prevent collisions and improve driver skills. Utilizing a managed services program empowers fleets to focus on the risk areas that have the biggest impact, alleviating the fleet of the burden of extensive video review and analysis. This saves companies time and money, while helping them compete in today's data-driven world.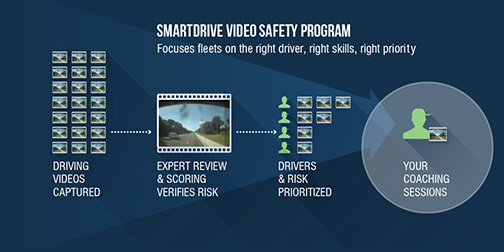 Camera Configurations
Due to their unique vehicle attributes and operational profiles, which include a high center of gravity with a rotating drum, along with backing or maneuvering in tight situations, ready-mix and other construction fleets often require distinct video-based safety system configurations. In addition, it's important to know the risk level at each site, how long an individual (or vehicle) has been on a jobsite, and the cause of any vehicle mystery damage; the appropriate camera configuration can provide this information.
Many fleets utilize at least four cameras, providing 360-degree visibility in the cab and around the vehicle. The most advanced solutions allow for up to 12 cameras, which can provide added visibility critical to the safety of construction employees who operate near and around the vehicle throughout the day. For these fleets, deploying multiple cameras can also help ensure compliance with standard operating procedures, such as confirming whether the driver stepped out of the cab prior to backing, used a spotter for backing assistance, or if proper OSHA guidelines were observed, such as unloading/loading the equipment properly. Too many times, when guidelines are not followed, workers' compensation claims follow.
Video Enhancing Resources
Keeping a fleet competitive requires continued focus on resources, managing both overhead and technology investments. As fleets expand, drivers, dispatchers and managers must work together to achieve safety goals without increasing overall cost. Video can be an important resource that helps facilitate a productive conversation between coach and driver by clearly showing what happened. However, it takes more than just video to deliver the insights fleets need in order to have a lasting impact on safety.
If a fleet has 1,000 vehicles with cameras installed on each, a massive amount of video will be collected in a short amount of time. Very few fleets have the internal resources to review this volume of footage. Further, for fleets that require extended recording to ensure a clear record of all activity and incidents, the amount of video can seem endless.
For this reason, the best configuration for most construction and ready-mix fleets is to have a robust exception-based video recording system. These systems feature a finely-tuned triggering mechanism that can detect whether the vehicle is driving on the street or on a jobsite. This is particularly important due to the conditions of construction sites as compared to most roadways. Because these surfaces are extremely different, a G-force movement on one might be completely normal, whereas it could indicate an unsafe situation on another. Combining exception-based and continuous recording, areas of risk can be addressed quickly and responsibly, and the full record of activity is available for reference when needed.
Counteract Data Overload
Vehicles are loaded with sensors that deliver huge quantities of data, which can be a major headache for fleets to try to digest on their own. It's important to remember that video-based safety programs deliver insight—not just data. Solutions with an open platform approach are able to incorporate a variety of inputs from other safety technologies on the vehicle, allowing that system to trigger a video event based on hard braking, following distance, lane departure, and more. This creates leverage across fleet safety investments by providing a single consolidated view of the driving environment, the driving maneuvers and the vehicle.
If you've chosen an integrated program, these critical events are prioritized based on risky driving. Because advanced systems are able to offload and alert managers in real time, fleets have immediate access to the information that matters most, saving time and bringing the clarity that is required to make fast and effective decisions.
By transforming data into insights that can be leveraged across the operation, fleets can discover new, untapped opportunities that materially improve efficiency and overall financial performance. Actionable operational metrics, management KPIs, reports and dashboards for managers, interactive visualizations for advanced analysis, and the ability to export data and integrate into an existing intelligence stack are the keys to changing behavior and driving success.
Learn more about SmartDrive solutions at www.smartdrive.net or email info@smartdrive.net.