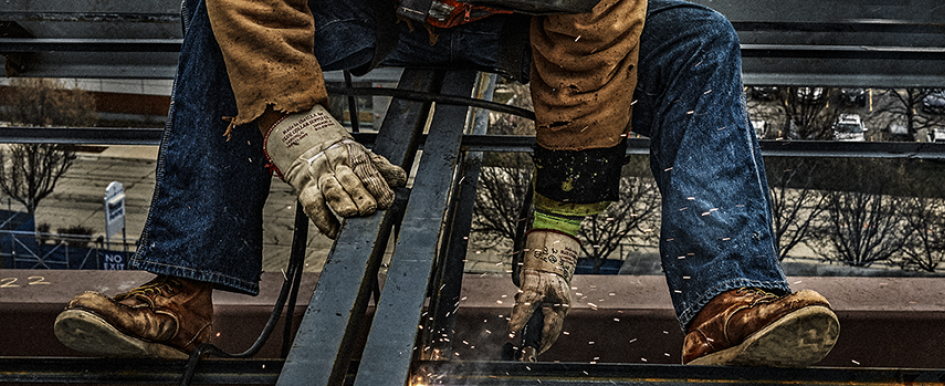 Get to know Red Wing Shoe Company's new America Working initiative
Wednesday, December 20, 2017
Attention to detail, dedication and love of the craft: these are just a few qualities of the skilled tradesmen that keep our industry going. But with busy jobsite schedules and an ever-changing economy, the high-quality work that they produce sometimes goes unnoticed in favor of moving on to the next project. CBO recently caught up with Dave Schneider, chief marketing officer at Red Wing, to talk about the company's new initiative, America Working, that aims to shine a light on the hard work of our industry craft workers. See our conversation below. 
CBO: Can you explain the America Working initiative to our readers? 
DS: Our America Working campaign is a manifestation of our appreciation and admiration for the men and women who build our country every day. We invite our consumers to share the epic stories their boots tell. We are building a monument to the "American Worker" at our website, redwingamericaworking.com, as well as our physical Wall of Honor at our flagship store in Red Wing, Minnesota. Our consumers often talk about our boots as if they are tools in their tool belts, and we wanted to give them a platform to share not only the impact these boots have had but how their work has impacted all of us. Given the amount of love our brand receives from our consumers, it felt right to provide these same consumers with a space where their stories could live forever, paying respect to their boots and the work they have accomplished, while doing so in their own words with their own engaging and heartwarming images.
CBO: Do you have any particular stories that stand out about some of the men and women featured on the website?
DS: Yes, and we are looking forward to unveiling our Wall of Honor. Currently, several submitted stories are featured on our website, and I encourage readers to check those out. As a private, family-owned company dating back to 1905, we have been touched by stories where putting on a pair of Red Wings every morning has become a family tradition. One that comes to mind is Kenneth Windell, who followed in his father's footsteps as a lineman, and now his son has joined him in line work and they both wear Red Wings every day. Another customer, Chris Csoka, took part in the clean-up at ground zero after 9/11. He waded through toxic piles of metal, crushed rebar, fuel oil and glass that relentlessly wore down his work boots every 4 days until he switched to Red Wing 2292s, which withheld the daily beatings for 2 months. The boots even protected him from electrocution during an accident, and since Csoka wasn't hurt, he was able to help a colleague on the cleanup crew who was starting to experience the effects of smoke inhalation during the accident.

CBO: When will the Wall of Honor be unveiled, and what does it entail?
DS: Our Red Wing Wall of Honor entails a permanent, physical wall constructed at our flagship store in Red Wing, Minnesota, where we will enshrine the actual boots of our honorees. Currently, we anticipate unveiling the wall in early 2018. Our digital Wall of Honor is already beginning to take shape as people can already read some of the epic stories at our website, and we are accepting submissions for the next round of honorees.  
CBO: Can you go into a bit more detail about Red Wing's "The Crew?" How are members of the crew chosen, and what is their primary focus?
DS: "The Crew" is a community of passionate trade workers and Red Wing fans, both men and women, from all over the country that volunteer as non-paid ambassadors for Red Wing Shoe Company. They are experts in their craft, ranging from those in their early 20s to decades into their chose profession, across trades such as carpentry, electrical work, machinery, ironworking and landscaping. Because of their real-world experience as skilled laborers, they help us review products through field tests and share advice with others on how to best utilize our work boots. In addition, members participate in other opportunities as they arise, such as a recent forum at Red Wing High School, where Crew members in trades such as carpentry, electrical work and ironworking engaged students in a discussion on career opportunities in skilled labor.
CBO: How can business owners get involved with Red Wing's initiatives to alleviate the skilled labor shortage?
DS: The skilled labor shortage is an issue being felt across the country, regardless of the industry. Time and time again, we see the passion young adults have for hands-on work outweigh the perceived pressure to earn a four-year degree. Our suggestion to business owners is to encourage their qualified employees to share their stories and express how they have made rewarding a career choice through skilled labor. It is increasingly important that the next generation is engaged in deeper thinking about the possibilities inherent within these professions, which includes lucrative salaries and opportunities for advancement. And most importantly, tell them how proud you are to help build America and have a positive impact on the country's economy. Young adults are inspired by these stories, and often, they simply need to hear that it's okay to follow their passions.
CBO: What advice do you have for business owners working to get young adults involved in the trades on their own?
DS: It's well-known that trade industries are experiencing a shortage of qualified employees. The silver lining is that we are all in the same boat, and because of that, we're starting to see industry leaders and companies band together to ignite a groundswell of young adults who want to pursue hands-on careers. It is important to continue to engage the next generation in dialogue that exposes them to the vast opportunities in skilled labor including going home each day with a sense of accomplishment.  Working in a trade is a wonderful life that not only has benefits of good pay and the chance to work on some epic projects, but also have a direct impact on the growth and success of your own backyard, if not America.
For more information, visit Red Wing.