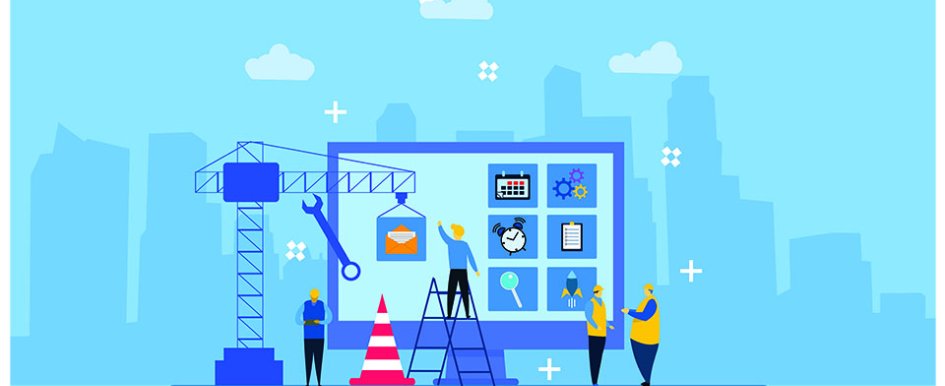 How to turn a web search into a tangible return on investment
In April 2020, the search term "construction companies" was searched on Google (in the United States) 40,500 times. "Commercial general contractors" was searched 1,600 times and "hotel contractors" was searched 140 times. As a marketing strategist who works specifically with construction companies, I have talked with many commercial construction company owners who believe their customers don't use the internet to find companies like theirs—Google's search statistics suggest otherwise. There is a science to building a successful website, and there are three things you must do for your site to generate leads.
1. Keyword Research
In order for your website to generate leads, you must rank on Page 1 of Google search results for the keywords used to find your company. Statistics show that 90% of Google users never go past page one when looking for information. There are many factors that are used to determine where Google ranks websites, but content is the most important.
Before building your website, you must conduct keyword research. Keyword research begins by identifying the keywords you think people might use to look for companies like yours. Google's Keyword Planner will tell you how many searches are being done with those terms. But knowing how many searches are performed is not the end of your research. You must also research what Google thinks the intent of that search is, and look at the competition on that page to see what it might take to out rank them.
I see this frequently in the residential market, but it also applies in the commercial market. A custom home builder will tell me that their company does design-build work. They have built a website based on the fact that they do design-build work. The problem is that although there are 5,400 searches for "design-build" in a month, Google interprets those users' searches to mean, "What is design-build?" While Google's map and one or two of the organic results might be contractors, the rest of the results are websites that define design-build. Chances are, even if you worked night and day to get to Page 1 for that keyword, you wouldn't get any leads from that search term.
The beautiful thing about Google is that it will provide other search terms to consider. When you scroll to the bottom of the search results page for "design-build," Google offers other, similar search terms that might match your interests. In a search for "design-build," Google suggests you also look at "design-build contractors." Using Google Keyword Planner, we know there are 880 searches for "design-build contractors" in a month. In reviewing search results for that "design-build contractors," Google returns a list of mostly contractors. All this to say that there some keywords are better than others. But, in many cases, there might be even better keywords. So, you need to continue your research.
Recently, I was contacted by a concrete contractor with offices in California, Nevada and Colorado. The company's vice president told me their website was old, and when he searched for his company in Denver, he couldn't find it. He also mentioned their existing website doesn't generate any leads. 
The first step I took to rebuild this website was to host discovery sessions, in which I learned about their company and their services. As they talked about their business, they referred to their products as "insulating concrete," "cellular concrete," and occasionally "gypcrete." Their old website described the company as an insulating concrete company. It referred to their offerings as gypsum-based underlayments, cellular concrete, structural lightweight and insulating concrete roof systems.
As part of discovery, we conducted keyword research on all their services. We found that there had been no Google searches done for "insulating concrete company" or "insulating concrete contractor." The search for "gypsum-based underlayments" returned manufacturers of gypsum-based products, not contractors. The search for "cellular concrete" returned websites that defined cellular concrete. And the search on "gypcrete" brought back retail websites where consumers could buy gypcrete, and videos on how to install gypcrete.
We began to experiment with word combinations to identify the words that people might use to search, and we ultimately came upon "gypcrete contractors." The term "gypcrete contractors" is searched 390 times per month, and the search results list contractors. We designed and rebuilt the entire website based on that term. Prior to the pandemic, they were getting 15 to 20 requests for bids per month. Since the pandemic, they are still getting 5 to 7 requests per month.
2. Analyze Your Competition
Once the best keywords have been identified, you need to analyze the competition that ranks on Page 1 for those search terms. Sometimes, the websites that rank high are website aggregators which provide lists of companies, and it is near impossible to outrank them. But it is possible to outrank other construction companies. You'll want to look at how much content they offer on their website for the keyword for which you want to rank. You'll also want to see how many pages of content they have. When designing your website, you will want to out-build your competitors. Now if they have hundreds of pages, it might not be possible to do that all at once. But overtime, with a well implemented strategy, you can certainly move up in the ranks.
3. Always Be Closing
Good salespeople know the key to success in sales is to "always be closing" or ABC. The same is true in website design. Many business-to-business (B2B) sites lack a specific call to action—as was the case with the gypcrete website. If you want people to reach out to you to get more information, start a conversation or request a bid, you must ask for the business. Websites that feature a "Contact Us" page are good, but that page doesn't command the same action you'll see if you feature a "Request a Price Quote" or "Tell Us About Your Project" form. By adding forms to your website, you are extending your hand to new customers and inviting them to provide information. Just like at a party, many people will sit on the sidelines until someone talks to them. On a website, a form is inviting them to talk with you.