Know how to manage environmental risks in health care construction.
Any successful construction project demands thorough planning and careful management. Today, managing environmental risks is an essential part of that process. When a project involves health care facilities such as hospitals, clinics and assisted living centers, the environmental concerns are even more important. If not properly controlled, pollutants such as fugitive dust, fumes or mold can cause serious, potentially life-threatening reactions in some patients and residents. Environmental problems linked to construction at health care facilities can lead to costly project delays, significant cleanup and remediation costs and negative media coverage that can cause lasting damage to a contractor's reputation. A comprehensive risk management strategy that includes detailed planning in conjunction with environmental experts and insurance that addresses a wide range of pollution exposures can help construction business owners mitigate those risks.
Whether it is a new building, an addition or renovations, a construction project at a health care facility poses significant environmental exposures due to the equipment, the materials, the nature of the work and the presence of people whose health may be compromised. Some of the risks include fuel leaks and spills, silica dust from cutting concrete block and dust from working with drywall. Fumes from adhesives, paints, solvents and formaldehyde from carpet installation may lead to health problems. Any work on existing electrical, plumbing and heating, ventilation and cooling systems carries pollution risks as does disturbing existing structures such as exterior facades or interior framing. The exposures aren't limited to the jobsite. Contractors may be held responsible for pollution resulting from incidents involving the transport or improper disposal of waste materials.
While protecting health and the environment are major concerns, construction business owners must be mindful of the financial risks as well. Environmental exposures typically have been excluded from general liability insurance policies for more than two decades. A general liability insurance policy may provide limited coverage for bodily injury and property damage, but it won't cover the out-of-pocket cleanup and remediation costs, which can be very expensive.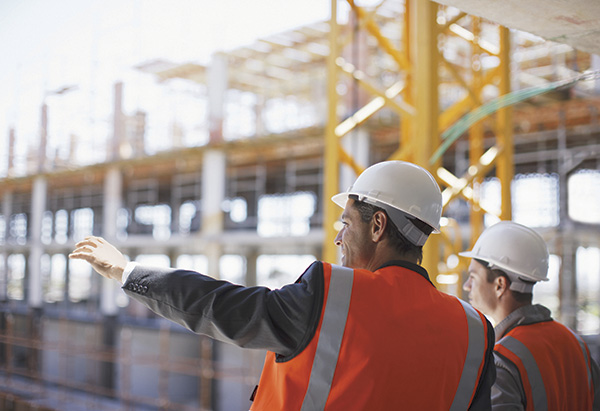 Environmental Risk Management
Risk control for environmental exposures should be an integral part of any health care project from the start. Before beginning any work, contractors must identify the potential risks, whether those are preventing the spread of existing contaminants such as mold, bacteria and viruses, or containing pollutants such as dust and fumes. Remember that large problems can start small. Simply opening up a wall can cause significant problems if mold is behind it and the spores are picked up by the ventilation system and spread throughout the facility. Work that involves existing plumbing and water systems can spread the legionella pneumophila bacteria, which causes the potentially fatal Legionnaire's disease. In addition, leaks from plumbing or heating pipes can create moist conditions that are conducive to mold growth.
Containment measures may have to be put in place, and all or part of the facility may have to be shut down. Where pollutants are spread inadvertently, the remediation can be extensive and costly. Any contaminated material will have to be removed and disposed of properly. In addition, a pollution incident at a health care facility may invoke applicable environmental laws.
Effective Procedures and Controls
Once the environmental risks are identified in the planning stage, contractors must establish the proper work procedures and effective containment measures to prevent sudden/accidental or gradual pollution events. Contingency planning is crucial and should include both proactive measures for prevention and reactive measures for mitigation and cleanup of pollution events.
Builders should consider bringing in environmental and industrial hygiene experts at the planning stage to develop strategies to mitigate the environmental risks and to provide project management and environmental monitoring services. Construction companies also may want to seek expert help on managing hazardous materials.
Financial Risks
Along with planning and deploying the appropriate mitigation measures for health care projects, contractors should make sure that their insurance covers the range of environmental risks that their operations entail. As part of a comprehensive risk management approach, builders need to examine the best approach to insuring their projects. Contractors Pollution Liability (CPL) policies can help contractors prevent potentially expensive coverage gaps that may result from varying pollution-related exclusions in standard general liability insurance policies. In addition to providing coverage for bodily injury and property damage claims from a pollution event, a CPL policy also provides remediation costs. Some additional enhancements include cover for emergency response costs and catastrophic management. Catastrophe management coverage that includes expert public relations advice and services can help prevent lasting damage to the contractor's reputation.
Environmental issues represent a growing concern for the construction industry on any project. Health care facilities require an even higher standard of care. Before work begins, contractors should develop a plan to identify and mitigate the environmental exposures. When work gets underway, careful project management and environmental monitoring are necessary to make sure those measures are adequate to protect the health of patients, staff and workers. By addressing environmental exposures from the start, contractors can help to mitigate pollution risks and focus on building a successful project.