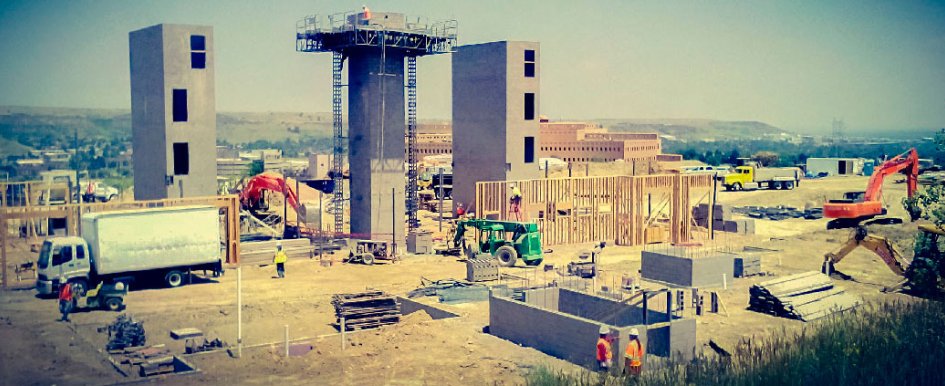 Assess the costs and benefits of this increasingly popular jobsite tool
Construction site cameras are becoming more common on a wider range of projects for various uses. But are they worth the cost and the hassle? In Figure 1, you can review some of the benefits of using jobsite cameras. Some are benefits to owners, others to general contractors and on-site managers and others to the marketing or legal teams.
Many of these benefits are hard to quantify. The larger and longer the project, the greater the dollar value of a given benefit across that project. The value of some benefits will also depend on other processes implemented within the team and how effective those are, as well as the technical savvy of the team.
Oversight efficiency, by way of reduced site travel, is easier to analyze. Catching a problem early with a camera could have value to the project, and the same goes for team coordination and process improvement benefits.
Benefits in customer relations can also be difficult to quantify. However, it is easy to see that increased transparency with a customer can contribute to a leg up on a next project, resulting in a very high value to the general contractor. Marketing benefits and site safety and security have their own economics. Many contractors will market their firms with pictures of finished products. In reality, time-lapse videos and in-progress photos can provide a more compelling image of the services general contractors provide.
Figure 2 delves into the cost of security cameras, which could easily run to $30,000 or more per camera. These types of costs have made the use of site cameras a harder choice for many construction company owners.
Site Camera Evolution
Developments in recent years have impacted the costs and capabilities of construction site cameras significantly. These include:
Solar powered—By eliminating the need for on-site power, site cameras can be installed at any time and in the most advantageous location. Installation costs are also lowered, since no electrician is required.
DIY installation—Next-generation site cameras are designed for ease of use and self-installation by end users.
Wireless—Cellular and Wi-Fi cameras dramatically reduce the costs of site cameras by eliminating the need for wiring and reducing installation costs dramatically.
Portable and small—Developments in microelectronics and battery technologies have enabled smaller cameras and solar power systems.
Cloud connected—Modern construction site cameras connect to a cloud service. This provides automated and secure archival of project data.
Multi-function cameras—Includes time-lapse image collection, automatic time-lapse videos, real-time video streaming and more.
Increased use of smartphones/tablets—Enables teams to exploit site cameras by having real-time access.
Low cost—Some of the newest generations of cameras have achieved cost points that are a fraction of traditional systems.
Site cameras benefit various stakeholders in a project in different ways. Once deployed, typical users discover that they begin to rely on the cameras. Lower costs for next-generation site cameras present leading contractors and owners with an easier decision to deploy site cameras on a wider range of projects.
Figure 1. Benefits of Cameras Customer Relations
Customer Relations
Transparency—Maintain transparency about project information as part of owner/GC relationship
Accountability—Record subcontractor activities and construction steps for owner verification
Project marketing—Pre-market project to future buyers/renters
Public relations—Keep stakeholders engaged in public or other high-profile projects
Dispute resolution—Provide a data source to support dispute resolution
Project Management
Team communications—Share images/videos at team meetings to support communications and team coordination
Efficiency—Reduce site travel, more frequent site viewing
Effectiveness—Identify project problems sooner
Schedule management—Ensure delivery and key process milestones are met
Materials management—Oversee materials deliveries and placement
Vendor management—Oversee vendor activities and schedules
Quality control—Ensure that processes are implemented correctly
Process improvement—Provide "actuals" to compare against forecast within the BIM model
Safety and Security
Site safety—Monitor processes for safe practices; document accidents to support improvements
Site security—Monitor sites after hours for theft and unauthorized access
Figure 2. Costs of Cameras
Purchase or rental of the camera itself
Cellular data costs
Data storage and web/cloud service fees
Installation—electrical contractor
Setup and configuration—IT staff
Electrical service required at site for the camera
Internet service required at the site for the camera—installation and ongoing