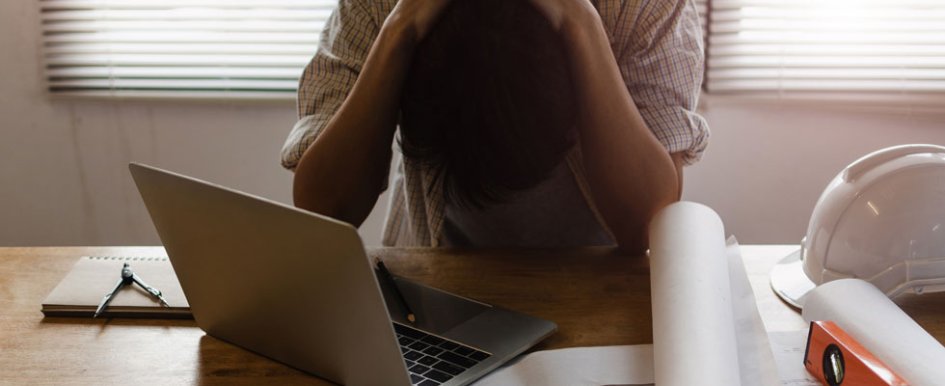 7 ways to navigate pain points & create a path to a better business
Construction business owners take on too much, and often forget to delegate. To make matters worse, they purposely avoid the painful parts of running a business: hiring people, spending money, taking risks and experiencing failure. Some owners fear that if they stop doing the work themselves and instead assign it to others, the results may suffer. Let's take you, for example. You know how to grow your business, generate more profit, and free up more time. Why haven't you taken steps to delegate more?
The answer is most likely fear. Most owners are fearful of making the wrong decision. Whether it's hiring the wrong person, wasting time and money, falling flat or failing altogether, there are hundreds of decisions that weigh on the shoulders of a business owner.
Everyone has heard the saying, "No risk, no return." Great businesspeople take great risks every day, so what's stopping you? In order for your business to grow and profit, you must change the way you operate as an owner. This calls for risk, as painful as it may sound. To improve and get ahead, you have to top avoiding the pain and fight your fears. Stop being afraid of what could go wrong. Stop the inaction.
Sure, hiring the right person is difficult; so, too, is the proper training of new employees and ensuring they deliver on their responsibilities. It's also difficult to find time to secure new, high-margin customers. The list of hard-to-handle tasks is endless. But to move up to the next level of profitability, owners must tackle these hard tasks headfirst.
When contractors call me for coaching, they often don't know how to get off the treadmill they're on — running fast, but going nowhere. It's my job to help them change the way they do business. While some are willing and eager to do things differently, many are not. Their view is one of difficulty and genuine fear of change. While it may take time, most come to realize that they must make moves and take risk to achieve their goals and build a business that works for them.
If you're one of the holdouts, it's time to change your priorities. Begin by defining those priorities. While it can be overwhelming, the following starter list can serve as your jumping of point. And don't forget, when you add new initiatives to your plate, you must eliminate other activities to maintain balance and focus. This will require you to let go, delegate, trust, train, empower, assign and hire others to take on some of your current responsibilities. Don't be afraid. Push through the pain. With time, you'll see a return on your investment.
1. Implement a Written Business Blueprint
Outline your company's goals and how you plan to achieve them. Structure a set of guidelines to highlight your vision, core values, culture targets, goals, strategy, financial plan and talent acquisition and retention plan.
2. Achieve High Margin Results
Update, track and achieve goals, and always monitor profits, sales, value and cash flow. Aim to grow the company at a minimum of 15% per year. Maintain updated job-cost tracking and complete projects on budget without profit fade. Commit to on-schedule completion, quality workmanship and a proactive safety program. Produce accurate and complete estimates with high bid-hit-win ratio while developing and managing a growing wealth and investment portfolio.
3. Provide Effective Leadership & Management
Establish and communicate a winning vision, company values, structures and systems. Develop, build, mentor and manage a strong accountable management team. Be dynamic, inspiring, innovative and motivational.
4. Develop & Enforce Systems, Strategy & Organizational Structure
For the major departments that keep your business operating, set forth and align on both strategy and structure:
Management — Develop, maintain and enforce written systems, structure, strategy and regular meetings
Financial management — Professional accounting systems, reports, job cost tracking and controls
Construction — Professional systems, standards, processes and procedures produce contract conformance and consistent results
Administration — Professional company systems, human resources and leading-edge technology and software
5. Develop & Maintain Top Talent
Be a winning coach, mentor and manager by building a great place to work that attracts, recruits, hires, trains, mentors, promotes and retains top talent. Monitor and periodically update your written organizational chart, and enforce job descriptions, emphasizing the clear accountabilities, responsibilities and chain of command for each position. Put the right people in the right positions with the right talent to handle the current and future workload. Manage and hold people accountable and delegate versus do.
6. Maintain Steady Growth
Place a clear focus on growth. Generate, sell, and negotiate with high-margin customers and new opportunities via differentiation and technical expertise. Develop and manage a winning bid and proposal strategy to maintain a high bid-hit-win ratio. Implement a proactive steps to enact new business development initiatives, customer retention goals, and a strong sales and marketing plan.
7. Provide Visionary Inspirational Leadership
Hold quarterly all-company meetings to build teamwork and communicate vision, results, strategy, values and identify future growth opportunities. Hold monthly management team meetings to review results, financials, project performance, workload requirements, company improvement initiatives, sales results, etc. Mentor, coach and speak with management team members regularly. Monitor talent and observe employee development and training programs. Recruit, hire, coach and mentor key people. Build an organization chart and job descriptions and ensure enforcement. Hold people accountable to utilize systems and achieve results.
Using this outline of what top contractors must do to build great companies, it is within your power to move past fear and inaction. In applying the above advice, consider the potential for growth that these changes can bring to your business. The next step is to decide what to focus on first to begin your journey to building a better company.