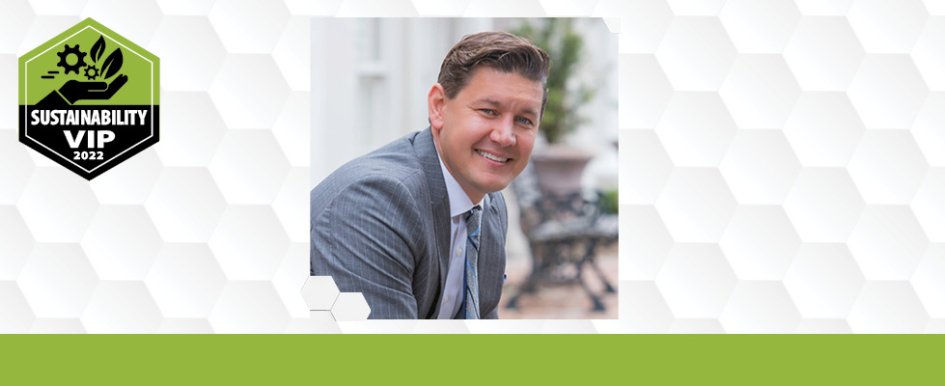 Sustainability VIP 2022 Finalist
For Brent Trenga, LEED AP BD+C, WELL AP, his passion for sustainability and the environment began as an architecture student at Penn State University. While writing his thesis, Trenga spent time under the tutelage of renowned architect James Wines, founder of the architectural and environmental design studio SITE in Brooklyn, New York. "He's a very talented architect, and he really helped steer my sustainability journey," he said.
Trenga later moved to Charleston, South Carolina, and worked for several years at a midsized architectural firm before co-founding a startup technology company that connected architects with companies that manufactured sustainable materials.
Then in 2015, he landed a job with Kingspan Industrial Panels North America, a company specializing in producing energy-efficient building envelopes and insulation products. Today, Trenga is the company's director of sustainability for North America.
"Joining Kingspan was a great opportunity to drive change and be part of a company that was at the bleeding edge of an industry, the construction industry, that was kind of a dinosaur at that time and still had a long way to go. It's a bit of a battleship to turn, but we're at the forefront of that," said Trenga.
When he started the job, Kingspan was already four years into its Net Zero Energy program that set a goal to match 100% of its operational energy with renewable energy by 2020 through energy reduction, on-site renewable energy generation and procurement of certified renewable energy across the company's global operations.
Kingspan launched a new program in 2019 called Planet Passionate, which the company has dubbed as the second phase of the Net Zero project. Under the Planet Passionate program, Kingspan has set specific targets to reach by 2030, from net-zero energy, net-zero manufacturing and Zero Waste to Landfill to ensuring that 60% of all of its energy will be direct renewable energy, Trenga said.
"That will have a major impact on our carbon footprint. And 20% of all that energy will be generated on a Kingspan site. So, every site that Kingspan owns across the globe will have renewable energy projects on those locations," he said.
But the company faced a few challenges in the beginning, he said.
"In our initial year, we came up short on Waste to Landfill. The North American division for Kingspan, my division, was one of the worst Waste to Landfill divisions," Trenga said.
One reason was because sending trash to a landfill in the U.S. was relatively inexpensive. Second, the company, at the time, was locked into a number of municipal waste contracts, he said.
"We really felt as though building a program from the ground up was the best way to deliver rapid change and get our waste under control," Trenga said.
"Fast-forward to 2021, we piloted a very successful project at our Florida headquarters in DeLand, breaking all of our waste into nine waste streams and collecting, tracking and documenting all the waste and breaking it up through the process."
"We're also diverting over 80% of all the waste to recycling instead of the landfill. So, we're rolling that program out across all of our sites in the U.S.," he said. "We proved the model and found success, so now it should be relatively easy for us to repeat that same process at our other locations," he said.
Another Planet Passionate challenge has been figuring out a way to reach Kingspan's target of 60% direct renewable energy by 2030.
"It's one thing to buy renewable energy with renewable energy credits. It's a different story to actually buy renewable energy and have it consumed directly at the meter. We can't count it and say we're producing our products with renewable energy."
The issue for Kingspan in the U.S. was having to navigate from state to state all of the different utilities.
"Also, sourcing half renewable electricity and the other half natural gas is very costly, and it's hard to procure renewable natural gas," said Trenga. "So, we've been dealing with this for a number of years, and we're just starting to find some success."
For example, at Kingspan's Modesto, California, site, the company has installed rooftop solar PV systems to offset about 40% of the electricity, he said.
"We're looking to do another PV installation at our Florida location to offset the energy there," he said
"We also found renewable natural gas reclaimed from a landfill in Canada and we've been buying renewable natural gas from a developer there. That's offsetting our Canadian and U.S. footprint," said Trenga, "and we're working with renewable developers and utilities to find ways that we can buy renewable energy and consume it at our factories."
When he's not at work managing Planet Passionate, Trenga enjoys spending his time off speaking to community groups like the Cub Scouts and Rotary Club about environmental and sustainability issues and participating in local community and beach cleanups, he said.
"I have a four-year-old and a seven-year-old, and I love getting involved in projects they're doing, in terms of the environment and sustainability, and teaching them why what I do at work matters.
"We all have our part in doing the right thing. We didn't all make the mess, per se, but I think it's everyone's obligation to address how serious this [climate] crisis is and to do everything within our power to make a positive impact."