Learn what helped LEM Construction & Ernest Guigli & Sons
The construction industry finds itself entering 2022 with a tangible labor, supply and material shortage affecting operations, yet a glimmer of excitement shines bright as funding from the 2021 Infrastructure Bill begins to be appropriated to different markets and individual projects. As contractors continue to bid and win new work, it is wise to consider ways to maximize existing resources to meet operational demands while the industry is hard-pressed to gain more resources externally. Many contractors are leveraging construction technology to do more with less, save time and money and get the most out of their existing assets while utilizing and maintaining them safely and efficiently.
Integrated construction equipment management systems stand out as an effective way to manage construction resources and mitigate some of the impacts to internal operations while contractors are facing shortages externally.
Following are two civil contractors leveraging Tenna's total construction equipment management platform to dramatically improve their equipment management processes and their overall businesses in today's climate.
LEM CONSTRUCTION – HOUSTON, TEXAS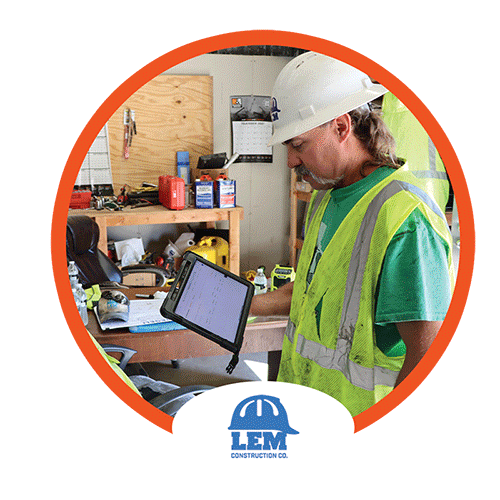 Insights from Mike H., equipment manager, and Tex A., field technician
LEM Construction is a general contractor in Houston, Texas, in business for over 50 years. The company builds water and wastewater treatment plants and owns and operates a fleet of heavy and light equipment including backhoes, excavators, forklift, dozers, cranes, compactors, skid steers, service trucks, trailers and more.
Business Need
LEM Construction needed an equipment management solution to replace its frustrating and unscalable process of tracking manually. They also sought to integrate their equipment management data with their accounting system, Sage, for more accurate accounting and financials. After a poor experience with a previous tracking provider, LEM was hesitant to invest in another equipment management software.
How Tenna Helped
After the company partnered with Tenna and rolled out the system to its superintendents and mechanics in the field and shop, LEM leveraged Tenna to improve its equipment moves, utilization, maintenance and overall financials, citing:
"We're able to look at fuel usage and fuel consumption. Very handy for us to know because in the past we didn't know that and Tenna provides us this information."
"[Tenna] tells me if a driver is idling at a location. This is important because time is money for us and when we have people that are not going to the location in a timely manner, it may cost a lot of money."
"We were able to integrate the data points into our Sage software system. We had some specific things that we needed to ask and answer and so we worked with our accounting team and with Tenna. Collectively we came up with what our company needed, what was financially important to us, what information we needed from Tenna and they were able to fulfill those requirements. Since we were able to integrate into Sage, Tenna gives our financial people update current information to allow us to make better decisions on when we need to purchase new equipment when we need to rent equipment."
"We can be much more accurate with our financials than we've ever been before. And that's true. Knowing where equipment is all the time and the financials being accurate; just those two things have been a game changer for us. Not to mention the maintenance."
"[Maintenance] helps me know when the assets' preventative maintenance is coming up, which asset are already there, and how to prioritize getting stuff done throughout the day in the week."
Results
LEM Construction knows more with fleet visibility and notifications, controls more with utilization and automated preventive maintenance reminders and makes more against its bottom line by reducing its equipment costs and integrating its equipment cost information with Sage, the company's enterprise resource planning (ERP) software. LEM realized the following:
"Reduced equipment costs substantially"
"Big time saver in the shop and the field"
"There's so many different aspects that have changed for us since we started using Tenna and I can't imagine not going back to the old way. Tenna has been the best thing for us."
Case Study Takeaways
ROI
"[Tenna] has paid for itself already."

"Previously we would rent equipment when it was unnecessary when we could have used our own piece of equipment…[Tenna] has changed our life as we have saved a lot of money because of eliminating unnecessary rentals." The company:

Lowered overall equipment costs substantially and reduced unnecessary rentals with better utilization and maintenance
Billed jobsites more accurately

Visibility
"We can understand exactly how much equipment we have and how much its worth. We know what equipment is available and what equipment is in use. [Tenna] actually tells me when its running."
Productivity
"[Job cost reports] save me several hours per month every month because I don't have to do it [manually] anymore."
Value
"[Tenna] is worth buying because we are getting information from Tenna that we never got from anything else … it's worth a lot of peace of mind."
Efficiency
"Phone calls have gone down dramatically … now I can focus my time on more important things rather than fielding phone calls."
ERNEST GUIGLI & SONS – NATICK, MASSACHUSETTS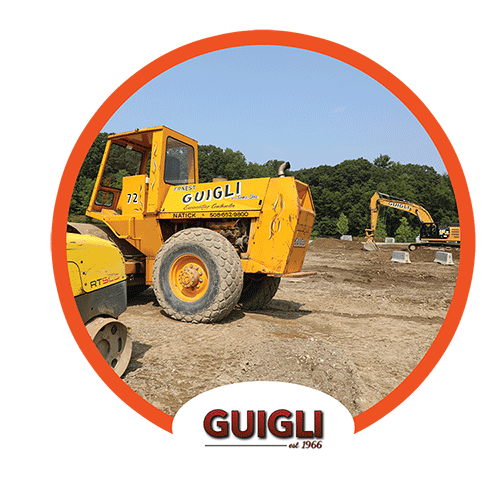 Insights from Robert G., president, and Matt G., vice president
Ernest Guigli & Sons is an excavating contractor and site developer based in Natick, Massachusetts. Guigli operates a growing equipment fleet that includes trucks, bulldozers, excavators, wheel loaders, crushers, skid steer loaders, backhoe loaders, compactors and more.
Business Need
Guigli & Sons needed an equipment management solution and access to real-time information as its fleet rapidly grew and its projects expanded across the state. "The need for an equipment tracker came when the fleet grew to the extent that it was hard to keep track of where all our equipment was, and the need to know exactly what pieces were being utilized and how … It was hard for one person to identify the needs of the entire company and also keep track of the location of all the equipment. Tenna really stepped in at the right time for us and solved that problem."
How Tenna Helped
Tenna helped Guigli & Sons increase its efficiency by providing valuable utilization data. "When equipment is out in the field and it's not being utilized, there's an inefficiency and by having Tenna, our field superintendents have the opportunity to see where equipment is that may not be utilized on a certain job, but they have a need for it on their job so at that point, they can contact the other job superintendent, see if they can forfeit that machine which allows us to utilize the equipment to 100% capacity."
Tenna's Map View feature provided overall equipment visibility to Guigli. "[Map View] is a very easy and intuitive way of getting the information that you want. We've been talking about it for years … and Tenna came in and there it is. It's the easiest way of figuring out where your entire fleet is with the click of a few buttons."
Having access to readily available information helped Guigli to resolve issues within minutes. "One of the major benefits of Tenna is to have that real-time information at your fingertips 24 hours a day. And if there's a request that comes along late on a Friday afternoon, you can solve that problem."
With Tenna, Guigli was able to cut down on phone calls and improve communications in the company. "The biggest pain point that Tenna solved is eliminating a lot of unnecessary phone calls. In our business, if we can utilize something we own as opposed to renting it … that's a financial advantage to us. To figure that out before … we had to make anywhere between two and 10 phone calls. Now you can get that same information with a few clicks."
Results
Guigli & Sons knows more with improved fleet visibility, controls more with better company communications, and makes more by increasing equipment utilization. With Tenna, the company found that it:
Saved on man hours and costs related to inefficient equipment utilization and unnecessary rentals.
Prevented unnecessary jobsite distractions due to better visibility and communication.
Lowered costs against the bottom line through efficiencies
"Tenna is accessible, and you can tell that they have a contractor's background and that they're solving for the contractor … Don't hesitate to look at Tenna as a fleet tracking app or solution. It's all-encompassing for all your equipment attachments, [and] small tools. If you can imagine it, they can provide it."
Case Study Takeaways
ROI
"As you bring efficiency into a business, that translates into dollars that flow right to the bottom line. One of the nice features of having Tenna is efficiency." The company:

Saved on man hours and costs related to inefficient equipment utilization and unnecessary rentals.
Prevented unnecessary jobsite distractions due to better visibility and communication.
Lowered costs against the bottom line through efficiencies

Visibility
"Tenna brings a certain piece of mind. Knowing where your equipment is, knowing that when you complete a project, all equipment, all small tools, all attachments have been removed from the job and are back in the fleet, nothing left behind … "
Service
"Any time we make a phone call to them, they respond almost immediately … Tenna is the true partner that they said they were going to be."
Ease of Use
"Tenna is intuitive, it's easy to figure out, and it's what you need in construction."
Value
"Tenna has added a great deal of value to our company and our ability to grow with time in the future."
Sponsored by