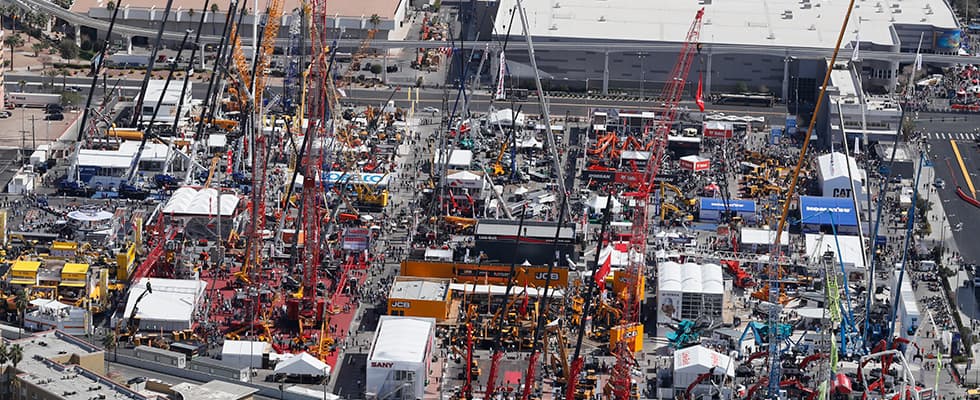 Find out what's happening at construction's largest trade show
CONEXPO-CON/AGG 2020 is North America's largest construction trade show for the asphalt, aggregates, concrete, earthmoving, lifting, mining, utilities and related industries—set for March 10-14 in Las Vegas, USA.
"The show is shaping up to be one of the best ever; attendees and exhibitors will not be disappointed!" said Mary Erholtz, CONEXPO-CON/AGG chair and vice president marketing for Superior Industries. "AEM and our show committees of industry leaders are working to deliver an outstanding event focused on the latest innovations, technologies and best practices to succeed in our changing world."
CONEXPO-CON/AGG co-locates with IFPE, the International Fluid Power Exhibition for the fluid power, power transmission and motion control industries. The shows will be held at the Las Vegas Convention Center and nearby Festival Grounds.
A Can't Miss Event—Here's Why
No other shows bring together as many segments of the construction industries and of the fluid power, power transmission and motion control industries in one place.
Both CONEXPO-CON/AGG 2020 and IFPE 2020 have already set exhibit space records and will feature industry-leading education programs. The show campus has expanded with the new Festival Grounds for a total of 10 areas to explore. 
The 2020 show connected campus will include new and expanded transportation, attendee experiences and registration locations. Features will include multi-site drop off locations for shuttles, golf cart shuttles, and various experiential transportation options to accommodate attendees throughout the week.
"AEM is committed to bringing people together at CONEXPO-CON/AGG, as the show serves as a catalyst for industry growth and development," said Dana Wuesthoff, vice president of exhibitions and event services at AEM and CONEXPO-CON/AGG show director. "We wanted to make sure everyone can explore the entire show and have the best possible experience."
Attendees will have up-close access to the leading manufacturers and suppliers, latest product innovations, and knowledge resources to help their businesses thrive.
Several show ticket options are available, and all tickets include a monorail pass. New for 2020 is the opportunity to mix and match education sessions between CONEXPO-CON/AGG and IFPE for one price.
The Tech Experience Returns With Two Locations
In 2017, CONEXPO-CON/AGG introduced the Tech Experience, an exhibit area dedicated solely to presenting new construction innovations and emerging technologies that will drive change and improvement across the construction industry.
In 2020, the Tech Experience will explore three key areas that will transform the contractor's business in the future: modern mobility, sustainability and smart cities.
A 10-by-22-foot smart city replica was unveiled by the planning team for CONEXPO-CON/AGG 2020. The replica demonstrated how a smart city, through sensors and analytics will be able to transform information into digestible data, providing knowledge for the city to work smarter. Click here to watch the Smart Cities Preview.
 "Our goal for the Tech Experience in 2020 is to show contractors how all of these exciting new technologies will impact their current work, how the expectations and demands of customers will change and how the current state of infrastructure may change," said Al Cevero, senior vice president at the Association of Equipment Manufacturers.
The replica will be on display at CONEXPO-CON/AGG and will showcase several scenarios at the Tech Experience, including:
Different city grids and how a city responds to heat, wind and storms 
Connectivity in the city, including 5G, sensors, telematics and IOT
Impacts of construction 
The jobsite of the future within the city and how equipment will communicate will also be on display
Highlighting the Growing Role Women Play in the Industry
To help highlight women as a viable force of the construction industry, CONEXPO-CON/AGG is partnering with two women-in-construction-focused associations; The National Association of Women in Construction (NAWIC), Women of Asphalt and (WOFA). 
"As the largest construction industry-focused trade show in North America, CONEXPO-CON/AGG seeks to draw attention to and celebrate the important role women play in the industry," said Dana Wuesthoff, vice president of expositions and event services with the Association of Equipment Manufacturers and CONEXPO-CON/AGG show director. "Working together, CONEXPO-CON/AGG, NAWIC and WOFA, will not only showcase women industry leaders, but reinforce the career growth potential for women, who today represent a small percentage of the workforce and the opportunity to diversify the industry."
The organizations will pool their collective influence to sponsor and engage in education and other events at the show. The partnership will kick-off on Wednesday, March 11, 2020, with a breakfast event—Genders on the Jobsite. Special guests Vicki O'Leary, founder of Be That One Guy, and Lorein Barlow, director and producer of Hard Hatted Women, will have a candid discussion on how women experience jobsite opportunities and challenges and explore how everyone has a role in keeping jobsites productive and safe for all workers. 
"According to a Bureau of Labor Statistics survey, women make up only 9% of the total workers in construction," said Chrissy Ingram, Executive Administrator of NAWIC National. "As our industry continues to grapple with a labor shortage, women are poised to help play a greater role in all areas of construction. By teaming with CONEXPO-CON/AGG, organizations like NAWIC and WOFA can help women thrive in a male-dominated industry." 
Social media influencer and construction business owner Missy Scherber will join other influencers, including Aaron Witt of BuildWitt, Keaton Turner of Turner Mining Group and Stacey Tompkins of Tompkins Excavating for a panel discussion and networking event in the Tech Experience on Wednesday afternoon. The group will answer your most pressing questions on using social media to recruit new hires, developing your corporate values and culture, taking your marketing to the next level and the changing face of the construction industry. 
"Our industry and our companies all benefit from a diverse workforce," said Amy Miller, P.E., president of WOFA. "Through Women of Asphalt, we are looking to fulfill industry workforce needs by engaging with women at schools, through our podcast, and in-person events to show them all they can achieve with a career in the asphalt industry." 
Other events include: 
Widening Your Workforce: Executive Lunch Forum on Friday 
New Approaches to Building Female Construction Leaders; 
Gain a Competitive Advantage Through Construction Technology 
Attracting and Training Your Workforce: Operating Engineers' Innovative Solutions
Several Tech Talks will feature influential women in the industry, including Allie Kelly of the Ray, Lorein Barlow filmmaker of Hard Hatted Woman, and Desi Matel, Chief Wrangler at FIT. 
Registration for the breakfast and lunch forum as well as other details of the partnership can be found here.
Expanded Educational Opportunities
CONEXPO-CON/AGG 2020 offers attendees the knowledge they need to help their companies succeed and to sharpen their professional skills.
The show's comprehensive education program is the leading source for contractors, business owners, construction material producers and end users to obtain cutting-edge information for today's challenging economy and business model.
"The line-up of programming is not only larger than it has ever been but includes a fresh line-up of speakers stacked side-by-side with core programming that is always highly attended," said Eileen Dickson, vice president education, National Ready Mixed Concrete Association and CONEXPO-CON/AGG Education Committee chair.
 The latest topics and industry trends are grouped into 10 tracks for ease in finding education that meets your needs. Focus on topics that will make the biggest impact on your company – and your career:
Aggregates—Current methods and trends in quarry production and plant design.
Asphalt—Techniques and innovations in asphalt paving, recycling, materials, and plant management.
Concrete—The latest practices and advances in concrete materials, masonry, production, and plant management.
Cranes, Rigging & Aerial Lifts—Innovations, regulations and safety in crane, rigging, and aerial lift operations.
Earthmoving & Site Development—Current business and equipment practices for large equipment contractors.
Equipment Management & Maintenance—The latest in fleet asset management and maintenance trends.
Business Best Practices—Improving and building business strategies/tools needed to manage and strengthen your company for today's and tomorrow's success.
Attract, Engage & Retain Talent—Developing and advancing your career skills and building your future workforce.
Safety—Practices, training, and regulations designed to keep crews and plants safe.
Technology Solutions—Industry innovations and future growth opportunities in the technology field.
"The education committee took great care in putting together a program that grows attendee knowledge on building their business on all fronts, whether the technical skills needed in the field or best practices to build their business," said Graham Brent, CEO of the NCCCO Foundation and CONEXPO-CON/AGG Education Committee vice chair.
New this year, attendees will be able to mix and match sessions between both IFPE and CONEXPO-CON/AGG. Attendees will be able to pay one price and select education from both shows. 
For many attendees, part of the IFPE show experience includes participation in IFPE's education program, including college courses and timely sessions to help them stay on top of their game. Presenters for IFPE's education sessions come from across the US from distinguished Universities organizations, including MSOE and Danfoss. 
IFPE Networking Event
To add to the great education sessions and the over 400 exhibitors, in 2020 IFPE will be hosting for the first time a special networking reception for engineers and executives, right on the show floor. 
The IFPE's Fluid Power Hour, presented by Bosch Rexroth, will be held on March 11, 2020, from 4 p.m. to 6 p.m. on the IFPE show floor. The event includes a bonus hour, complimentary hors 'd oeuvres and cocktails and entertainment. 
"AEM and the National Fluid Power Association are proud to bring together a unique combination of engineers and executives at IFPE 2020, both in booths and in aisles, to share ideas, educate one another, and ultimately shape the future of the construction industry through collaboration and consensus," said John Rozum, IFPE show director. "There's simply no better place for engineers to find new ideas, new people and new solutions to significant organizational challenges than a trade show floor.
 "We encourage all exhibitors to bring their top engineers and executives to take advantage of a great networking experience and interact with industry peers," continued Rozum.
Getting Around at the Show
CONEXPO-CON/AGG and IFPE make it easy to prepare with an interactive online exhibitor directory and a show mobile app that will continuously synch to your online customizable show planner. Stay connected to fellow attendees, get real-time show updates and much more. 
Create a plan for each day so you'll be sure to see the exhibitors and products you want to connect with, but also be on the lookout for ones you've never heard of.
Make time for education and for making connections with others. CONEXPO-CON/AGG is the ultimate networking opportunity to share experiences and create lasting business connections.
"Our company has been attending CONEXPO-CON/AGG for three decades now and plans to continue due to the amount of knowledge we gain. CONEXPO-CON/AGG has provided us the resources needed to create greater efficiencies and synergies within our own company," said Chris Lane of Ronald Lane Inc.
"The show is a critical piece to our workforce development efforts. We send somewhere between 30 and 40 company representatives to Las Vegas to see what's new and bring relevant information back to our company. It's a great way to build our team," said Jarrad Whissell of Whissell Contracting Ltd.
For International Visitors
To assist international visitors, CONEXPO-CON/AGG 2020 has a special section online outlining resources available—visit www.conexpoconagg.com/visit/international-visitors.
The show will also have an onsite International Trade Center, which is a complimentary business service center for attendees to receive general show assistance in major world languages and meet with industry peers from around the world. Business services include interpreter assistance, high-speed internet, computers, printer, private meeting rooms and lounge area.
Activities to facilitate export business also include matchmaking services, an Export Opportunities Guide (print and electronic) and a series of onsite market-information updates for key countries and world regions.
For more show details and to register, visit www.conexpoconagg.com.
 
Sponsored by