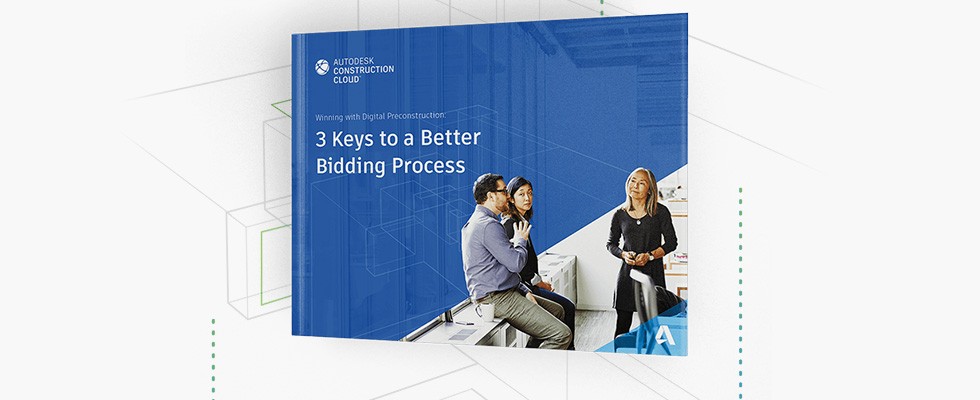 How teams can get more from their bidding technology
The construction industry is rapidly transforming. According to a survey by1 Associated General Contractors of America (AGC) and FMI Corporation, 58% of construction professionals expect to see more technology-driven change within the next 5 years than there has been in the last 50 years. To stay ahead, teams must adapt to the industry's digital future.
To better understand where they stand today, BuildingConnected surveyed over 1,000 preconstruction professionals about their relationship with technology. With only 37% of respondents reported to be taking full advantage of the preconstruction software available to them, it's clear that successful digital transformation requires more than just purchasing software.
When asked about the biggest roadblocks to fully adopting technology, the No. 1 answer was interrupting current projects and objectives (24%), followed by resistance to adoption by end users (18.2%), and lack of training (15.9%). Still, teams recognize the value of making a change: 62% of respondents agreed that adopting technology leads to more successful outcomes, and 63% believe that adopting technology will give their company a competitive edge.
In the guide, "3 Keys to a Better Bidding Process," you'll learn about the key categories—technology, people and process—that teams can use to fully optimize their bidding process and make the most of their digital tools. Click below to download the guide today.

Digital Transformation in Bid Management: Technology
The preconstruction phase is highly collaborative, yet it remains extremely fragmented due to a lack of centralized technology. From binders on desks to endless email chains, the opportunity to collaborate in real time is significant—and the need is critical.
Choosing the Right Digital Solution
Choosing the right technology is twofold: It includes the assessment process and the internal case for change.
What to Look for During a Technology Assessment
When choosing new bidding technology, teams must find a solution that improves productivity, collaboration and efficiency. Technology for technology's sake will only lead to more frustration.
 
The odds are good that most general contractors are already implementing pieces of technology throughout bid management. However, most of this technology is static. It's a spreadsheet containing last year's list of subcontractors, only updated when the task is taken on manually. It's an online folder of saved emails, accessible to only certain team members. These are examples of processes that are a step up from paper notes on a desk, but are lacking as a truly collaborative solution.
For this reason, when choosing a bid-management solution, the following should be requirements of the system:
Real-time contact info—A database that is up to date and not reliant upon manual data entry
Ease of use—An intuitive program that allows for fast adoption by both internal teams and trade partners
Cloud-based solutions—Technology that can be accessed by any team member in any location
The right system will offer a rich data set of qualified contacts and support better communication with trade partners. It will integrate with the rest of the preconstruction process, making bid management seamless. Ideally, this solution will offer greater transparency across teams throughout the organization.
Navigating the Procurement Process
Many companies don't have a clear process for purchasing new software, with 57% of survey respondents reporting that they either don't have a defined procurement process or aren't sure what it is.
 
However, it's critical for bid-management teams to take a proactive approach to process improvements. While many teams simply wait until an issue arises with their current solution to begin evaluating new options, getting ahead of potential problems helps avoid disruptions down the line. The following ideas can help build a more cohesive and proactive structure for evaluating and procuring software.
Conduct an annual software audit—This provides a forum for users to raise a red flag if they're seeing process issues in their workflows and provide recommendations for solutions to evaluate. It also gives the bid management team a clear avenue for kicking off the procurement process with leadership.
Provide concrete benefits of making a switch—Take time to generate information around the benefits of implementing new software. Make sure to touch on the pain points of the current process and the improved efficiencies, lowered risks and potential for a new competitive edge using proposed technology upgrades.
Involve all relevant stakeholders—Engage the right stakeholders early in the process—and think beyond just the bid-management team. Identifying all affected parties (e.g., risk and field teams) during the evaluation process helps to ensure full buy-in.
Form an implementation plan—Choosing the right technology is not enough. Thirty-seven percent of construction professionals said that their company has invested in software in past year that they haven't adopted. A concrete plan for implementation and adoption ensures companies get the most from their technology investment.
More Ways to Maximize the Value of Bidding Technology
The guide, "3 Keys to a Better Bidding Process," breaks down how construction teams can maximize the value of their bid management solutions. You'll learn strategies to tackle internal opposition to new technology, tips for more successful adoption within teams and from trade partners and more. Check it out today.

1. Managing Risk in the Digital Age, https://www.fminet.com/wp-content/uploads/2018/08/AGCRiskStudy_2018.pdf
Sponsored by