Part 1 in a 2-part series on how you can benefit from the new mandate
The Federal Motor Carrier Safety Administration (FMCSA) passed a new rule in December 2015 regarding the use of electronic logging devices (ELD) in commercial motor vehicles in which drivers are mandated to record their hours of service (HOS). While new mandates are generally met with a collective sigh and an eye roll, there are significant operational benefits that can come with new technology. As more OEMs build mobile enterprise management (MEM) systems into their vehicles at the factory, implementation will become even easier.
Getting Started
Service and technology providers are working to make it as simple as possible to implement and for the driver to interact with the technology. For example, some providers currently offer MEM platform solutions to many of the major commercial vehicle OEMs. In these cases, the necessary ELD hardware will be pre-installed in new vehicles, helping lower the new hardware costs associated with compliance. Some of this may be possible with devices that drivers and fleet owners are already using. The FMCSA has not dictated what type or size display has to be in the vehicle – it could be a smartphone, tablet or some other device that is created specifically for an ELD. There are a few key requirements for each device/solution:
The device must be capable of a direct connection to the vehicle's engine and capturing all of the movement of a commercial motor vehicle.
The display must be mounted and secure in the truck when it is moving. It can not be sliding across the dashboard or seat. It also must be available for law enforcement outside the cab of the truck.
The display must feature the driver's name, an ELD username if applicable, the carrier's/company's name and address, total engine hours and if there is any kind of an ELD malfunction. It also has to show a grid/graph of total hours and locations.
The device must be able to electronically transfer HOS data to law enforcement officers in one of two ways: either locally through Bluetooth or a USB, or electronically via a web-based interface or via email.
The device must be tamperproof. This prevents the driver from editing their time or deleting the original record.
The data must also be encrypted to ensure security and that all persons accessing the data have clearance to do so.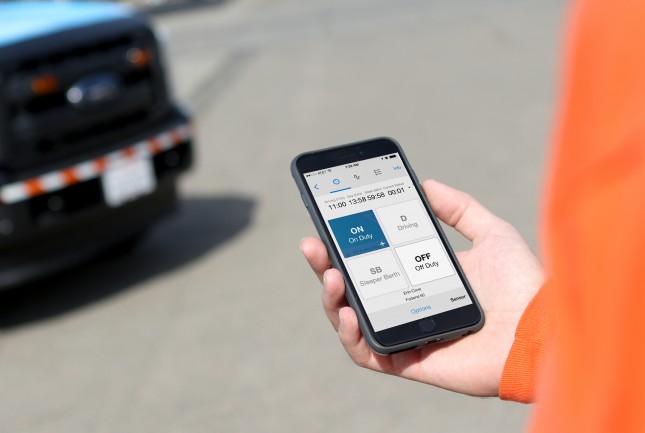 Improving Safety
A primary benefit of the new mandate is safety – protecting drivers from severe fatigue and employers that might work around HOS regulations to keep them on the road even when they have surpassed their allotted hours. In addition to the obvious human toll, the new rule will conceivably save billions of dollars in liability, vehicle replacement and lost productivity/capacity – not to mention the countless hours and dollars saved from paper-based record keeping.
Growing Your Fleet Intelligence & ROI
Many of the same systems that house and power the ELD technology are capable of supporting advanced telematics, route optimization, compliance applications, real-time work order management, coaching apps for drivers, commercial navigation and more. When combined, these services create a platform that improves the bottom line (greater fuel efficiency, reduced idling, reduced mileage and wear and tear) and helps improve overall customer satisfaction (greater responsiveness and faster and predictable arrival times). Depending on the solution, an ELD and its related systems can achieve a positive return on investment within a few months of installation. The latest compliance changes might feel complicated or cause hesitation, but switching to an ELD-compliant solution integrated with an overall MEM platform can offer major safety and productivity benefits. While compliance will force change for the modern mobile enterprise, a growing number of operators are making the new rules work for them by getting in first. Technology can help fleets get compliant and implement cost-saving changes to improve how the entire business is run. To learn more information about the ELD mandate and what is required to become compliant, visit fmcsa.dot.gov/.