Wednesday, September 26, 2012
Expand versatility and reduce operation costs with attachments for your machines.
With the rising costs of transporting and maintaining equipment, expanding an excavator or wheel loader's versatility can provide a cost-efficient alternative to running dedicated machines on the jobsite. Already a driving force in the compact equipment industry, attachments can also help heavy equipment owners grow their business, replace less efficient machines, lower operating costs and increase a power unit's flexibility. Heavy equipment attachments can stretch your fleet resources with their ability to adjust to changing markets and serve as work tools to perform multiple jobs.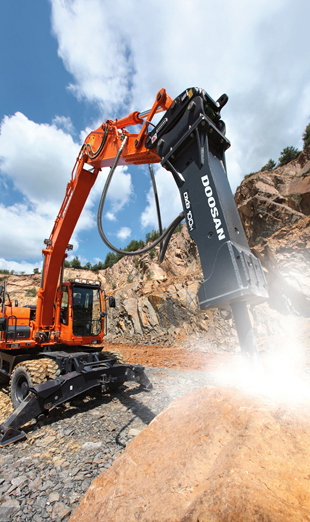 Both wheel loaders and excavators can be used with attachments to enhance your business year-round. Attachments also offer a low initial investment with a high rate of return. When budgets are tight, construction companies may find it more prudent to rent or own attachments to complete a special job or offer a niche service than to purchase a separate machine.
"With the high price of fuel, there are real savings to be gained from pulling a trailer with attachments behind a 1-ton pickup truck as compared to hauling two machines to a jobsite. With the right selection of attachments, a contractor may need to bring only one excavator or loader to a site," says John Sad, Doosan heavy attachments product manager.
Versatility expands fleet resources
If you've ever owned compact equipment, you know the key to achieving a good return on your investment is to reach high rates of machine utilization. Leveraging attachments to perform varying tasks can significantly increase those rates. The same is true for heavy equipment. A multi-function machine that is productive on a daily basis has a greater ability to generate profits.
For example, contractors who determine that a dedicated excavator can be used only to perform heavy digging may be missing an opportunity to fit it with attachments such as a grapple for land clearing, an auger for utility installations, a trenching bucket to dig foundation footings or a plate compactor to finish trenches.
"There are some contractors with a mindset that they will bring in a piece of heavy equipment for site preparation and then assign a smaller piece of equipment for other tasks," Sad says. "It doesn't do you any good—whether you own, lease or rent—to have a machine sit while you bring in another piece of equipment to do something that another attachment can do."
Maneuverability on most confined worksites still can be achieved with excavators as large as 50,000 pounds and wheel loaders up to 40,000 pounds. The goal, Sad says, is to make the power unit as versatile as possible on as many different jobsites as possible.
The secret to getting maximum productivity from an excavator or a wheel loader is to have a quality attachment change system, which is optional on most manufacturers' machines. Some industry experts estimate that a quality automated coupler mount on an excavator can save owners up to 25 percent of their total machine operating time compared to direct-mount attachments.
According to Mike Stark, Doosan excavator product specialist, a quick coupler installed on the end of an excavator arm improves efficiency. "It allows the operator to change an attachment on a machine in a fraction of the time, compared to manually using pins to connect the attachment to the excavator," he says.
Many of the efficiencies are gained from operators being able to rapidly change out attachments with a quick coupler from the comfort and security of a cab. Additionally, some coupler systems have been designed to eliminate greasing, requiring less maintenance and fewer replacement parts.
Excavators
Crawler and wheel excavators are ideal candidates for attachment integration, which can help owner/operators build a custom fit to complete projects beyond just earthmoving. Attachment connection systems and auxiliary hydraulics allow many sizes of excavators to be effective tool carriers for a wide variety of attachments, such as augers, breakers, shears, grapples, plate compactors, rippers, trenchers and many others.
Stark also dispels the notion that excavators become less versatile with increasing size. This industry misconception has occurred because machines have typically been dedicated to do a single job with one attachment. "Even the larger excavators can be more versatile if you put different attachments on them," he says.
Wheel loaders
While attachments for wheel loaders and excavators are typically not cross-compatible due to their attachment change mechanisms, loader-specific attachments have turned these heavy-duty machines into all-season assets. The most popular attachments for most manufacturers' wheel loaders range from all-purpose material handling buckets to heavy, rock or grading buckets for more strenuous applications.
Wheel loaders can also be fitted with pallet forks and converted into log loaders with grapples. Brooms and snow blades multiply wheel loader productivity in the winter. "With several different types of buckets and specialty attachments available, the loaders' capabilities can be maximized to serve a wide variety of different applications year-round," says Shane Reardon, Doosan wheel loader product specialist.