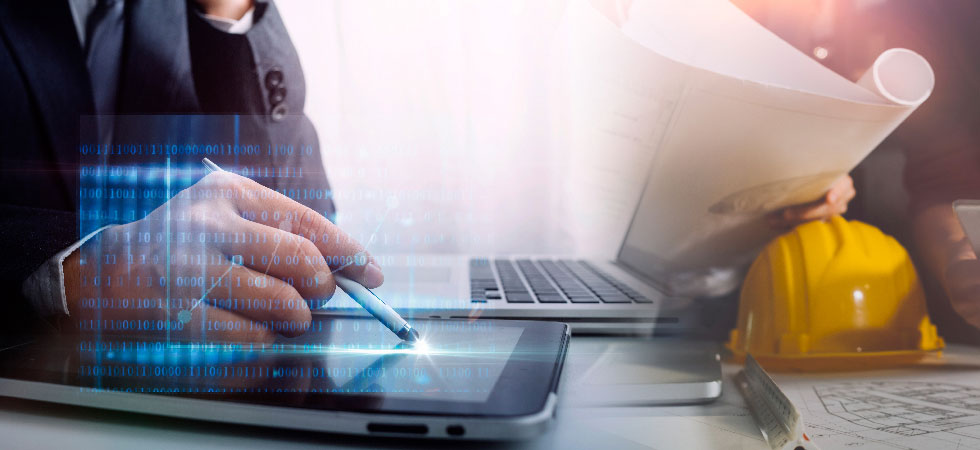 How to integrate your company's business & operational sides with automation
The majority of construction business work is focused on the building side of projects. For decades, productivity in the construction industry has remained stagnant, not only due to the lack of technological innovation, but also the failure to address the project focused core of the business.
Without focusing on the business side of construction projects, it's almost impossible to organize and support the business processes in a way that enables success.
By putting projects front and center, it's easier to understand how to structure the business and to understand what solutions are available to the inevitable problems that your company will encounter.
What Is Project Business?
Project business is the management and governance of project processes from beginning to end. It's important to note that project business is not to be confused with project management.
Project management is a subdiscipline of project business as it focuses on the application of knowledge, skills, tools and techniques to manage the operational side of projects.
Project business focuses on the business side of those projects, bringing project operations, project financials and portfolio analytics all together into one discipline in something greater than the sum of its parts. It's more than just project management, resource management or cost management by themselves. It's about integrating all project processes and business requirements into one method.
The Problem With Current Methods
Unfortunately, construction companies today continue to manage their major projects using multiple tools and solutions that are poorly designed to support how their business actually works.
Oftentimes, these companies are operating in traditional enterprise resource planning (ERP) solutions that do not meet the unique project business needs of construction companies. Traditional ERP solutions were designed for industries with high-volume, repeatable processes. They were built to support businesses where it's easier to apply technology to standardized process and data to automate and accelerate production. Traditional ERPs were not built with projects in mind.
Construction companies have difficult-to-standardize business processes that traditional ERPs don't support. They don't provide the level of automation and visibility they need to be successful.
As a result, construction companies end up employing 10 to 15 different applications to manage their business processes. And for the most part, they end up managing the majority of their data in spreadsheets while juggling multiple programs and applications to get their work done and complete their projects on time.
Operating in this disjointed fashion where nothing is integrated often means important business decisions are made based on outdated or inaccurate data because of the time it takes to manually consolidate the data and generate these reports. This can result in issues or risks being overlooked or unnoticed, resulting in delays, rework and other problems.
Another problem that comes as a result of this fragmented application landscape is the lack of control over projects. When information is disconnected and decentralized, it makes it difficult or impossible to standardize processes. This means that your projects become totally dependent on the performance and attention of individual employees.
This fragmented environment makes it difficult to run a stable and profitable project business because these individual tools don't support the project in its entirety, and ultimately, leads to poor project outcomes and poor business performance overall.
Project Business Automation
Project business automation (PBA) is a new method of business systems designed for companies who consider projects a key part of their business. Recognized by market research company Forrester as the new paradigm for project-driven business, PBA puts projects front and center, integrating both the business and operational aspects of construction projects in real time.
More specifically, PBA provides an integrated and continuously updated view of all the core project business processes that was otherwise managed in disparate applications. The core elements of PBA include:
• Project financials — PBA provides a project-based financial structure to manage the costs of the projects and business as a whole. The three key components of project financials include the cost breakdown structure, project cost controls and project budget management.
• Project operations — This is the project management hub of PBA where all the project's operational activities and associated workflows are managed. The key components of project operations include the work breakdown structure, risk, issue and milestone management and resource management.
• Project insight — The integrated nature of PBA allows for the real-time flow of information and analysis, providing unprecedented intelligence for project business.
PBA enables the dissemination of information to the right people at the right time and provides full transparency so problems can be solved more quickly and efficiently, keeping your teams communicating and working to the best
of their ability.
Cost control, risk readiness and project deliverability are key to enabling project success for construction companies. PBA creates a structure that governs how you manage your project financials and provides the real-time visibility into project costs and clearer forecasts.
It also automatically monitors your project and business key performance indicators (KPI) in real time, allowing for early detection and faster response times to issues as they arise.
Lastly, PBA optimizes capacity and manages internal and external constraints, allowing construction companies to deliver more of their projects on time.
PBA creates one source of truth for everyone within the company, so everyone is always on the same page by automating processes and enabling real-time data sharing.