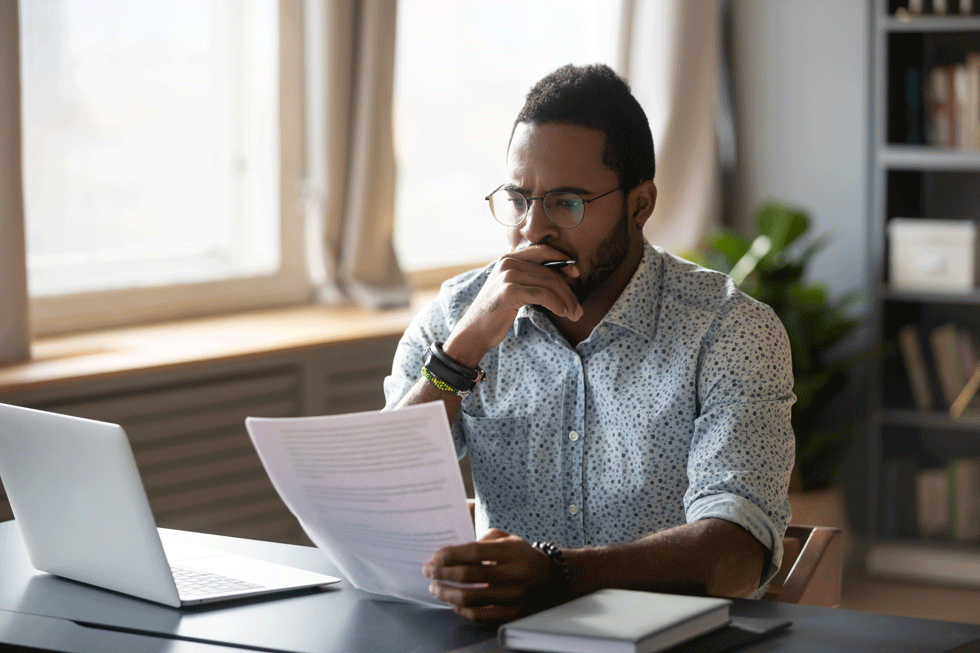 Terms & considerations for all of your binding project documents
Today's construction landscape is difficult to navigate with its continually changing variables, delays, work stoppages, additional project requirements, health concerns and financial restraints. Nothing is certain, as job starts are delayed, schedules are modified weekly, customers stop and then restart projects, codes are enhanced, rules change and pressures mount to run your business smoothly. With all this evolving chaos and additional risk, you must take a hard look at how you manage your contracts in these changing times. Now more than ever, your contract must be right before you start any work. And you must manage it to the letter to maximize your return on performing the work. 
Focus on Contracts
Managing a contract properly will improve the opportunity to maximize profit potential. Your contracts should protect you and define in writing what's exactly included, excluded and how you want to do business with your customer. Too many contractors sign their customer's prepared contract without reading or having their attorney review it, and not fully understanding the contractual liability and requirements.
Make sure you understand the general contract, subcontract, complete plans and specifications, and all exhibits to the contracts. Always have a construction attorney on your team to give you ongoing advice and review your contract obligations and approve the contract clauses you are willing to sign. Subcontractors are generally held liable to the same terms as the general contractor. Therefore, subcontractors have the right to examine their general contractor's contract to become aware of what they have also agree to, including:
Complete contract plans, specifications, exhibits, reports, documents, addenda, inclusions and exclusions
General conditions, supervision and authorized representatives
Safety and protection of work
Standard of care and general industry practices
Normal industry tolerances and governing laws
Notice and documentation requirements
Liability, indemnity and warranty
Schedule, acceleration and delay claims
Payment terms and insurance requirements
Cost escalation, delays and termination
Change order rates and markup                               
Review and utilize these important contract clauses required in today's changing times to reduce your risk, eliminate disputes, enhance performance and improve your bottom line.
Define the Schedule
Clearly define in your contract or subcontract what is included in your contract work to complete your work per your anticipated crew size, work days, phases and schedule, including:
Start and completion dates
Crew size  
Number of working days required to complete your work
Number of move-ins, mobilizations or phases
Cost per extra move-in or mobilization
Overtime or acceleration rates if required
Weather days anticipated and included in your contract
Material delivery dates and any cost escalation dates
Track Delays & Cost Escalation
Delays will be a major factor in construction projects moving forward. It is now critical to review and have delay escalation clauses in your contracts. Your price can be fixed for only a certain amount of time.
Define how you determine and will receive an equitable cost and time adjustment if projects are delayed, or it is not feasible to obtain all the material required due to shortages, or the price escalates due to delays or economic variables.
Take Caution with Delay Clauses 
Watch out and avoid those "no pay for delay" clauses. These clauses are stuck in the fine print by project owners and general contractors to eliminate their liability to pay for any delay costs, regardless of the reason. This clause attempts to transfer delay costs of others onto the subcontractors. If you sign this clause, you agree to only get time extensions without extra costs for delays.
For example, if a project is delayed by the city or the weather for 2 months, the contractor can only get a time extension, but can't get paid for their ongoing costs including: supervisor, trailer, fencing, toilets, rentals, etc. sitting on the jobsite waiting for the restart. Without any additional money for delays, contractors tend to try to make up the time by stacking trades, adding more crews, or working overtime, which all cost more money without compensation.
Pay Attention to Force Majeure
Force majeure clauses are an attempt to eliminate responsibility for acts of God unforeseen and out of the control of contractors and subcontractors. These events can include a pandemic, quarantine, hurricane or major tragedy. Make sure you have this covered in your contracts.
Provide Proper Notice & Documentation
All contracts require proper written notice and documentation within a specified number of days to get approval or compensation for all conflicts, changes or issues. A meeting, verbal agreement, phone call or text to the customer is not sufficient notice.
When you proceed without proper notice or written documentation on potential issues or conflicts, knowing there may be a problem, you are accepting full responsibility for it, and most likely won't get compensated for the issue. Start every project with a thorough review of your contract and prepare a notice chart with a clear list of what requires notice and documentation and the time allocated or deadline to document the different situations.
Mind Mobilization & Move-Ins
Mobilization and move-ins are required on all projects by every contractor and subcontractor. Contractors include an amount of money for this activity in their bid price based on what they anticipate will be needed. This includes the number of move-ins, phases and associated costs. With the changing policies and potential government restrictions, projects might be shut down, delayed and restarted often.
Contractors must include the right in their contracts to ask for additional compensation for extra mobilizations or additional protections required. This will also eliminate or reduce the temptation of project owners and general contractors to ask subcontractors to move onto projects too many times for their convenience or lack of planning. Be sure to clearly outline what's included in your scope of work in your contract including:
Number of move-ins or mobilizations
Cost per extra move-in or mobilization
Take Note of General Conditions
Be clear in your contracts what's included and not included in your general conditions budget and scope. Clearly define every aspect of the project. Also, it is extremely important to define your commitment and cost for your assigned project manager, general superintendent, superintendent and foreman. In your contract, provide a cost to recover your general conditions per day which must be compensated on all delays and time extensions.
Keep Change Orders in Check
Change orders are additions, changes and deletions from the contract scope of work. Your company has a right to collect for additional work and extended time when somebody else changes or modifies your scope of work or schedule. The following are change order terms that should be defined in your contract:
How many days since the occurrence is the change order required to be submitted? 
Who is authorized to sign and approve?
How will disputes or claims be handled?
Are costs for project manager, superintendent and foreman allowed?
Agree to change order rates for:

Company labor plus burden and benefits
Overtime
Company equipment and tools
Overhead markup
Profit markup rates for labor, equipment, materials and subcontractors
Insurance and bond fees
General conditions
Time extension
Back charge procedures
Liquidated damages and how they can be assessed
In your change order request, always include the additional time required to perform additional or change order work, even if it doesn't affect the critical path of the project. 
Get Paid 
Getting paid is very important, especially with all the variables and issues contractors currently face. The legal standards and laws are constantly changing regarding payment, retention and time frames allowed.
Before you sign any contract, make sure it meets with the current laws in your area and you are satisfied with the contractual payment terms, including:
Are there adequate funds available and set aside to finance the entire project and any potential change orders?
What are the progress payment invoice deadlines and payment dates?
When do executed change orders get paid?
What documentation or lien releases are required with invoices?
Can you get paid for material stored on-site or in your yard?
When is the final payment and retention paid?
Plan for Potential Termination
There is a distinct possibility more projects will be cancelled in the future, which requires an equitable termination clause in your contracts. All parties may want the right to terminate for many reasons including lack of funding, lost tenants, economic reasons, lack of performance or convenience. Make sure your contract clearly outlines the circumstances, notice requirements, cancellation cost formula, payment, and other relevant procedures to execute a termination for any reason.
Meet with your customers before you sign any construction contract or subcontract and review this list of important contract clauses. Tell them exactly how you are willing to do business with them. Explain that you will require signatures in order to proceed with extra work, and that you expect them to abide by the terms of the contract. When you are firm but fair, your customers will respect you and treat you in a professional manner.