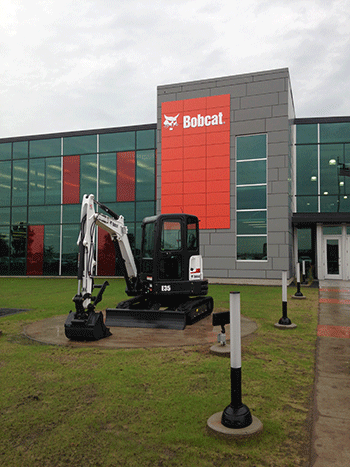 Bobcat Company and Doosan broke ground on their Acceleration Center in May 2013 and officially opened the doors to employees in Bismarck, North Dakota, on Aug. 5. The new, 35-acre campus-like facility is designed to accelerate innovation, concept development and equipment testing for Bobcat products and also will serve as a hub for research and development of Doosan heavy equipment in the North American market.
At a cost of $28 million in new construction, land and technology investment, the overall investment by Bobcat was $43 million. Embracing the idea that failure at some level is inevitable, the mantra of management at the facility is one of "fail quick and fail cheap," with the facility helping Bobcat and Doosan catch any problems early and perform tests to improve products before they reach market.
Creating 175 new jobs, Bobcat added to an existing facility, producing a two-story, 195,000 square-foot operational building, 60,000 square feet of office space and 100,000 square feet of lab areas. The indoor testing arena is 35,000 square feet, with an outdoor test area that boasts 22 acres. Bobcat will pursue LEED certification for the design and construction.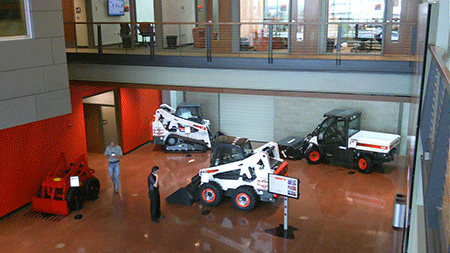 The facility is intended to be used as a tool for accelerating ideas and projects, prototyping, creating collaborative designs with manufacturing, sales and customer teams, and also will serve as a location for dealer training and on-site customer experience. The building's interior offers a creative and open environment for its employees, and its design is intended to spur collaboration, group thought and concept and idea stimulation. The idea of "chance encounters" develops conversation, forcing people to run into each other.
All employees—engineers, vice presidents, human resources—have mobile work spaces, and there are no closed-door offices or assigned spots. "Go to work" has a new meaning in this facility, where employees make use of rolling carts that hold belongings and have the opportunity to relocate their desk to a new area every day. The mobility-centric design allows employees to move their desks in five minutes. Employees travel with their VoIP phones, keyboards and laptops to any new work surface. Stationary lockers are available to store long-term items such as winter coats.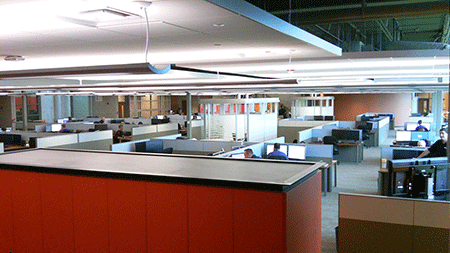 Vitality is a theme that is expressed with treadmill desks, selective seating and rolling carts. If a core team is centered in one area, feeder teams can easily and quickly stop by, move in and out. Empty work surfaces are purposely disbursed throughout the seating layout to encourage blending and collaboration, creating an open environment and culture.
Bobcat employee Shawn Bauer's (mini excavator new product development team) favorite component of the new facility is the amount of open conference rooms and the unlimited availability. Visitors from outlying offices (Fargo, Gwinner, Wahpeton) have the same opportunity to have new, temporary homes at any open desk space.