The mood was optimistic and the expo halls were crowded at this year's World of Concrete trade show Jan. 20-24 in Las Vegas. With more than 1,250 companies exhibiting across more than 570,000 net square feet of space, there was plenty to see and lots of ground to cover. Construction Business Owner was in attendance to meet with our readers and report news from the show. Here are some highlights: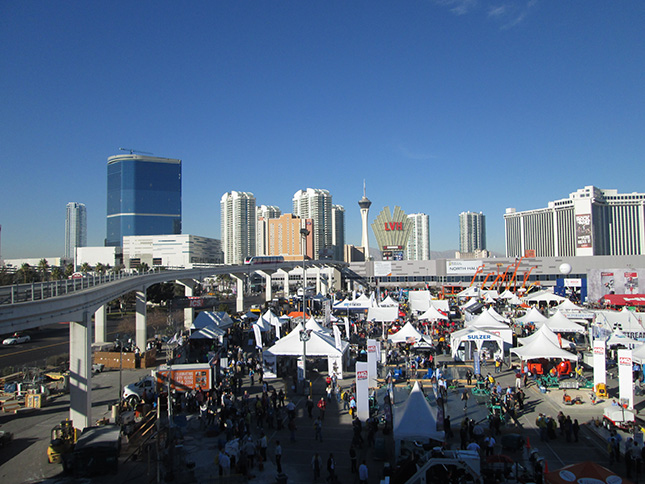 CASE Construction Equipment showcased the SR210 radial-lift skid steer, a model which replaces their most popular skid steer. This Tier 4 Final model increases its rated operating capacity to 2,100 pounds when compared to its predecessor, the SR200. One of the most important features of this machine is the ease of maintenance. The new skid steer features a CEGR engine with a particulate matter catalyst, which is made up of a diesel oxidation catalyst (DOC) and a high-efficiency flow-through filter. It does not require manual regeneration or filter replacement (compared to a diesel particulate filter). Case reports that this machine has one of lowest entry thresholds in the industry, a feature impacting operator comfort and safety.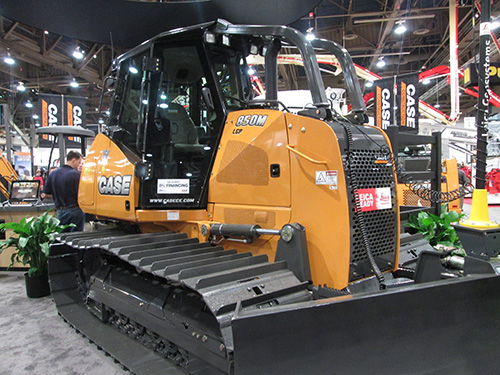 Also on display was the new M Series line of dozers. The new product line includes five models ranging from 92 to 214 net horsepower. John Bauer, brand marketing manager for Case, explains that this machine is industry-leading in terms of draw bar pull. It's also the first dozer with SCR technology that meets Interim Tier 4 standards. Another stand-out feature of this machine is the ability to customize controls and settings to the operator's preference. For instance, new control customizations allow the operator to tailor machine performance to jobsite conditions, including the ability to set blade sensitivity (1150M through 2050M), steering sensitivity and shuttle sensitivity to smooth, moderate or aggressive.
Caterpillar showed the 259D Compact Track Loader, part of the new Cat D Series Compact Track Loaders and three new Cat D Series Multi Terrain Loaders as well as two updated D Series Compact Track Loaders. The six new D Series models are replacements for their B3, C and C2 Series predecessors. The message that stands out about this machine series: A completely new cab design provides better sight lines and enhanced operator comfort and control. Kevin Coleman, senior marketing engineer, emphasized that the one-piece setup in the cab provides superior sealing, which allows for double the cab pressurization attained with the previous design.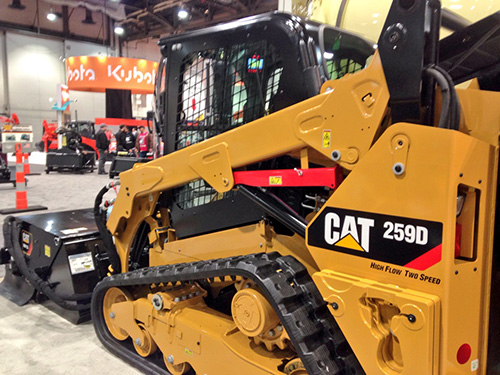 The cab and operator station incorporate many new features. Seat options include a high-back, heated, air-suspension seat with lumbar adjustments. All air suspension seats feature independent arm bar/joystick control adjustments to allow the machine to be configured for different size operators and for different applications. Other options include an advanced display control monitor, which expands the number of security (operator) codes to 50 and can store and recall the operating preferences for each one. This option can be useful to a fleet manager because it expands diagnostics capability by allowing the master-code holder to review operator-specific machine information.
Genie displayed the newly upgraded Genie GTH-5519 compact telehandler. As a general purpose machine, it can fit into tight spaces, help unload trucks and can carry tools such as augers and sweepers. The new unit was purposefully designed to offer a Tier 4 final engine to meet today's emission standards. With the new design came many upgrades. To learn more about them, see this video interview with Chad Hislop, telehandler product manager for Genie.
Husqvarna Construction Products introduced PRIME, a new product range of electric cutting equipment. The K 6500 Ring can be operated on both one- and three-phase power. With an output of 7.4 horsepower on three-phase and 4 horsepower on one-phase (230 V), it is the most powerful electric ring cutter offered by Husqvarna. The ring cutter and the corresponding air-cooled power pack, the PP 65, are easy to carry and handle because of their low weight. This makes the ring cutter suitable for applications where easy transportation is required, both to and around the jobsite.
The DM650 electric drill motor is also a part of Husqvarna's PRIME product range. It has a high output and can be operated on both three- and one-phase power. It delivers 8 horsepower on the spindle on three-phase and 4 horsepower on one-phase. It weighs only 31 pounds, which gives it an outstanding power-to-weight ratio. With the torque boost, speed is reduced in order to increase drilling torque when encountering steel reinforced substrates. To learn more about this product line, see this video from Husqvarna's press conference at World of Concrete.
Kohler Co. launched a new line of portable generators at this year's show. The line includes nine models, ranging from a 2.0 kW inverter to a 12.3 kW gasoline generator, plus four portable water and trash pumps in varying diameters. Manny Rumao, senior product manager for Kohler, says, "We've listened to our customers and have integrated a variety of features that make these generators incredibly intuitive and easy-to-use." The smallest of the new portable generators—the Kohler PRO2.0iS—is one of the lightest 2 kW models on the market for contractors.
At the other end of the spectrum is the Kohler PRO12.3EFI gasoline generator. It features a commercial-grade KOHLER Command PRO EFI engine. This closed-loop electronic fuel injection technology can significantly impact fuel savings. This generator also includes a sound-dampening enclosure for quiet operation.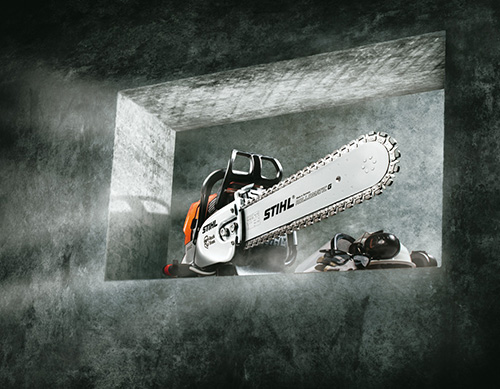 STIHL introduced the new GS 461 STIHL Rock Boss to its industrial line. Ideal for plunge cuts, shaping square corners and cutting concrete pipes in trenches, cinder blocks, masonry bricks, asphalt and soft stone, this product has excellent power-to-weight ratio. Product Manager Marv Matthews explains that the GS 461 is especially useful in tight corners and renovation applications.
Trimble showcased the Trimble Field Points software for construction field layout. The application enables contractors to create layout points in their computer-aided design (CAD) models. (This product can create 1,000 points as fast as it can create one.) By quickly and accurately matching the digital design on the physical construction site, this