Explore this e-book for tips and advice on choosing the right software for your team
Like it or not, construction software is a no longer just an option for your company. Top competitors have incorporated software solutions into every area of the business—from the office to the jobsite. For business owners wondering where to start, there are many options for information and advice on choosing the correct software for your business's specific needs.
One place to start is "How Much Does Construction Software Cost?" This e-book from Software Advice, a company that hosts online reviews of construction technology, provides general information about the common types of software. It also helps you learn about potential hidden expenses, decide on the best pricing model for your business and includes pricing comparisons for some of the biggest products currently available. Janna Finch, e-book author and researcher for Software Advice, said the e-book is a good, comprehensive reference when beginning the search. 
"If you have little experience purchasing software, the information in this guide will bring you up to speed on pricing and licensing language. You'll also find out what often-overlooked costs and services impact the final cost. That way, you aren't going in blind when getting quotes and negotiating with vendors," says Finch. 
A common challenge we hear from our readers is in deciding which software solution or brand is right for the company, and which one will grow with the company as it changes and develops. The e-book explores several of the most popular construction software products and how they compare to each other. Additionally, it explains the different in pricing models available. 
"The most important takeaway for project managers about software pricing/licenses is that no matter the type of software license you choose—perpetual, subscription or open-source—the total cost of ownership converges over time, so you'll end up paying the same amount if you use the software for 8 to 10 years or more," says Finch. The infographic below shows how to compare costs by pricing model.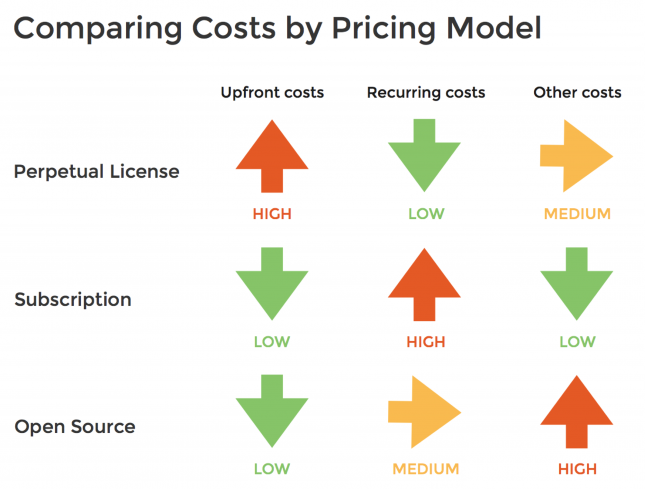 In addition to pricing comparisons by product, the e-book includes a listing of commonly overlooked costs related to implementing a new software solution. These include data migration, hardware, IT and training. 
To download the e-book, visit Software Advice.