CBO spoke with the industry's leading providers about their newest products and services.
A phrase that seemed to float around the 570,000 net square feet of exhibit space at the Las Vegas Convention Center in Las Vegas, Nev., during World of Concrete 2014 was "it's a CONEXPO year." While World of Concrete attendance was down this year most likely due to the upcoming CONEXPO-CON/AGG trade show and conference to be held in Vegas March 4-8, 48,000 professionals and 1,250 exhibiters still showed up to test and display new products and services and to network with others in the industry.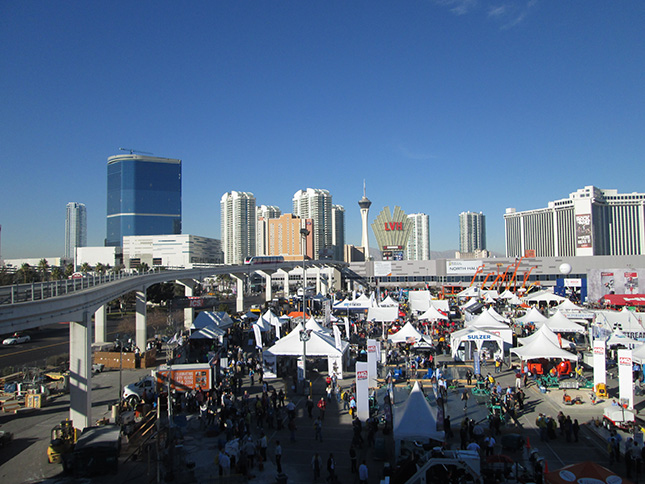 Though the economy is not booming by any means, industry professionals are still dedicating time and energy to creating products and services that are transforming the construction landscape. Software providers are coming up with innovative paperless solutions to streamline construction work flow, and equipment manufacturers are making their machines more efficient and productive. CBO was on site at World of Concrete to speak with some of the industry's leading providers to learn what they are doing to impact the industry in 2014.
Briggs & Stratton
The Briggs & Stratton booth housed several Q&A kiosks, including one about ethanol use. One of the company's key focuses at the show was educating customers about the engine and legal problems ethanol can cause in small engines. The company also highlighted the QR codes they've placed on their products that allow users to access frequently asked questions and answers, troubleshooting tips, recommended maintenance, dealer locations, owner's manuals, parts lists and other information from anywhere at any time. "We want to make sure (customers) can finish their job every day," said Dan Roche, the company's marketing manager. "(The QR codes) are assisting their productivity through information."
Briggs & Stratton also highlighted new features of their Vanguard engines. On most smaller engines, the operator has to turn both the engine and the fuel off; if the fuel isn't switched off, fuel will continue to flow to the cylinder, which can spoil the oil. Vanguard, however, has introduced the TransportGuard System, which integrates both switches so operators don't have to worry about switching the fuel off separately.
Capital Safety Inc.
Capital Safety highlighted their Nano-Lok edge Self-retracting Lifeline, launched in September 2013. The Nano-Lok edge is a safety harness specifically designed for work near sharp edges and for foot level tie-off. The lifeline features a galvanized, flexible cable and an integrated, backpack-style shock absorber that work together to limit the average arresting force to 900 pounds. By absorbing the shock of the fall, the Nano-Lok edge prevents sharp edges from tearing or cutting the cable. Nano-Lok edge also prevents trips and snags caused by traditional lanyards that have slack. Jennifer Schroeder, senior marketing and communications manager, said that the misuse of other fall protection devices drove the development of the Nano-Lok edge. "This has been an ongoing problem and there hasn't been a solution for it," she said.
Dexter + Chaney
CBO Spoke with John Chaney, president of Dexter + Chaney, about innovations in mobile technology in 2014 and how the company is responding to those changes. See the video below to hear his perspective on Dexter + Chaney's role in the ever-changing world of construction software.
Doosan Portable Power
Doosan Portable Power featured the P185 air compressor, which now has a 49-hp Tier 4 Final Deutz engine with diesel oxidation catalyst after-treatment. In redesigning the interior of the P185 to be compliant with EPA emissions standards, the company had to be "very clever about how we designed it," said Rus Warner, manager of global air products. "We wanted to keep the iconic shape." The P185 also features an engine control module that displays engine data on a digital screen, making diagnosing problems much easier than before.
Also on display was the LSCWKUB-60HZ-T4F light tower. This model is the company's smallest light tower and features a simple control panel, two-inch ball hitch, 30-inch max tower height, 28-gallon fuel tank, 55 hours of runtime and the ability to withstand 65 mph winds.
Hilti
Hilti debuted the new TE 70-AVR-ATC combihammer, which has a 1,800-watt motor and features active vibration reduction (AVR) and active torque control (ATC). The AVR technology reduces operator fatigue by minimizing the vibration transmitted to the operator during use, while ATC stops the motor and prevents the combihammer from rotating when the drill bit catches. Also new was the Hilti PR 30-HVS Rotating Laser, which is designed for both indoor and outdoor use. The laser's durability is its main feature, said Trey Skylar, power tools and accessories business unit manager. Because of its internal damping system and shock-absorbing casing and handles, the rotating laser can be dropped from standard working heights and still operate without a hitch.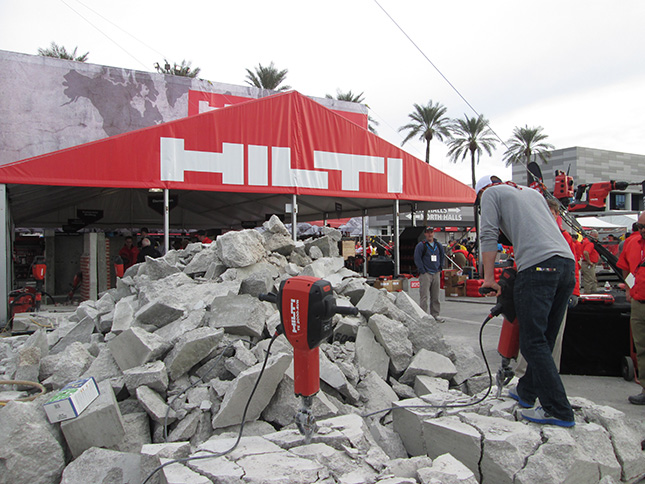 In addition to these two new products, Hilti also featured its new service, Tools On Demand, which allows customers to use Hilti tools for three to 24 months for short-term needs. Hilti is also pursuing new opportunities with BIM and mobile software, making their first software sale in 2013. "We're a tool and fastener manufacturer, but we are selling software," Skylar pointed out. "(Software) is going to be a growing area for us. … Expect to see a lot more coming from us in software."
Maxwell Technologies
Maxwell Technologies displayed its ultracapacitor-based Engine Start Module (ESM), which works to extend the life of batteries by providing "rapid discharge, rapid recharge" and a dependable "burst of energy" at every crank of the ignition, said Michael Padrnos, key accounts manager. Padrnos said that one ESM can provide enough energy to power hundreds of thousands of engine starts even in temperatures as low as -40 degrees Fahrenheit. The ESM consists of a plastic lid, electronics assembly with DC-DC converter and controller electronics, laser-welded cell pack with plastic spacers and terminals, and a polypropylene plastic case. The ultracapacitors contain no lead or acid and can improve overall system power performance. Ultracapacitors can be applied to a wide range of industries and applications, including wind power, solar power, transportation, industrial, heavy lifting and backup power. Batteries often fail in unpredictable conditions, leaving truck drivers stranded and their loads at risk. But Padrnos says the Maxwell Engine Start Module "is not going to quit on them."
Minnich Manufacturing
Minnich Manufacturing, a family-owned business since 1968, showcased a variety of concrete drills including the A-5SCW pneumatic dowel-pin drill, featuring patent-pending wireless technology. Using a remote control, the operator can control the drill at a distance, allowing for more accurate operation and minimizing the safety hazards of harmful dust exposure and obscured visibility. The A-5SCW also features power crab steering, which allows continued drilling with minimal adjustment time. This wireless technology is available in the five-drill unit (the A-5SCW), a four-drill unit (A-4SCW) and a three-drill unit (A-3SCW).
Road King Technologies Inc.
Road King Technologies, a Montreal-based manufacturer of fleet tracking systems and GPS solutions, emphasized the evolution of paperless data transmission and its transformation of the construction and related industries. "Where I want to bring our company … is to eliminate as much paper as possible," said Harry Marks, president of Road King. The featured RK3000 data collection computer and the new e-Ticket software add-on from Road King are designed to do just that. The RK3000 is essentially a mobile computer housed within a ready-mix truck that reports data every 30 seconds to Road King servers. "With the collected data, we can automate a fleet of ready-mix trucks, increasing their efficiency by a large factor, thus improving the bottom line for the company," said Joseph Dabby, vice president of engineering and operations. The RK3000 includes a cellular modem, internal GPS, broadcasts, alerts, alarms and many other features designed to track and monitor all vehicle systems. Free additions to the Road King Trac18 Web-Based Software, e-Ticket and eOffice, allow delivery orders and tickets to be tracked, completed and signed on a tablet, saving both time and money. Road King systems are available for the ready-mix concrete, construction, hazardous materials, snow removal and other industries.
Topcon Positioning Systems Inc.
Mark Cantino, vice president of global marketing for Topcon, emphasized that, as the population continues to grow, construction spending will increase substantially to meet the need for more infrastructure. To help the construction industry provide for this growing demand, Topcon debuted the LN-100, the first 3D positioning system designed specifically for construction layout. The machine is operated with a wireless controller and automatically levels with the touch of a button. The LN-100 can also be controlled with an Android smartphone or tablet, and all data can be transferred via the cloud. Ray Kerwin, director of global product planning, said the LN-100 is minimizing rework, helping contractors make fewer errors and saving money in materials and labor. "(Now) one guy can go out and do the layout when it would have taken three guys before," he said.
Topcon also introduced the new i-33, a multi-platform 3D indicate grade system that features GNSS technology; new 2D and 3D excavator control systems, the X-32 and X-33; and the X-63i 3D indicate system for excavators.
WernerCo
WernerCo, which owns the KNAACK and WEATHER GUARD brands, featured a variety of fall protection, storage and climbing equipment for the construction industry including the KNAACK DataVault, a 77-inch tall, weatherproof vault that contains a 40-inch monitor, a color printer, a backup power supply, retractable keyboard, multiple USB ports and a white board. "Before this equipment, contractors couldn't get BIM out to the site," Peters said. "GCs were making their own boxes, but they didn't really protect their assets." Designed to protect digital assets and connect BIM software to the jobsite, DataVault allows construction professionals to access vital information in the field, provides real-time connectivity to project management software, and protects technology investments from harsh jobsite conditions and theft. DataVault is large enough to store all necessary hardware and software in one place but small enough to fit through standard doorframes.
WernerCo also displayed the KNAACK 4830-D chest with quick-access locking drawer and anti-slam lid; the brand-new Podium Ladder with a larger standing surface and waste-high guardrail; the WEATHER GUARD Underbed Box for weatherproof truck storage; and the new Max Patrol Self-Retracting Lifeline featuring WebAlert, which uses colored internal webbing to show when abrasion has caused damage to a harness.
For more World of Concrete 2014 coverage, click here.