The halls of the Las Vegas Convention Center during CONEXPO-CON/AGG, March 4-8, were packed with people from across the globe. Nearly 130,000 attendees and 2,400 exhibitors traversed 2.35 million net square feet of exhibit space to network and learn about the newest products and services.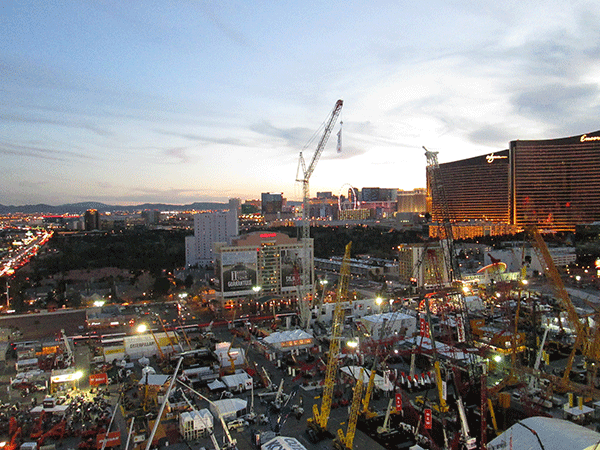 The show's comprehensive educational program featured 120 sessions organized into 10 "tracks." CBO attended several of these sessions to get up-to-speed on the latest industry developments.
At the BIM 101 session, Daniel Russell, director of construction technology at Sundt Construction Inc.; James Benham, founder and president of JB Knowledge Technologies Inc.; and Mike Whaley, director and president of TURIS Systems LLC, discussed the basics of BIM and how it is transforming the industry. Benham offered a technology forecast that predicts an increased reliance on BIM due to growing bandwidth, more powerful mobile computing and an infiltration of augmented reality, what he describes as "overlaying virtual data in the real world."
In the session titled "Your Equipment Manager: Fireman or Leader," James Schug, principal at FMI Corporation, discussed how owners can encourage their equipment managers to be business managers. "You will not react your way to operational excellence," Schug said, emphasizing that effective leadership and management require thoughtful planning, communication and goal-setting.
CBO also met with several of the industry's most prominent providers to learn how they are impacting the industry this year. Below are some show highlights:
BJM Pumps
While BJM pumps provides fluid-handling solutions for a wide range of industries, including mining, construction, product finishing and food processing, the company's focus at this year's CONEXPO was slurry pump lines designed for the most difficult applications, including the KZE Series high-capacity hard metal slurry pumps and the KZN Series submersible slurry pumps. The KZE series can pump up to 2,415 gpm, has a high-chrome agitator that prevents settling of heavy solids and features oil-lubricated, double silicon carbide seals. The KZN series pumps are designed to prevent clogging and have Class H motor insulation, double-silicon carbide mechanical seals and a heavy-duty lip seal.
Brokk Inc.
Brokk's 800S demolition machine made its North American debut at this year's CONEXPO. Featuring the company's three-arm system and offering a reach of nearly 30 feet, the 24,310-pound machine can be outfitted with attachments of up to 2,465 pounds, including beam grapples, buckets, drilling equipment and shotcrete units. Designed for extreme tunneling, mining and construction applications, the 800S—like all Brokk machines—is built to fit into compact areas that other machines can't reach. "The key to it is you're away from the machine. It's all wireless," said Peter Bigwood, VP of sales and marketing. "You can get to things that other machines can't get to."
August Scalici, field applications expert, was a Brokk operator in the company's first U.S.-based project, the 1982 renovation of the Holland Tunnel which connects Manhattan and Jersey City. To demonstrate the precision of Brokk machines (which Bigwood says appear briefly in the movie I, Robot ), the skilled Scalici picked up the remote at the Brokk booth and showed the CBO team what the smaller Brokk 400 can do. To see the demonstration, watch the video below.
CASE Construction Equipment
One CASE initiative introduced at the show is a partnership with Ram Trucks, displayed in the form of a Ram-inspired 580 Super N Wide Track backhoe loader outfitted with leather seats and wood-grain panels.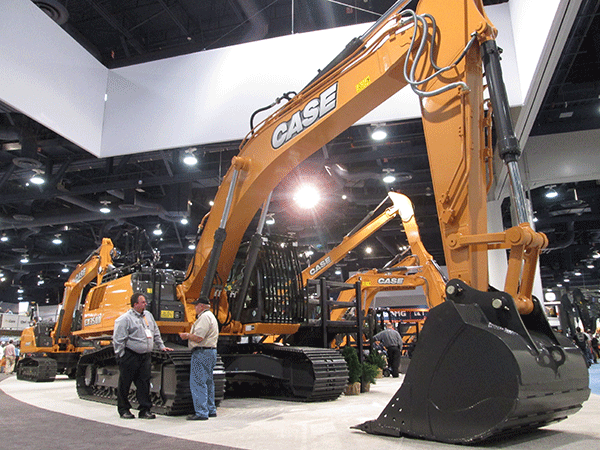 The machine will tour the country for a year with a new Ram 3500 Laramie Longhorn Crew Cab 4x4 truck. In addition, CASE introduced four new product series at the show: the F Series compact wheel loaders, the Tier 4 final 821F and 921F wheel loaders, the new Tier 4 interim DV209 and DV210 asphalt compactors, and the Tier 4 Final CX350D, the first in the new line of D Series hydraulic excavators to be introduced in North America.
The F Series compact wheel loaders—the 21F, 121F, 221F and 321F—have been completely redesigned with a particulate matter catalyst solution, an increase in breakout force and lift capacity, CASE's Automatic Ride Control feature for a smoother ride, and more attachment versatility.
The new 821F and 921F wheel loaders have updated SCR-only technology, four power modes, axles with auto-locking front and open rear differentials, a new seat in a climate-controlled cab, and improved serviceability. Each machine has up to a 10 percent increase in fuel efficiency compared to the previous E Series models.
The new Tier 4 Interim DV209 and DV210 asphalt compactors are additions to CASE's line of high-frequency double-drum rollers. "This size class … is the sweet spot for asphalt compaction applications," said Bill Elverman, CASE spokesman. The new models also feature significant improvements to the cab to improve maneuverability and visibility; for example, diagnostics have been integrated into the center of the steering wheel, eliminating the need for a front console. The machines also utilize ACEforce, an advanced compaction indicator.
Finally, the company previewed its Tier 4 Final CX350D hydraulic excavator, which will be available in North America in early 2015. The 268-horsepower machine combines cooled exhaust gas recirculation, SCR and DOC technologies to meet Tier 4 Final emissions standards.
Chicago Pneumatic
Chicago Pneumatic debuted its first concrete line, which includes equipment for vibration, leveling, surfacing and cutting. "We're really trying to be a one-stop shop for all types of contractors," said Andrew Gillman, communications specialist. The concrete line includes VPM mechanical pokers for medium-to-high slump concrete; VPP pneumatic pokers for low-to-medium slump concrete; the CombiForm lightweight, leave-in-place screed rail system; STG power trowels; and concrete and asphalt floor saws that cut to a maximum of 150 mm.
Chicago Pneumatic also introduced its complete line of ride-on rollers, including three tandem asphalt rollers (AR90G, AR100, AR120) and two small vibratory soil rollers (SR130D, SR130PD). The asphalt rollers feature an all-steel frame and roll-over protection.
Custom Equipment
Custom Equipment, a family-owned business since 1981, is celebrating 10 years of selling light-weight, low-level access hybrid lifts. The lifts' "light-weight footprint" allows Custom Equipment hybrid lifts to access places heavier lifts can't reach, such as