Evaluate the right criteria to purchase the best equipment for your business.
Published:
August 1, 2013
The evolution of compact excavators has allowed them to reach a level of utility that is helping expand business opportunities on construction jobs from site development to roadwork. Fleet managers and construction business owners alike are determining that an investment in a compact excavator can provide a versatile and mobile solution for a wide variety of jobsite tasks, including augering, grading, hardscaping, trenching, land clearing and lifting.
Due to their compact size and potential for a high rate of return, this class of excavators is an appealing acquisition for construction equipment fleets. From a financial standpoint, the initial purchase of a compact excavator is lower compared to larger equipment. Their fuel consumption, as much as 40 percent less in an eight-hour workday, further minimizes your cost of ownership. Plus, crews can typically transport a compact excavator with a smaller, more fuel-efficient truck and trailer package.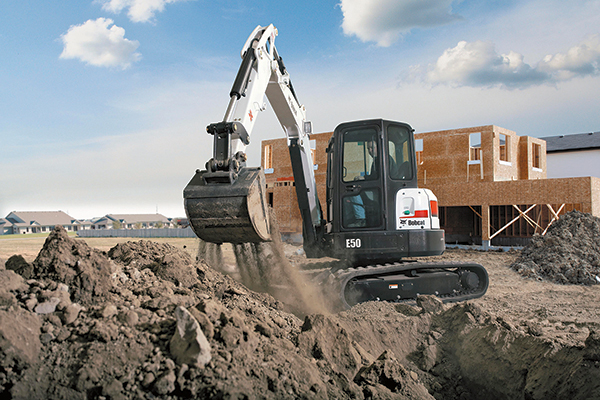 Making an educated purchasing decision requires an assessment of key criteria to ensure that the machine you choose will match the work you need to perform today while offering the capabilities necessary to grow your business.
Configurations
Compact excavators first entered the North American construction market in the mid-1980s. At that time, only a conventional tail swing design was available. Now manufacturers have engineered excavators to include minimal tail swing and zero tail swing designs in their lineups. These configurations provide operators with options to best suit their needs.
If you're working on a congested jobsite, a zero tail swing feature virtually eliminates the chance of the excavator's tail inadvertently contacting surrounding objects. A minimal tail swing feature significantly reduces the chance of inadvertent contact while improving the machine's over-side lift capacity. Pound for pound, a conventional tail swing configuration will typically provide the best over-side lift capacity.
As a general rule, a zero or minimal tail swing compact excavator is wider than its conventional-tail-swing counterpart. The typical width of a conventional tail swing, 3- to 4-metric-ton compact excavator will be about 60 inches, whereas zero and minimal tail swing excavators with similar performance will have a width of about 70 inches.
Benefits over Backhoes
One of the most important worksite metrics to evaluate is size, which often dictates the accessibility and maneuverability requirements of construction equipment. Construction contractors gravitate to compact excavator models when larger machines like tractor loader backhoes are too cumbersome. Some manufacturers have designed compact excavator models with undercarriages that retract to pass through gates or fences and expand to normal widths to perform work to further enhance their size advantage.
Machine rotation becomes important when comparing a compact excavator's ability to provide up to 180 degrees of movement when loading trucks or placing spoil, compared to the 90 degrees of rotation that is common with backhoes. An excavator's independent boom swing allows operators to reposition the machine less frequently than a tractor loader backhoe, and it delivers greater visibility to the working end of the machine.
Performance
Although a compact excavator may be ideal for your operation, manufacturers know that performance is critical, which is why some companies are engineering their models with advanced hydraulic systems for improved production and efficiency. Additionally, long-arm or extendable-arm options offer maximum digging reach in utility installation and site preparation. Machine utilization is increased with the additional reach of an extendable arm, as it simplifies the task of creating flat-bottom trenches, a requirement for gravity-fed water and sewer utility installations. Also, when fully extended, such arms allow the operator to place the bucket at the front or the far side of a truck easily when filling a load.
Duty Beyond Digging
If you need to do more than dig with an excavator, one of the most important criteria to consider is attachment compatibility. An excavator that can be equipped with construction-oriented attachments such as trenching buckets, grading buckets, plate compactors, hydraulic breakers, grapples, rippers, clamps and augers can open up job possibilities.
Many manufacturers offer their own attachment mounting systems for those common connections as a standard feature to help operators easily switch between attachments. Faster attachment changes can be achieved with hydraulic actuated systems, which let operators activate the mechanism by pressing a switch inside the cab.
Points of Protection
Another variable to analyze is the technology that will protect your labor and equipment assets. Contractors should seek out Tip Over Protective Structure- and Roll Over Protective Structure-certified cabs or canopies. The machines should also have retractable seat belts. Some manufacturers' compact excavators also feature a control console lock system that helps avoid unintended activation of the machine's boom, arm, bucket, slew and travel systems.
To reduce your risk of loss due to theft or unauthorized use, make sure your preferred brand can be equipped with a security system. Keyless start systems can eliminate the issuance of hard keys for multiple operators. This enhanced security measure can deter unauthorized use on busy jobsites and provide justification for reduced insurance premiums.
Finally, crews can better assist with lowering your cost of ownership if a machine's design offers easy access to daily maintenance checkpoints. Centralized grease points for the slew bearing, pinion gear and swing boom can keep those items functioning with less effort spent locating and applying lubricant.
Finish in the Field
Just as you wouldn't purchase a work truck without driving it first, you won't know how an excavator model will perform until you operate it under load. Ask your dealer to schedule a demonstration that places the machine in working situations in which you can lift, grade and trench. Only then can you accurately gauge a machine's balance between its hydraulic system and engine horsepower.
The proper selection of a compact excavator can help you capture more work, increase your utilization and perform tasks more efficiently. If you make an educated decision for your business based on your evaluation of these criteria, your investment is likely to pay dividends long into the future.