GPS fleet tracking solutions can help virtually manage many aspects of your business
As a construction business owner, your employees are rarely in the office. The nature of the work sends employees into the field for most of the day. This makes it extremely important that supervisors are able to quickly and easily communicate with employees.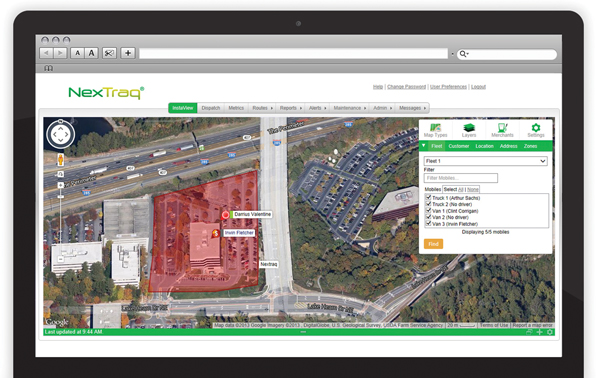 According to Aberdeen, 54 percent of organizations still use manual or spreadsheet-based workforce planning, despite the importance of employee and workforce management. This includes productivity information, schedules and time cards. While many owners default to phone calls or paper updates on projects, there are numerous mobile solutions available to simplify the communication and management process.
GPS fleet-tracking solutions offer a number of mobile and virtual employee, fleet and asset management features that many contractors need. A comprehensive solution that provides both asset and employee management features should eliminate the need to hire multiple vendors.
1. Virtual Timecards
A mobile solution is vital when it comes to validating time. A comprehensive GPS fleet tracking solution should offer virtual time cards, which eliminates paper time tracking. An application downloaded to the employee's mobile device allows them to easily record start times, break times and end work times. This eliminates the need for employees to drive back to the office to clock in or out.
Virtual time cards save business managers valuable time and money, too. According to the American Payroll Association, paper time sheets cost businesses an average of four hours and five minutes per employee per work week. In addition, each card takes the company an average of six minutes to process and there is up to an 8 percent error rate of total payroll when manually processed. By automating this process, business managers are better able to validate payroll and reduce overtime hours, which improves the company's bottom line. Business owners can also receive alerts via text or email when employees clock in late early, saving money and improving visibility long-term.
2. Simple Scheduling
An easy-to-use job schedule board allows managers to efficiently assign jobs to employees and view them all on one screen. This effectively eliminates any overlap. Construction business owners should look for a board that simplifies job assignment through drag-and-drop features and efficiently forwards job details and notes to employees in the field. Managers should be able to view all pending jobs, as well as the availability of employees and the status of jobs. The mobile application should also allow field employees to update the status of their jobs directly from their device. Ease of assignment, automatic dissemination to the employee and simple management increase productivity and efficiency.
3. Automatic Driver Assignment
Regardless of the size of your fleet, it is important to know which employee is behind the wheel of which vehicle or piece of equipment. A mobile employee management solution should offer an automatic driver assignment feature. This is easily accomplished with key fobs. Once the employee enters the vehicle, the swiped fob automatically associates the employee with the vehicle. Employees can also accomplish this using a mobile application that allows for driver/vehicle assignment. This way, no matter how many drivers may operate a vehicle during the day, management has access to accurate driver-based reporting. A mobile employee management solution should also provide a full summary of employees' assignment start and end times and can be run by vehicle, fleet or driver.
4. Geofences
In an industry where employees are at jobsites, operating expensive equipment and possibly taking company vehicles home, geofences are an ideal tool to manage employee activity. Managers can set up virtual perimeters around a certain location, so they are alerted in real-time of any important events involving vehicles and assets. In addition, if employees take vehicles home, a geofence can be set up around their home, eliminating personal use after hours or on the weekend. Business owners can also monitor equipment left on jobsites after hours and receive notification if assets move.
5. Driver Behavior Monitoring
Proactively monitoring driver behavior is an important part of employee management for a number of reasons. First and foremost, companies are concerned about employee safety. A GPS fleet tracking solution can offer hard data regarding driver behavior.
If managers identify any dangerous behaviors, they can proactively coach the employee on safe driving, thereby reducing the risk that an accident may occur. Telematics devices can track and report on common but dangerous behaviors such as harsh cornering, quick acceleration and hard braking.
Despite campaigns across a number of industries to raise awareness, texting while driving is still a major concern for companies. Your employee management solution should offer a feature to disable phone use while the driver is behind the wheel. The disabled phone will send automatic responses to anyone trying to reach the employee to let them know that they are driving and will return their message as soon as possible. This eliminates the urge for employees to respond to a text or a call while driving. If your employee exhibits dangerous driving behavior while operating a company vehicle, it can hurt your company's reputation in the community. If employees are aware that their driving is being monitored, they are less likely to speed or drive dangerously.
When considering a mobile employee management solution, check for features that can increase productivity and employee safety, and help streamline communication between the office and the field. If your company uses a telematics provider, these features should be integrated with your telematics solution, further simplifying software solutions in the company.